MANILA, Philippines - Tired of wearing glasses and contact lenses? Well, there's now a quick and effective solution for those who are not blessed with 20/20 vision. Highly praised for its Lasik and aesthetics procedures, Japan-based Shinagawa Lasik and Aesthetics Center is proud to offer its latest procedures in its Philippine branch — the Z-Lasik treatment. This treatment is a laser vision correction procedure that takes only a few minutes to perform. It is reportedly the latest and most advanced refractive procedure that is also a first in the Philippines.
The procedure involves reshaping the cornea gently and precisely. However, don't let this scare you off as the procedure is bladeless, painless, ultra-fast and guarantees no halo effects and no dry-eye syndrome.
Attesting to the treatment's effectiveness and convenience is Albert de Guzman, a US-registered nurse, who underwent the Z-Lasik treatment in Shinagawa's clinic at The Enterprise Center.
He shares, "I started wearing spectacles when I was in 5th grade then I eventually switched to contact lenses. It was not very comfortable to use them. For me, it was kind of awkward and inconvenient to have to rely on eyeglasses and contact lenses to improve my vision. It was a challenge to overcome these vision problems as my profession and safety were also at stake."
De Guzman says that when he stumbled upon Shinagawa's Eye Lasik treatment, it totally changed his life. "I am able to travel more and get to see different places. I continue to strive more to teach my students. I am able to converse more conveniently with different types of people and most importantly, I am able to enjoy much growth in my personal and professional life, such as be a reviewer of soon-to-be registered nurses. My clear vision paved the way to better opportunities in my life," he says.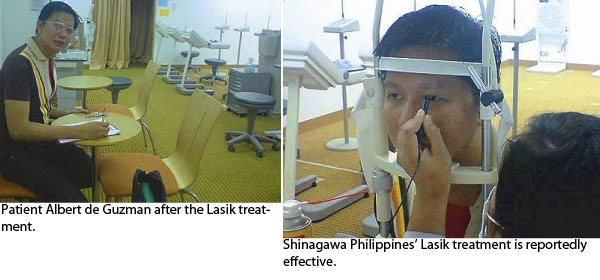 (Shinagawa Lasik and Aesthetics is located at Mezzanine Floor, Tower 2 , The Enterprise Center, 6766 Ayala Avenue corner Paseo de Roxas, Makati City. For more information, call 491-0000, 846-3197 and 0917-5724684 or visit shinagawa.ph.)
(For best results, consult your doctor.)