Robert & Harvey Angsanto: Riding in Cars with Boys
MANILA, Philippines - As an 11-year-old boy, Harvey Angsanto usually woke up to a father who was more than eager to let him "take the wheel." And quite literally at that!
"I could drive before I had my license. You know that area along Coastal (Road)? That's where we'd usually go when my dad wanted me to practice driving," explains Harvey, now 40, and owner of steel fabricator company HAC Steel Fabricator. Aside from driving, Harvey would also wake up to the sound of revving engines on early weekend mornings, and would even be tasked to clean carburetor tubes on his spare time. The father who (lovingly) subjected his only son to all these, is Robert Angsanto — the same man who sits proudly beside him, with a coy smile flashing every now and then at the nostalgia of Harvey's stories.
While the son found his calling in providing steel requirements for various establishments — the most notable of which are the Bench stores in the country — Robert made his fortune on plastic and acrylic.
A mechanical engineer, Robert is a one-man team, the end-all and be-all founder of Powerlite Marketing, a company that designs and manufactures containers, frames and other similar items for a good roster of local brands. Low-key by nature, Robert does most of the work at home. But even without the bells and whistles, this acrylic artist is highly sought-after for the excellent craftsmanship of his products.
While talent and experience certainly play a role (he started the business more than 30 years ago), the ever-humble Robert attributes his success to dedication. "We're always willing to take the extra mile. I always make sure to have a good product. I take the extra mile, even if sometimes I have to absorb the cost to achieve an excellent output," he says.
Fatherly love fills the air in the presence of Robert and Harvey. The son is obviously at the giving back stage, easily seen in the way he assists his father in climbing stairs, or how he has become the more protective party in their relationship. "He always complains about having a driver, but I want him to have a driver with him, so that I know he's always in good hands," Harvey explains. With cute, surrendered stubbornness, Robert would banter back that he's just fine on his own, yet still accede to his son's request.
Despite their relaxed and down-to-earth persona, one cannot discount the Angsantos' eye for detail. It is, after all, this invaluable trait that has propelled their businesses to the top. And there's no shutting their eagle's eye, even for the more fun things in life: Cars.
The Angsantos are known for their armada of vehicles from every brand, every market segment. Their Volvos are some of their personal favorites. The family owns a C30, XC90, S60 and S80, and has already ordered a V40. And it's not just the brand name that won their seal of approval. "My dad would always say that he feels very safe when he's seated in a Volvo. Plus the details of the car are really good. It's not flashy, but the design really stands out because everything seems to have a purpose," relates Harvey.
Whether it's on their virtues or their Volvos, "like father, like son," has never been truer than in the case of Robert and Harvey Angsanto.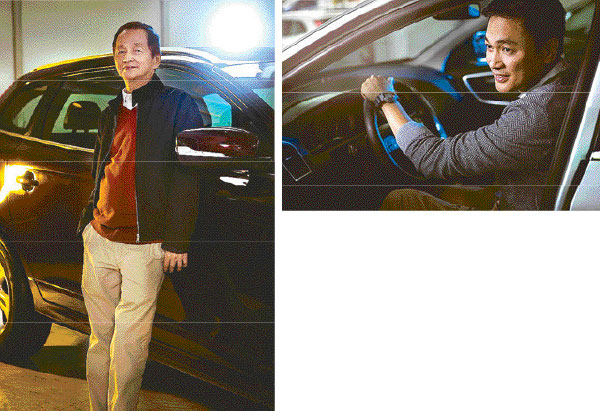 Photography by Mau Aguasin • Creative direction and styling by Luis Espiritu Jr. • Associate styling by Bang Martinez and Tara Subaldo • Grooming by Pia Reyes for MAC Cosmetics • Hairstyling by Dave Lopez • On Harvey Angsanto: 'Edward' long-sleeved button-down shirt in white and metallic gray cotton combination by Francis Libiran for MYTH