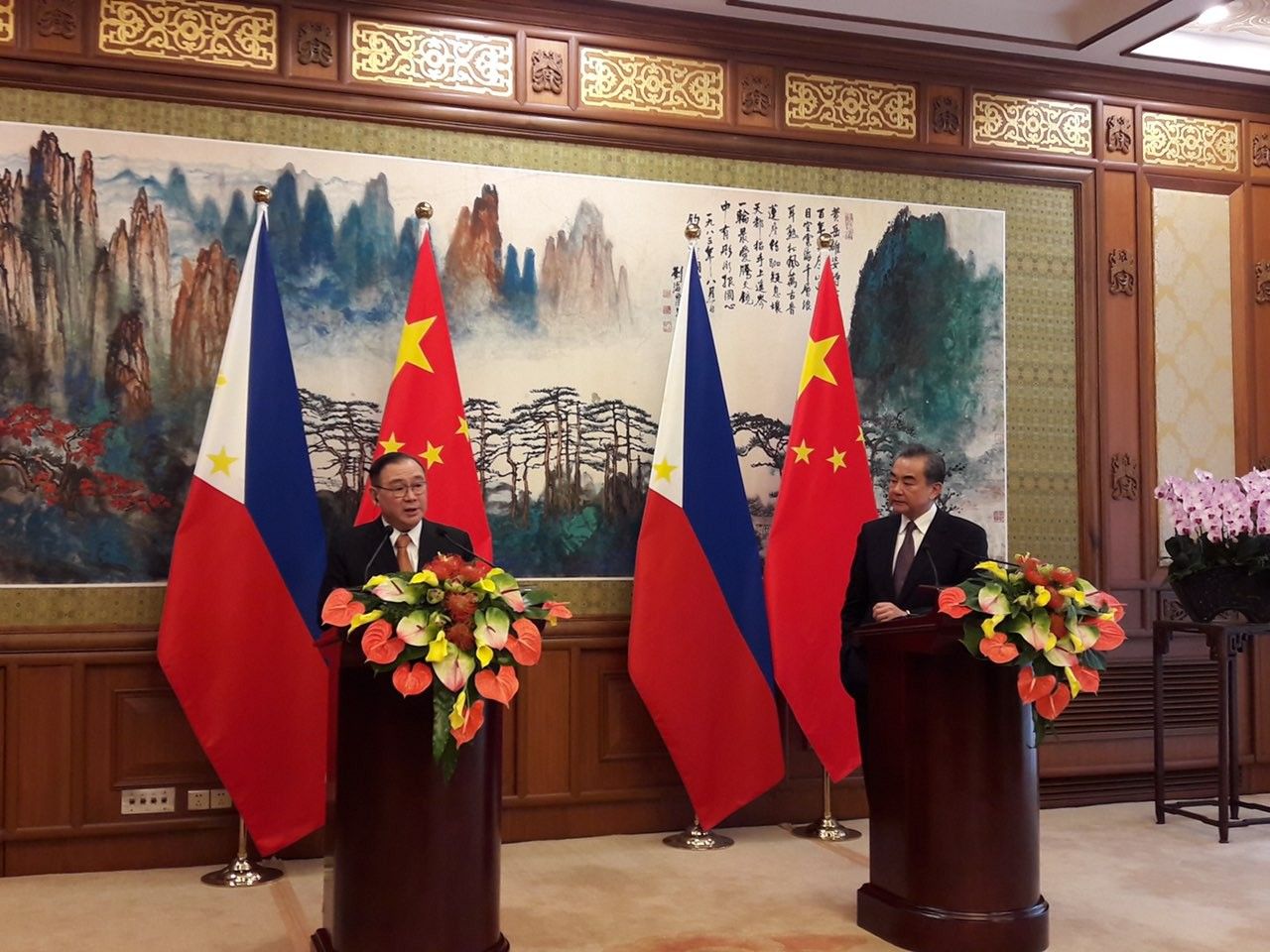 Foreign Affairs Secretary Teodoro Locsin Jr. holds a joint press briefing with Chinese Foreign Minister Wang Yi in China.
DFA/Emilio Lopue
Locsin tells China: Philippines has nothing to fear from new power
MANILA, Philippines — Speaking on behalf of the Philippines in China, Foreign Affairs Secretary Teodoro Locsin Jr. assured his Chinese counterpart that Manila is hopeful for Beijing's rise as a new world power.
The Philippines' top diplomat met with Chinese State Councilor and Foreign Minister Wang Yi during his official visit to the country.
In a speech during a joint press briefing with his Chinese counterpart, Locsin said he and Wang had a "productive meeting to take stock of what our two countrues have accomplished so far."
"I speak for my country which wants to see much to hope for, and nothing to fear from the rise of a new power," Locsin said.
Locsin noted how the Philippines was "at the mercy of Western markets" during the second half of the previous century.
"And along with it a new world where the ambition of one to rise higher and get richer is best advanced by helping others to rise and prosper in tandem with her," Locsin said.
"The emergence of a new China is creating a world where the lesser have a chance," he added.
This emergence would also serve as an opportunity for both countries to cooperate for mutual benefit, the Philippine foreign secretary said.
The two foreign ministers also discussed setting differences aside to "pursue more enriching and advantageous common goals."
The Philippines and China have overlapping claims in the South China Sea. In July 2016, the Hague-based Permanent Court of Arbitration ruled that Beijing violated its commitment under the United Nations Convention on the Law of the Sea by constructing artificial islands in Manila's exclusive economic zone.
China, however, refused to acknowledge the arbitral ruling and insisted that it has indisputable sovereignty over the contested waterway. The two countries have decided to hold a bilateral consultation mechanism to settle the dispute.
In his speech, Locsin also assured Wang that the Philippine government would look after Chinese nationals in the country.
"You have our assurance that the Philippines will look out for your people in my country as I have seen China look out for our people in yours," Locsin told Wang.
Critics have been raising concerns over the influx of Chinese workers in the Philippines after President Rodrigo Duterte assumed office in 2016.
Duterte, however, said he was in favor of Chinese workers in the country, comparing them to Filipinos working in China.
"Bakit? (Why) We have 300,000 Filipinos in China. Kaya hindi ako maka — sabihin, o umalis kayo dito, deport ka doon. Eh kung bigla paalisin 'yun doon 300 of them?" Duterte said in February.
Malacañang later on clarified that the government would enforce immigration laws against illegal Chinese workers.
"Our laws will be applied with full force and effect equally to all foreign nationals who violate them," presidential spokesperson Salvador Panelo said.