Duterte on deporting Chinese workers: Let them work here
February 24, 2019 | 12:27pm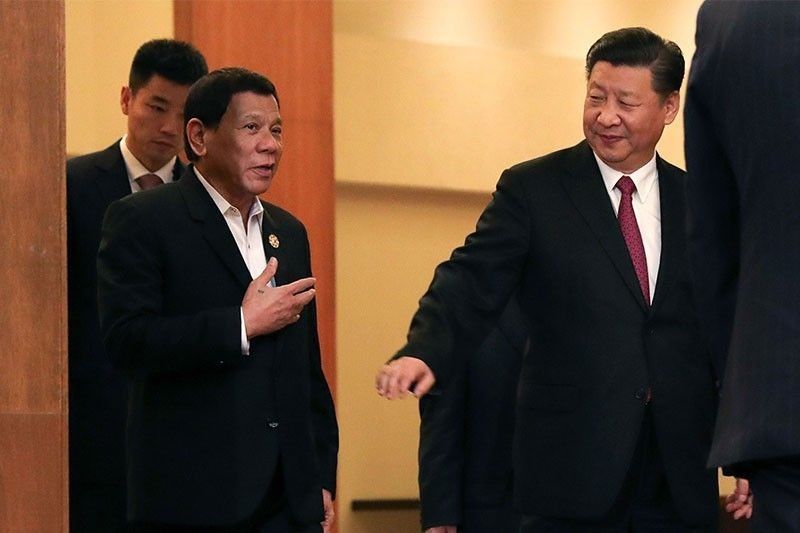 MANILA, Philippines — President Rodrigo Duterte on Saturday said he is in favor of letting the Chinese work in the country.
"Iyong mga Chinese dito hayaan mo 'yan na dito magtrabaho. Hayaan mo (Allow the Chinese here to work. Let them)," Duterte said in his speech during the campaign rally of PDP-Laban in Laguna.
Duterte, earlier criticized for his friendship with the Chinese government, defended his statement by likening the presence of Chinese workers in the country to Filipinos working in China.
"Bakit? (Why) We have 300,000 Filipinos in China. Kaya hindi ako maka — sabihin, o umalis kayo dito, deport ka doon. Eh kung bigla paalisin 'yun doon 300 of them? (That's why I can't tell them to leave, deport them. What if they make the 300,000 Filipinos there leave?)"
In 2016, the Philippine consulate-general in Hong Kong reportedly estimated that there are 200,000 undocumented Filipinos working as helpers in China.
'Deport Chinese with caution'
Duterte's statement came months after he previously discussed the possibility of deporting illegal Chinese workers in the country. He, however, then said they should be given consideration as China has been lenient to Filipinos.
The president reminded that while the Filipinos think the Philippines is "at a disadvantage because there are so many Chinese nationals working here, remember that we have the same amount of people – Filipinos who are there working in China. But they are not deporting anyone."
Duterte stressed that "there is a distinct possibility" that deportation would also happen to Filipinos in China so we must avoid "getting rough on this issue."
"Yes, they should be deported. But in the same manner, you should be careful because when you point to the Chinese you also point… at us. There are so many thousands of Filipinos working there or went inside China as tourists and (are) working there," Duterte said in November 2018.
"Remember it's not just exploiting a story about the Chinese working here. We are doing the same thing in Malaysia. A lot of our women are there – in Indonesia, China, Korea," he added.
READ: 'Deport 52,000 illegal foreign workers, with care'
On the same month last year, the Senate committee on labor, employment and human resources development, chaired by Sen. Joel Villanueva, probed the influx of undocumented foreign workers especially Chinese in the country.
During the Senate inquiry, the Department of Foreign Affairs disclosed that Chinese nationals get their tourist visas upon arrival in the country, valid for only 29 days. They then extended these visas for another six months.
The DFA, however, said it issued only 18 employment visas despite the 1.6 million Chinese arrivals.
The Bureau of Immigration early February also reported that 74 percent of 533 foreigners arrested in 2018 were Chinese nationals.
This month, Vice President Leni Robredo also raised concern on the "special treatment" given to Chinese — in line with the "friendship" that the Philippine government has with China. She made this statement after a 23-year-old Chinese student threw her taho drink at a police officer at a Metro Rail Transit station.
READ: 'I really like the Philippines': Chinese student sorry for 'taho' tantrum
Robredo cited that several Filipinos are complaining that some jobs supposed to be for Filipinos are given to Chinese.
Opposition senatorial bets Rep. Gary Alejano (Magdalo party-list) and former Solicitor General Florin Hilbay also agreed with the vice president.
Alejano said Filipinos are becoming "second-class citizens" because of the privilege being given to Chinese.
"This is what happens when our government itself favors the Chinese and calls our country a 'Province of China,'" Alejano said in a statement on February 10.
Hilbay, meanwhile, cited that the "bilateral deals that are unfair to the Philippines and the influx of illegal Chinese workers" as he called out the current administration for its "favorable rules toward Chinese."
READ: 'Frustration over sea dispute no reason to hate Chinese people'