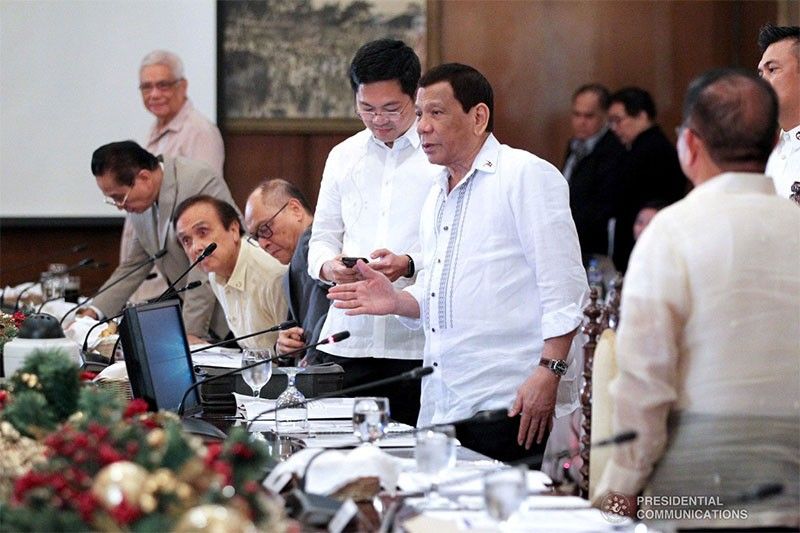 President Rodrigo Roa Duterte talks to his Cabinet members prior to starting the 32nd Cabinet Meeting at the Malacañan Palace on Dec. 4, 2018.
Presidential photo/Ace Morandante
CHR raises concern over Duterte's 'harsher' drug war
(Philstar.com) - December 6, 2018 - 12:28pm
MANILA, Philippines — The Commission on Human Rights reminded the Duterte administration to respect human rights following the president's warning of a harsher crackdown on illegal drugs.
President Rodrigo Duterte said that he will "be harsh and there might be widespread violence" as he tries to end the drug menace in the country, along with the military and police.
The CHR urged the administration to uphold rule of law and respect human rights as part of its obligation to the Filipino people.
"If the administration values human life, then human rights must be equally respected as there is no distinction between the two," CHR spokesperson Jacqueline de Guia said in a statement.
De Guia also lamented that the president's remarks on a harsher drug war comes as the country celebrates the 70th year of the Universal Declaration on Human Rights.
The CHR spokesperson noted that the Philippines still faces unsolved deaths and other forms of human rights violations allegedly connected to the so-called war on drugs.
The Philippine National Police, on the other hand, insisted that the supposed harsher drug war would not violate laws.
PNP chief Dir. Gen. Oscar Albayalde said the president always gives the directive to perform their duties within the law.
"The president already repeatedly said that, but we perform our duties with accordance with the law. He didn't say anything about going above the law," Albayalde told ANC's "Headstart."
Duterte had also instructed the military and police to reassess their operational procedures during law enforcement operations.
The president expressed disappointment that some police and soldiers kill criminal suspects instead of following official procedures.
"I told the police not to commit abuse. You can kill them legally and why do you have to kill them illegally?" Duterte said in a speech at Malacañang earlier this week. — Patricia Lourdes Viray