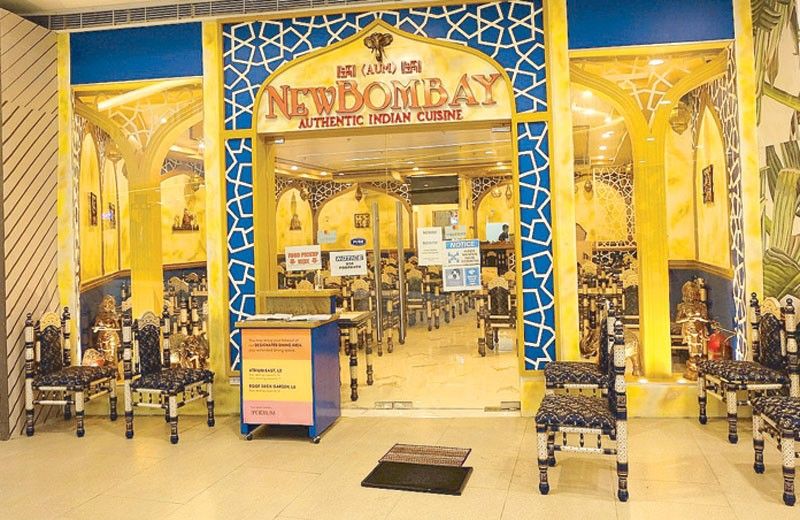 This is the New Bombay restaurant at the Podium, one of several outlets in Metro Manila that offer cuisine 'to excite your senses'
Need an aphrodisiac? Try Indian cuisine!
FUNFARE
-
Ricky Lo
(The Philippine Star) - February 23, 2021 - 12:00am
First, a confession: All these years, my taste buds have been accustomed to three kinds of food Chinese (understandable), Filipino (as well) and Japanese (acquired). But my favorite comfort food is ang walang kasawa-sawang scrambled eggs which Ching Alano and I would order from the canteen of Daily Express (yes, there was such a paper!) week after week to tide us through the weekly press work for the Sunday magazine Weekend. I now have several scrambled versions of it: Eggs with black beans (perfect with porridge), eggs with mushrooms, eggs with pipino, eggs with potato, eggs with onions.
Two Sundays ago, my friends "J" and "J" had a Valentine surprise delivered to my place "with love" — yes, four kinds of Indian food from New Bombay restaurant at Podium, one of several outlets around Metro Manila run by Khanchandani brothers Rainy and Mihir of the New Bombay Foods, Inc.
"They are aphrodisiacs," my friends "J" and "J" reminded me. "Try them." So I did. The result? Well, find out for yourselves, hahaha!!!
I didn't just take my friends' advice book, line and sinker, so I sought out Mihir for confirmation after my friends gave me his contact number. Is it true that Indian food (especially the curry-spiced) enhances one's libido?
"Yes, it's true," replied Mihir, "because the spices like e.g. turmeric powder increase the immunity. Cloves, green cardamom and other spices also keep the body warm which also increase the sex urge."
No wonder that since 2002 when the restaurant first opened, people of varied nationalities have been patronizing the restaurants, with Filipinos second only to Indians as regulars.
"The corporation was started by Philippine-based relatives with our parents as managers. In 2017, I took over," said Mihir (in his early 30s) who was born and raised in the Philippines. "Our major clients are Indians, Filipinos and foreigners from different countries. Our market is mainly for Filipinos. We make sure that our food is authentic but acceptably spiced for the locals."
How is Indian food similar to and different from Thai food which is also generally spicy and hot?"
"We have different kinds of gravies," explained Mihir. "We have onion-based gravy, spinach-based gravy, tomato-based gravy, cashew nut gravy. We also have Indian basmati rice and some spices which are different from Thai spices."
According to Mihir, the recipes were created by his mom who advises the Indian chef how to cook the dishes as per home cooking not like restaurant cooking.
"She also makes sure that the food is not spicy like what is normally served in India," added Mihir. "So we make sure the food is cooked like home-cooked food and it's adaptable to the tastes of locals and foreigners as they are not spicy eaters. But we also ask customers if they want spiciness in the food so we also customize the taste of people. So our waiters usually ask the customers before ordering the food if they want spicy, medium or mild."
Like other business owners, Mihir admitted that running a restaurant is challenging in this pandemic.
"We provide our employees transportation. We are still striving to increase the sales and we started offering promos on food. We use foodpanda for the deliveries. So we got new clients since other Indian restaurants are closed."
(E-mail reactions at rickylophilstar@gmail.com. For more updates, photos and videos, visit www.philstar.com/funfare or follow me on Instagram @therealrickylo.)