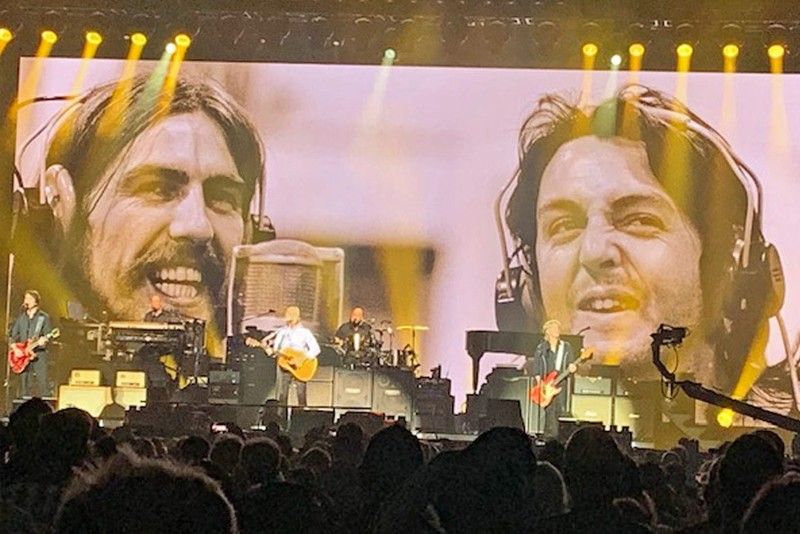 In a tribute to George Harrison, Paul McCartney opens Something on a ukulele and ends with an acoustic guitar.
Paul reminisces Beatles in Freshen Up tour
MANILA, Philippines — The Beatles imprint was refreshingly evident in Paul McCartney's Freshen Up tour, ending in Los Angeles on July 13 after 39 shows that started in September last year and crossed over 12 countries.
In his sold-out concert at the T-Mobile Arena in Las Vegas last June 29, McCartney, 77, sang 23 songs from his Beatles years in a repertoire of 38 tunes, including six from his band Wings and three from his latest album Egypt Station that entered the Billboard 200 charts at No. 1 to become his first of 18 solo works to mark the milestone.
McCartney was backed by drummer Abe Laboriel, percussionist/keyboards artist Wix Wickens and guitarists Brian Ray and Rusty Anderson — his support team the last 15 years. Also on stage were the Hot City Horns composed of Mike Davis on trumpet, Kenji Fenton on sax and Paul Burton on trombone. The Horns made their first appearance on Got To Get You Into My Life, the sixth song in the set list, playing in the aisle of the Lower Box section and later moving to the left side of the stage.
McCartney enthralled the audience of 20,000 with stories of his musical life and an incredible performance capped by an encore of six songs I Saw Her Standing There, Sgt. Pepper's Lonely Hearts Club Band, Helter Skelter, Golden Slumbers, Carry That Weight and The End.
The night before, McCartney opened his two-show Las Vegas stop with a slightly different set list. Junior's Farm, Can't Buy Me Love and Birthday were on the first show and they were replaced by Save Us, All My Loving and I Saw Her Standing There on the second. McCartney's durability was tested by a program that lasted nearly three hours without an intermission. His only interlude was an instrumental Purple Haze tribute to Jimi Hendrix and it came early in the show, before the ninth song I've Got A Feeling.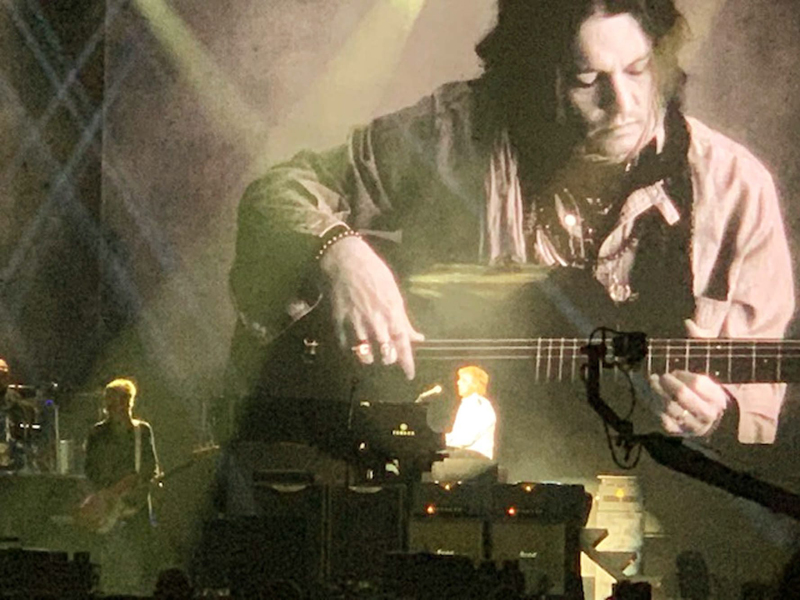 Johnny Depp is shown on a huge screen while Paul, on piano, sings Queenie Eye.
McCartney's rapport with the audience was warm, intimate and inclusive. He made everyone feel like the show was exclusively theirs. "This is so cool," he said, reacting to the loud welcome. "Let me take a minute to drink it all for myself." He called attention to fans who came with posters, one of which read "Since 1964, It's You I Adore." McCartney said he noticed a distinct difference in the reception to his old and new songs. "For the old songs, there's like a galaxy of stars with cellphones lighting up but for the new songs, it's like a black hole," he quipped.
Displaying his versatility, McCartney played bass on his patented Hofner, ukulele on the first part of Something, mandolin on Dance Tonight, piano on Live and Let Die, two Gibson electric guitars, keyboards and an acoustic guitar. Understandably, his voice wasn't as full as it was 50 years ago and he sounded more nasal than before. But this was vintage McCartney at his best, still enthusiastic, engaging and delivering a performance of the ages.
McCartney's voice cracked a bit when he introduced the song Here Today from his 1982 solo album Give My Regards To Back Street as a tribute to John Lennon. "Back when we were young, it wasn't cool or macho to say 'I love you' to a guy," he said. "I regret not having told John that. So I wrote this song to tell John I love him. Don't wait to say 'I love you' to somebody you really love before it's too late." Lennon was killed in 1980.
In his tribute to Hendrix, McCartney said two days after Sgt. Pepper's was released in 1967, he watched the American guitar icon's concert in London. "He opened with his version of Sgt. Pepper's' and used a vibrator that put his guitar out of tune," said McCartney. "Then, Jimi called out to the crowd and asked if anyone could help tune his guitar. Eric Clapton and Pete Townshend were in the audience. Basically, they told Jimi to tune it himself. Jimi was a humble guy with a great sense of humor." Hendrix died at 27 in 1970.
McCartney also did a tribute to George Harrison, singing his composition Something first on a ukulele then on an acoustic guitar. He said Harrison was an accomplished ukulele player. The ukulele he strummed was a gift from Harrison who died in 2001.
A unique number in the program was In Spite Of All The Danger, a song that McCartney and Harrison co-wrote with their early band The Quarrymen. "We did a demo of the song and passed it around the members until it ended up with Duff Lowe," he said. "Would you believe, 20 years later, I bought the demo from Duff at a considerable price." In another song Queenie Eye from his 2013 solo album Now, McCartney played piano while a large screen showed a video of several celebrities, including Meryl Streep, Kate Moss, Johnny Depp and Jeremy Irons, in a gathering.
McCartney's sentimental My Valentine from his 2012 solo album Kisses On The Bottom was a smooth break in between Let 'Em In and Nineteen Hundred And Eighty Five. He said he wrote the song for his wife Nancy Shevell, whom he married in 2011. Shevell is his third wife after Linda Eastman who died in 1998 and Heather Mills whom he divorced in 2008. McCartney has five children, Heather, Mary, Stella, James and Beatrice.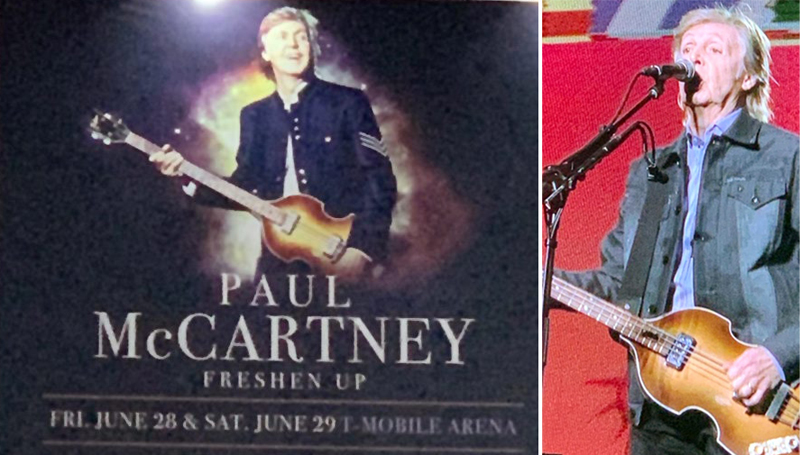 His Freshen Up poster announcing his two shows in Las Vegas. At 77, Paul(right) continues to amaze audiences all over the world with his longevity as a pop star.
On Back In The USSR, McCartney related that he performed the song twice in the same Moscow concert and said, "Wouldn't you?" He recounted that during the trip, he met the Russian defense minister who said the first record he ever bought was Love Me Do and another Russian government official who told him he learned English by listening to Beatles music then shook his hand, saying, Hello, Goodbye which was, of course, a Beatles song.
McCartney said when producer George Martin brought the Beatles to the Abbey Road studios to record Love Me Do, he was nervous and excited. When Martin said McCartney had to sing the song while Lennon played the harmonica, he became terrified. But the 1962 single went down as a No. 1 hit in the US with sales of over a million copies. "I was privileged to have met George," he said, referring to the English record producer whose career spanned six decades until his death at 90 in 2016.
Some of the other songs in his setlist were Let It Be, Blackbird, Lady Madonna, Obla Di Obla Da, Band On The Run, Eleanor Rigby, From Me To You, Maybe I'm Amazed and I've Just Seen A Face.
McCartney ended with Hey Jude then went back on stage to do an encore. The audience wouldn't let him go until he finally said, "See you next time." There were several favorites that McCartney didn't sing like My Love, Yesterday, The Long And Winding Road and Silly Love Songs so there will definitely be a next time. Over the last five years, McCartney has performed in nearly 200 shows before over 5.5 million fans and he's not showing signs of slowing down. He had two shows in Japan on the Freshen Up tour but to this day, hasn't returned to Manila since the Beatles' harrowing experience in 1966. Perhaps, McCartney will be back, maybe with Ringo Starr, to perform before thousands, if not millions, of Filipino Beatle fans. It could be a Forgive And Forget tour to register another unforgettable chapter in McCartney's amazing musical journey.