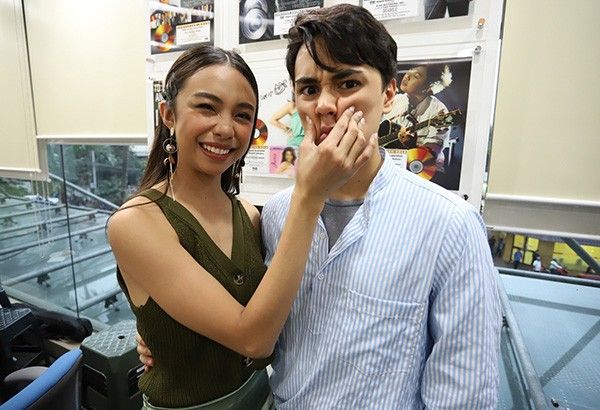 MayWard delights music fans with fresh new singles under Star Pop—Maymay Entrata's torn themed "Kakayanin Kaya" and Edward Barber's captivating "No one Else."
ABS-CBN/Released
Maymay Entrata: Me, a beauty queen?
MANILA, Philippines — With her viral video of her encounter with beauty queens, Maymay Entrata may as well be the woman of the moment.
People are talking about the likelihood that the PBB ("Pinoy Big Brother") alumna will portray Miss Universe 2018 Catriona Gray in the ABS-CBN's drama anthology "Maalaala Mo Kaya" (MMK).
At the sidelines of iWant's media conference for its three-part anthology "Touch Screen" (which starts streaming Wednesday, March 6), bloggers bombarded her with questions, ranging from her beauty queen potential to her takeaway on life.
No, she clarified. She will not play Catriona in an MMK episode. Hers is a funny VTR (video tape recording) about Catriona instead.
Maymay is grateful some people regard her as beauty queen material. After all, her "morena" skin is the kind those scouting for beauty contestants look for in a woman. But Maymay does not think she is beauty queen material at all.
The beauty queen sheen may have rubbed off on her when she walked the ramp with the likes of Catriona and Miss Universe 2015 Pia Wurtbach.
But this does not mean she wants to follow in their footsteps. In fact, Maymay was all nerves as she shared the stage with the country's most beautiful women.
Maymay was surprised when Pia, who was standing beside her, whispered backstage, "You can do it! It's okay to feel nervous. That means you want to give your best."
Such outpouring of support touched Maymay so much, she looked straight at the camera and gushed, "I love you, Ms. Pia! Sana makita mo ito (the video of herself speaking)."
You cannot win them all. Like all celebrities, Maymay has her share of bashers.
Spunky Maymay does not lose sleep over them. Instead, she steels herself and says, "Kahit anong mangyari, kahit anong bato nila sa 'yo, huwag kang sumuko."
Like Scarlett O'Hara in the classic novel "Gone with the Wind," Maymay does not give a damn about what her bashers say.
"Never akong pumatol sa kanila."
That is because her priorities are crystal-clear. She wants to earn enough so she can help her cousins finish college. Maymay also wants to save up for a business and finish her studies.
"Hindi ito habambuhay," she muses, "Tatanda rin ako."
For the meantime, Maymay is enjoying life to the max. She plans to take a break and visit her Japan-based mom for a week on her birthday in May. That is after she does an undisclosed summer project for ABS-CBN (she stars in Touch Screen's "Alamat ng Ano" episode with Kisses Delavin).
That's good karma for Maymay, the good girl, for you.