Toyota electrified vehicle, next-gen Tamaraw make appearance at TGR Vios Cup Leg 2
September 18, 2023 | 9:50am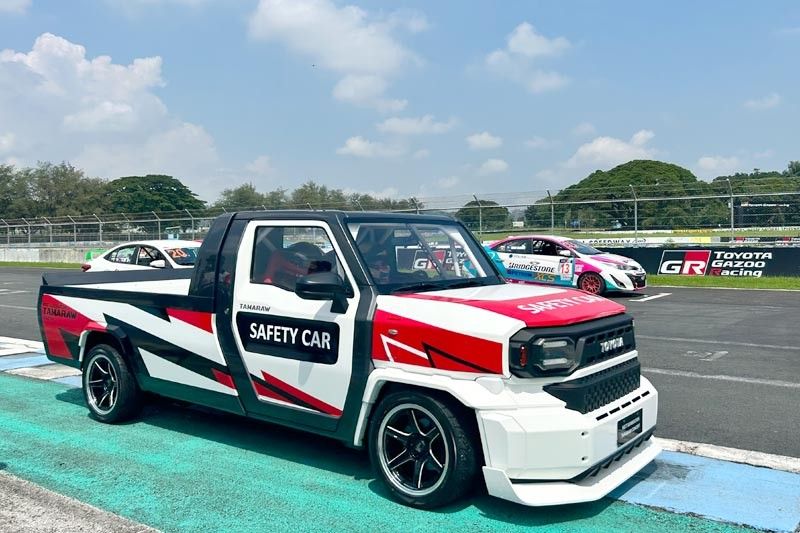 MANILA, Philippines — Filipino Toyota fans and motorsport enthusiasts witnessed an action-packed day of racing—both on screen and on ground—at the Toyota Gazoo Racing (TGR) Vios Cup Leg 2 last September 9.
Held at the Clark International Speedway in Pampanga with a livestream on Toyota Gazoo Racing Philippines Facebook page, the second leg of this year's TGR Vios Cup also had a lot of surprises in store for everyone.
"This has been one of our biggest legs yet in terms of surprises for our audience. Today, we actually debut our very first electrified race car, the Corolla Altis GR-S HEV, for some exhibition racing, both in the Circuit Championship and the Autocross Challenge," Elvin Luciano, VP for Marketing Services at TMP, told Philstar.com at the sidelines of the racetrack during the Vios Cup.
For Luciano, this shows the growth of TGR Vios Cup as TMP's flagship program for the promotion of motorsports in the country throughout the years.
"I'd like to believe that we have come a long way since we introduced this program almost a decade ago. We actually started this as a way of generating awareness and acceptance for motorsports in the country," he enthused.
For him, the Vios Cup has evolved by introducing new cars and infusing new elements for the participants and the audiences every year.
"As we have seen today in our second leg, we are currently testing our electrified race car and who knows in the next seasons or in the next years, we will be actually seeing competitive classes for our electrified race cars," the VP added.
True to this, another surprise to the delight of Vios Cup racers and viewers was the Next Generation Tamaraw Concept, which served as the safety car for this leg.
Filipina racecar driver Gaby dela Merced herself, who also served as Vios Cup host, drove the Tamaraw Concept to the opening ceremonies.
The Vios Cup also gave a sneak peek of the newest Gazoo Racing Sport car, the Toyota Hilux GR-S. It completed the showcase of GR and GR-S vehicles, which included the GR Supra, GR Yaris, Fortuner GR-S and Rush GR-S.
Lastly, the Vios Cup continued its mission of reaching more Filipinos in the grassroots.
"We believe that there is such a strong potential for Filipino drivers to actually shine in this sport," Luciano noted.
As such, more Filipino drivers—whether professional racers, aspiring ones or even motorsport enthusiasts—were invited to join in the action-packed races: Circuit Championship and Autocross Challenge in sporting or promotional categories.
One of the first-time racers in the Celebrity and Influencer Class in the Autocross Challenge was Megan Young.
"I went from city driving to being on a race track . . . It's a completely different feeling. The setup inside the car is so different from what I'm used to, of course, so everything is new visually. The feeling is so different. When I'm there, it just feels like I'm a completely different person," Young said.
The former beauty queen who is a self-confessed gamer added, "When you're there on the track and you're alone, you feel the competitive vibes, but you're also there to enjoy. So I had that in mind."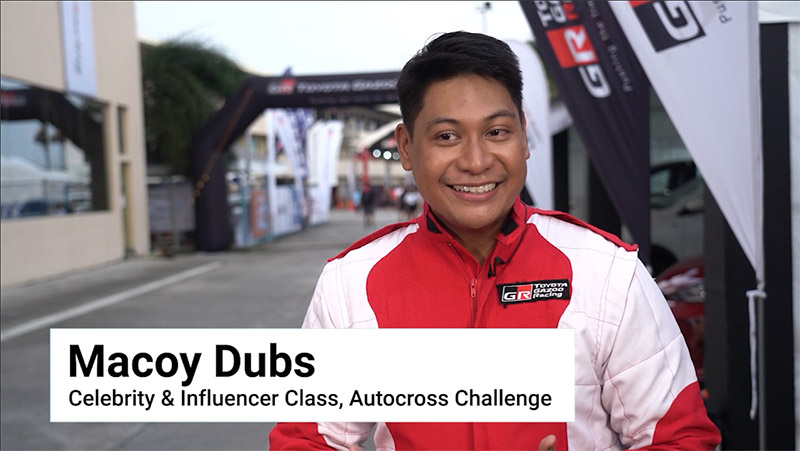 Social media influencer Macoy Dubs was also a first-timer who showed his other side.
"This is the other side of me because on social media, what they see are always the comedic shorts, the [comedic] characters but cars or automotive in general is my other passion as well. . . So getting into this sporting event, it means a lot to me because I can finally experience it," he said.
Sharing his experience driving for the Autocross Challenge, Macoy Dubs said, "The thrill of driving or the joy is being one with the car, getting to know your car, being one with the machine definitely. You know how to operate the car, you are one with the car and at the same time you just have fun and then chill."
Meanwhile, winners from the Circuit Championship were:
Promotional Class: Jarond Mesina of Toyota Team Cebu (1st place), Alain Alzona of Toyota General Santos-Chooks to Go Racing Team (2nd place) and Bong Garbes of Inbox-Toyota San Fernando (3rd place)

Sporting Class: Jiro Garbes of Inbox-Toyota San Fernando (1st place), Russel Cabrera of Toyota Team Cebu (2nd place) and Maila Alivia of JBT Racing Team / Toyota Isabela (3rd place)

Super Sporting Class: Joaquin Garrido of Obengers Racing Team (1st place); Bryan Co of R Racing Team (2nd place) Red Diwa of JBT Racing Team / Toyota Isabela (3rd place)
Seasoned racers Milo Rivera and Jose Altoveros, along with TGR Philippines Ambassador Marlon Stockinger, joined the special Autocross Challenge featuring the Corolla Altis GR-S HEV as race car—to which Rivera was hailed champion.
Want to see fast cars on the speedway and celebrate inspiring race champions? Come and join the last and final leg of the TGR Vios Cup 2023 on November 11. Admission is free!
"We still have our last leg for this year happening on November 11. We hope to see you guys here again at the Clark International Speedway. We are doing this for all of you and to provide exclusive fun experiences for everyone, especially those who love cars and who love racing. So we hope to see you here next time," Luciano said.
Visit toyota.com.ph/gazoo/vios-cup and follow Toyota Gazoo Racing Philippines on Facebook and TMP's official pages: Toyota Motor Philippines on Facebook and Instagram, toyota.com.ph, ToyotaMotorPH on Twitter and Toyota PH on Viber.
---
Editor's Note: This #BrandSpace story is created with Toyota Motor Philippines. It is produced by the Advertising Content Team that is independent from our Editorial Newsroom.
---