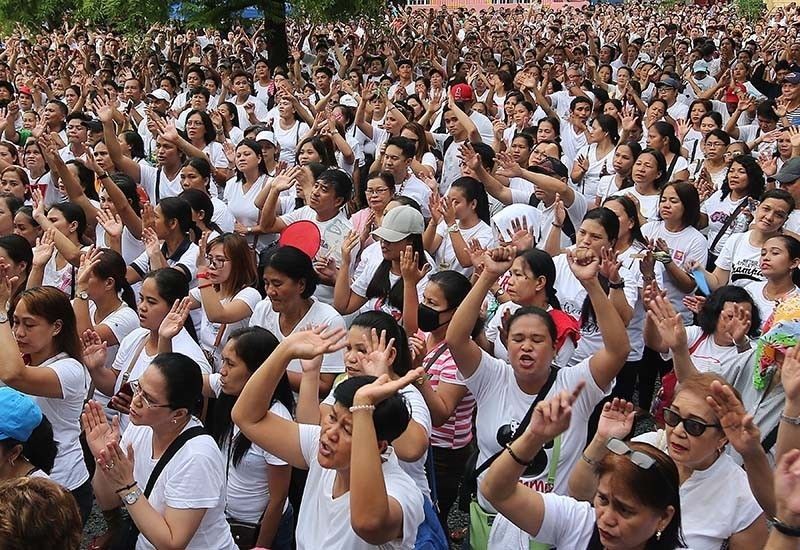 KAPA Ministry Taytay Branch holds a thanksgiving prayer on June 16, 2019 as they call on President Rodrigo Duterte to allow their investment scheme to operate again.
The STAR/Michael Varcas
SEC flags KAPA's 'disinformation campaign,' renews warning vs investment scams
MANILA, Philippines — The Securities and Exchange Commission on Tuesday renewed its warning against investment scams amid what corporate regulators called a "disinformation campaign" by a non-stock and independent religious corporation accused of orchestrating a fraudulent investment scheme.
In a statement, the SEC said it took note of "false claims" being spread by KAPA Community Ministry International, Inc. on social media that the group was supposedly poised to secure the necessary licenses to resume its operations.
SEC, Bangko Sentral disprove KAPA's claims
Corporate regulators said KAPA claimed that the Bangko Sentral ng Pilipinas approved its investment scheme — which the SEC said was refuted by the central bank.
The SEC also belied KAPA's claim that it already filed an application for a secondary license to sell and offer securities to the public.
"We enjoin the investing public to be more discerning with and critical of any promises and persuasions made by fraudsters," SEC Chairperson Emilio Aquino said.
KAPA stands for Kabus Padatoon, which is Bisaya for "make the poor rich." But authorities warned it will actually not do that.
The SEC explained that KAPA's activity constituted a "Ponzi" scheme, an investment program that offers impossibly high returns and pays investors out of capital contributed by newly recruited members.
The Court of Appeals — acting on a petition filed by the Securities and Exchange Commission and the Anti-Money Laundering Council — issued a freeze order on several banks accounts and other assets linked to KAPA.
With its assets frozen, KAPA will no longer be able to give investors the returns they were promised.
"When presented an investment opportunity, take time to verify the legitimacy of the company, especially their authority to solicit investments from the public, and to understand how the promised returns will be generated and delivered," Aquino said.