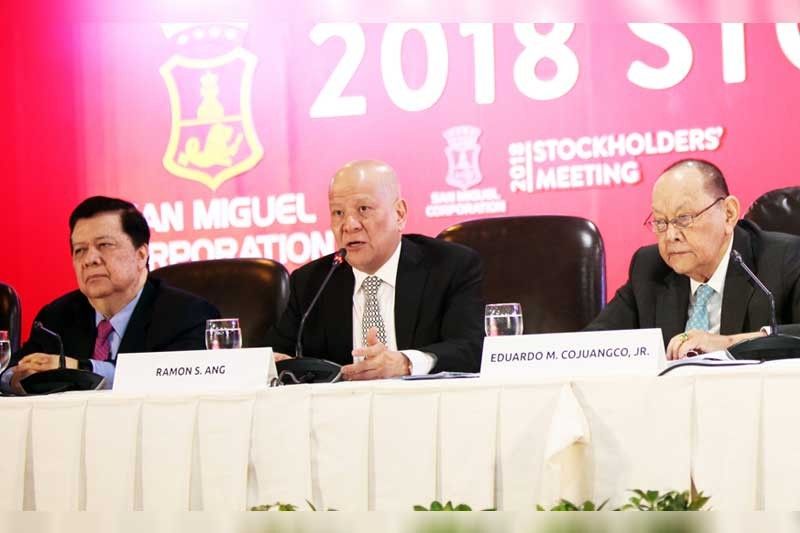 SMC ANNUAL STOCKHOLDERS' MEETING: The management of San Miguel Corp. briefs investors on the conglomerate's operations and new projects during SMC's annual shareholders meeting yesterday. In photo are (from left) SMC chief finance officer Ferdinand Constantino, president Ramon Ang, and chairman Eduardo Cojuangco Jr.
Joey Viduya
SMC awaits Duterte OK for $15-billion Bulacan airport
MANILA, Philippines — San Miguel Corp., the country's diversified conglomerate, hopes to soon get the Duterte administration's approval for its proposed $15 billion airport in Bulacan.
"Let's hope it will be soon so passengers will no longer have a difficult time traveling," SMC president and chief operating officer Ramon Ang said during the company's annual stockholders meeting in response to a query on when the project will take off.
In a briefing after the meeting, Ang said the President is very strong willed so the project's approval may move faster than expected if Duterte wants it.
Ang touted the Bulacan airport as the solution to the airport taxiway and runway congestion at the Ninoy Aquino International Airport (NAIA).
"The problem with NAIA now is not just runway congestion. It's also airport taxiway congestion," he said.
He has already tapped the best masterplanners and builders to design and construct the airport, which he said could be the cleanest and most efficient in the country.
"Once the government gives us the go-signal, we will reveal to the public the design of the project, but it will be a green airport, the cleanest, easiest, and friendliest," Ang said.
Last April, the National Economic and Development Authority Board gave the green light for the airport project. But Ang said it could still take a long time given that there would still be negotiations with the Department of Transportation (DOTr). The project still needs to be subjected to a Swiss challenge.
He believes the project will attract 20 million foreign tourists and generate at least 40 million new jobs.
Ang also reiterated the proposed Bulacan airport could put the Philippines on the radar screen of foreign tourists as it would help decongest the existing airports such as the NAIA and support the Clark gateway in Pampanga.