TNT one win away from Philippine Cup title
October 28, 2021 | 12:00am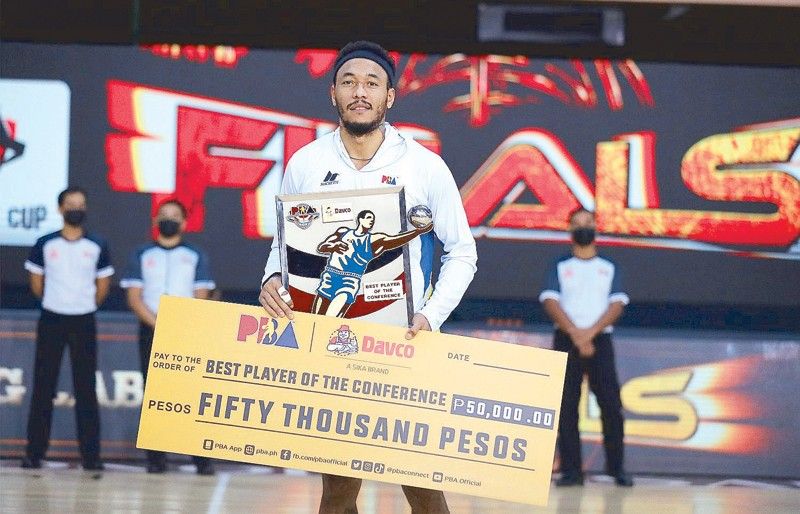 MANILA, Philippines — TNT reasserted itself against Magnolia, 106-89, to seize a commanding 3-1 lead in the 46th PBA Philippine Cup championship series last night in Bacolor, Pampanga.
After absorbing a 98-106 defeat in Game 3, the Tropang Giga turned the dial up to quickly get back on track and move on the threshold of their first title in six years.
TNT drew heroics from an array of stalwarts – from top gun Mikey Williams to hustle guys Kib Montalbo and Ryan Reyes to injured Troy Rosario and backup big Dave Marcelo – in pulling off the comprehensive win.
Rookie sensation Williams, who turned 29 last night, followed up his 39-point explosion with 26 markers and seven assists to lead victorious TNT.
Jayson Castro delivered a solid 12 while Reyes (10 points plus four steals), Marcelo (10 markers plus five boards) and Montalbo (eight spiked by two-of-two three-point shooting) made significant contributions.
Rosario, who sustained a dislocated finger last Sunday, played 19 quality minutes and chipped in five points with three rebounds to inspire his teammates.
"Troy shouldn't be playing but he said he wanted to try and I thought him being there brought the message of courage to the team," said TNT coach Chot Reyes.
"Troy showed great heart and everyone followed."
Calvin Abueva, fresh from winning the Davco-PBA Best Player of the Conference plum, paced the beaten Hotshots with 28.
TNT gained much from its bench players, who accounted for 51.
"Our team is constructed in such a way we didn't have a first group or second group. We have 15 guys and everyone who's asked to come in and play his role is accountable to be able to deliver," said the TNT mentor.
It was Reyes and Montalbo who actually provided the spark for TNT's breakaway in the second quarter.
Reyes and Montalbo combined for 18 as the Tropang Giga seized control with a 33-15 exchange for a 57-39 tear. TNT's shackling defense forced the Hotshots to turn the ball over 12 times in the period, which they converted to 18 markers.
The Tropang Giga juggernaut rolled on in the third, where they widened the gap to as many as 25 at 68-43. This time it was Marcelo who shone bright with eight points.
The Hotshots cut the TNT lead to as low as 13 early in the fourth but the Tropang Giga expertly dealt with the threat and restored a fresh 94-75 upperhand.
Abueva, nicknamed "The Beast," reinstalled himself as the top individual performer in only his second tournament back from his long suspension.
Abueva, who famously returned from a 512-day suspension in last year's All-Filipino bubble while playing for Phoenix, amassed 934 points to beat Williams (843) and teammate Ian Sangalang (591).