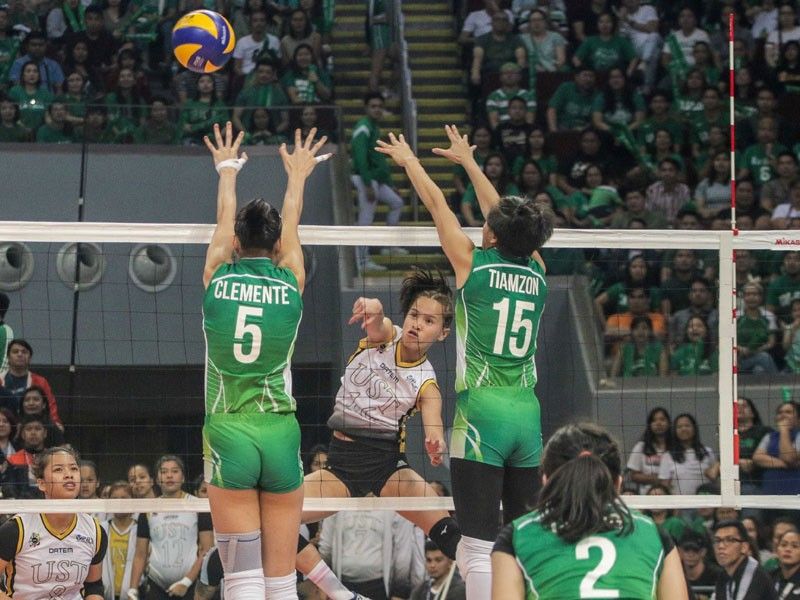 Tigresses, Bulldogs nail finals spots
MANILA, Philippines — University of Santo Tomas brushed off an erroneous display in the third and fourth sets, unseating defending three-time champion La Salle, 25-19, 25-19, 20-25, 23-25, 15-10, to advance to the finals for the first time in eight years in the UAAP Season 81 women's volleyball at the Mall of Asia Arena in Pasay yesterday.
The No. 2 Tigresses, armed with a twice-to-beat advantage, took a 2-0 set lead but crumbled with 26 errors in the next two frames as the Lady Spikers held on to the throne and forced the decider.
But UST toughened up in the fifth, anchoring their offense on rookie Eya Laure even as No. 3 DLSU crumbled with seven errors in the frame to yield the crown.
Meanwhile, reigning men's titlist National U put up a strong defensive wall to silence Adamson, 25-19, 25-16, 25-20, and secure its seventh straight finals appearance.
The Bulldogs lived up to their billing as the top seed, using their twice-to-beat advantage to the hilt as they menaced over the net with 16 huge blocks to set up a title clash with the Far Eastern U Tamaraws on Saturday.
NU was hardly troubled in sending off No. 4 AdU and securing its 14th straight victory dating from the eliminations.