Adidas unveils 2019 'Exhibit Pack' for football
February 19, 2019 | 10:13pm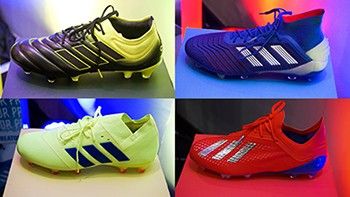 MANILA, Philippines — "This is Sparta, sir" quipped the security guard manning the entrance of Sparta Philippines. Situated just along Pioneer Street in Mandaluyong, Sparta pops out like a ripped Spartan king Leonidas among rows of gray fat warehouses. And this is why Adidas Philippines chose Sparta as the venue to unleash its new Adidas "Exhibit Pack" of football cleats to the media — to add a splash of color and creativity for the competitive athlete.
Football players from regular Juans to Azkals were treated with the opportunity to test drive the boots from the Adidas Exhibit Pack. These are:
X: The Adidas X 19 feature red and silver brandings. It's made for the runner with a lace less design and a skeletal weave for a minimalistic feel.

Nemeziz: These shockers sport a yellow and blue color theme. It also has an 'Agility Bandage' with a large collar for maximum comfort. Bring out that Messi in you.

Predator: The Predominantly blue cleats feature a lace less design, a molded sock liner and a control skin upper texture not to mention a molded heel for a more snug fit. Watch Phil Younghusband test the Predator here: https://dai.ly/x72nxw7

Copa 19: This one sports a vibrant palette of black with yellow trimming and features a Fushionskin k-leather with visible ridges across the upper part in front.
Adidas Philippines has detailed the new features of its forefront shoe, the Copa 19, and what it has to offer for the pro and aspiring footballer. After all, these boots were made for working. Watch:
With spanking new boots and apparel to match, the players marched to Sparta's indoor football field for a set of activities and a scrimmage with no less than Azkals standouts Phil and James Younghusband. Watch highlights from the games below here: https://dai.ly/x72nxw9
Nods of approval were all over the place after the game, and some players shared their praises for Adidas' Exhibit Pack with this writer. They explained how good the grip was even on an indoor football field and how they can control the ball better.
Simply put, they just can't wait to wear these cleats again, yell "This is SPARTA!" and kick balls.