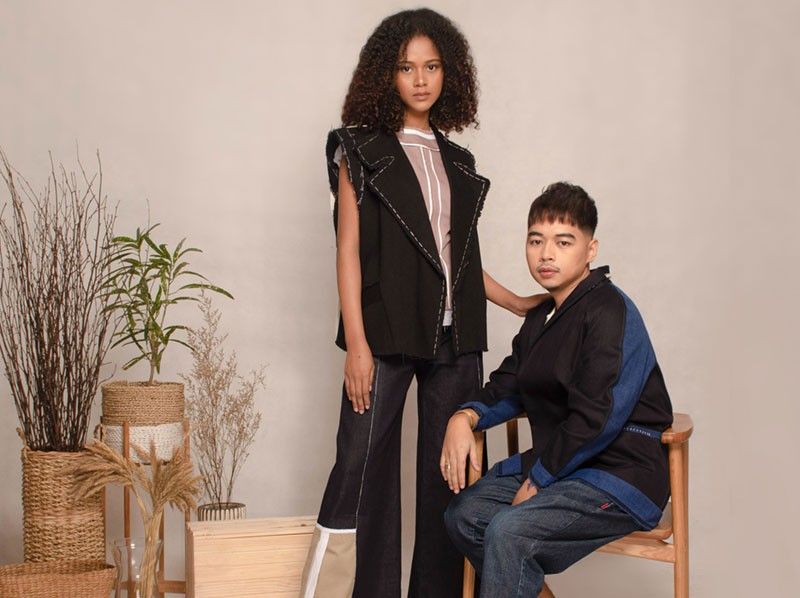 Seph Bagasao (right) of Bagasao
Now here's A trunk show that focuses on dressing for yourself
It's party season — are you ready for all the dinners and get-togethers?
Holiday-gifting trunk shows are a dime a dozen this time of year, but Comme çi and Cura V's The Concierge is the holiday trunk show made for you.
"This is the trunk show focused on dressing for yourself. With all the dinner invitations and the traffic, you need outfits ready. No last-minute runs to the mall," says co-founder Nicole Whisenhunt, drawing from personal experiences.
Comme çi sounds like "come see" because for the past two years, that's what Nicole and her co-founders Kai Lim and Trisha Bermudez Calma have curated the store to be about. An apparel-focused expansion of the vision that first began with Cura V — the nine-year-old jewelry and home accessory concept store known for its eclectic mix — and its trunk shows, training the spotlight on emerging young talents like Sassa Jimenez and Seph Bagasao, side by side with more established designers like Joey Samson and Ivarluski Aseron and brands like Filip+Inna who weren't so readily accessible without appointment — or locally, such as the newest members on their roster, Australian brand C/MEO Collective and Singaporean indie brand StolenStolen, known for the most tasteful cutouts and backless pieces.
The Comme çi and Cura V curation has always been steeped in a sense of modernity, cultural awareness and contemporary luxury. The eye is informed by a non-conforming love for the unique, the one-of-a-kind, the most exquisitely made. In collaboration with "Collab Contessa" herself Dara David Roa, The Concierge is a more complete expression of Kai, Nicole and Trisha's perspective on fashion, lifestyle and culture with over 50 participants that's a mix of fashion and lifestyle experiences.
Now back to the fashion. What did they look for in their consignors? "Creativity, yet something wearable for the holiday season," says Nicole.
It'll feature newcomers like designer Samantha Richelle and stylist Daryl Chang's brand D.D. Daily, both on their first time offline. Comme çi regular, designer Vania Romoff has since opened her own retail space next door at the Power Plant Mall, but she will be under one roof at The Concierge with Comme çi newcomers Jill Lao, Randolf, Yong Davalos, Cheetah Rivera, Chris Nick, Dona Lim, Vina Romero, Techie Hagedorn. Hindy Weber, Puey Quinones and Rica Rico, and brands Marga Nograles' Kaayo, Rafikimono caftan robes, and JeanJaquet linen and silk pieces. Designer Happy Andrada, who you had to visit by appointment in her Quezon City atelier, is coming up with headbands and jackets exclusively for the trunkshow. Comme çi favorites Yoya, Maureen Disini, and Seph will present new pieces.
Nicole warns: "It's really agawan. You better be early!"
Complementing the fashion are jewelry by Janina Dizon, Stockton Row, N Lagdameo, and Tani by Minetani, Menswear concept store Signet will have something for the boys and the girls who don't believe in gender codes. For accessories, it's Liane Aboitiz's Flora Magica and Uashmama's leather-like cellulose fiber bags. For the home, it's Maison 68 for tablescapes and fine furniture by E. Murio as well as Nicole Ortega Home, Oliver and Maude, and Phoenix Home.
For your dancing shoes, Studio Josanna will be debuting its Make-Your-Own-Fettuccine service, where guests can pick fabric, leathers, straps and stitching hand-in-hand for customized pair.
One feature of the trunk show is the Gathering Table which will be the centerpiece for more learning experiences. When your presence is the best present to give, The Concierge is about helping you be your best self for the holiday rush and beyond — no scrambling last minute, fully stocked with options, peace of mind intact.
* * *
The Concierge is happening on Oct. 10 to 13, 10 a.m. to 8 p.m. at The Loft, Manansala, Rockwell. Follow @comme__ci, @curav, and organizer @collabcontessa for updates.