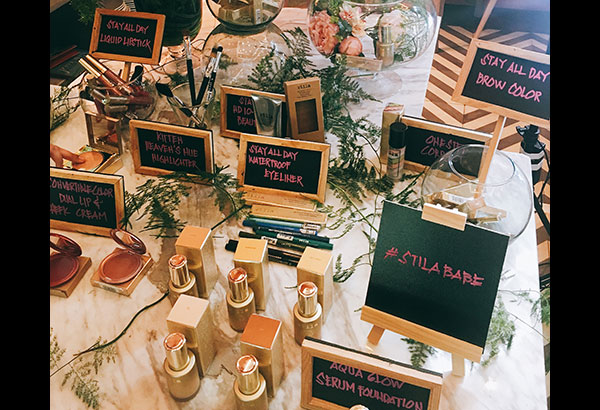 Beauty haul: Classic beauty brand Stila is in everyone's makeup kit.
Ina Jacobe
(The Philippine Star) - May 18, 2017 - 4:00pm
MANILA, Philippines - Living in a tropical country has its perks — the constant humidity, though, is definitely not one of them. Sweat and grime welcome us the moment we step out of the room and before Frank Ocean even hits the chorus, our makeup has already slid the moment we get into our Uber. Which leaves us asking, Must we really slip and slide all our days like this?
From lip gloss stains on our Candy Cutie cut outs to lipstick stains on our wine glasses, everyone has a story about the classic beauty brand Stila. For over 20 years, this cosmetics line has proven that their innovative products perform from morning to moonlight, keeping us ready for anything throughout the day.
To celebrate their success, Stila Philippines reintroduced the top 10 cult favorites with a makeup pop-up bar last May 11. They showcased their star products, namely Eyes are the Window Palette, Stay All Day Waterproof Eye Liner, Stay All Day HD 10-in-1 Beauty Balm, Stay All Day Foundation & Concealer, One Step Correct, Convertible Color Dual Lip & Cheek Cream, Kitten Eye Shadow, Smudge Stick Waterproof Eye Liner, Stay All Day Brow Color, and Stay All Day Liquid Lipstick.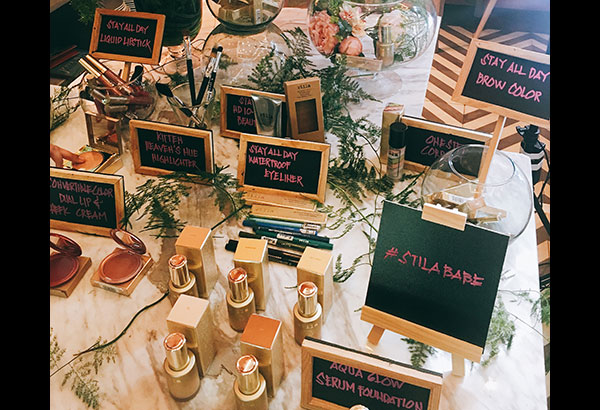 Makeup madness: Stila One-Step Correct and Stila Convertible Color Dual Lip and Cheek Cream.
As someone who is always on the go but easily warms up once I'm outdoors, I was keen on trying their One Step Correct primer and Convertible Color Dual Lip & Cheek Cream. A recent breakout left me with acne scars, which I often had to conceal with color correctors, plus concealer, which takes a lot of time and effort. I needed a quick but reliable fix to shorten my prep time by at least five to 10 minutes. With Stila's primer, I can skip the color correctors as it brightens and tones out the unevenness of my skin color. Aside from that, it'll also help keep my makeup stay fresh for a longer period of time. As for the lip and cheek cream, it's moisturizing enough to be used alone for the cheeks and lips, which I really love. It'll give you that effortless Asian flush you wanted to make you look like you've just gotten out of a workout. And if I have extra time, I'll line my eyelids with their liquid liner — easily makes me look like I slept for 10 hours the night before.
Stila's quality and artistry-proven products are worth every centavo. It does its purpose and it stays all day. And isn't that the level of quality all cosmetic brands should aim for? Anyway, BRB, I'm getting more shades from the Convertible Color line.
* * *
For more information, visit http://rustans-thebeautysource.com/en/product-tag/stila/