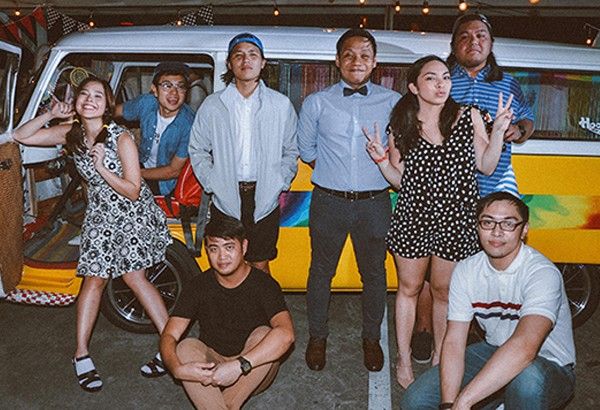 Squad goals: Cheats in full force at the Combi photobooth at last week's YS Prom.
Photo by Kenneth Aballa
Ina Jacobe
(The Philippine Star) - December 2, 2016 - 12:00am
MANILA, Philippines - What's a #YSProm party without the best local acts? Thanks to our ninongs and ninangs from Wanderland; our kiddie birthday party wouldn't be as cool as it looked without the perfect lineup to match it. Setting the tone right for the night, Cheats, in their Sunday's best, opened the stage with their fun and #bagets music. Their performance was so good that we found ourselves torn between having to choose to dance or stay still to take vids of their songs for others to hear and see. Foreseeing that we would all want to be best friends with them after their act, YS caught up with the band to get to know them a little better.
YOUNG STAR: How's it like working in a big group?
JASON CABALLA: Fun! Cheats is the biggest group I've ever been a part of. It's always been a fantasy of mine to be in a large collective-type outfit like Broken Social Scene or Arcade Fire. We're typically democratic because we're given free rein to come up with our own parts.
CANDY GAMOS: Being one of the only two girls in a band of eight is difficult because the boys can get rowdy. Can you just imagine how stressful it is for Saab and I to try to get some order in the room? Group decisions are usually held online, unless it's immediate. If you've missed the voting, then the popular vote wins. It might sound bad but it really isn't, because we're all in sync anyway.
MANNY TANGLAO: It can be pretty tough to come up with a decision since there are a lot of opinions in the group. Jim and Saab facilitate the decision making to make it easier for everyone to voice their opinions. At the end of the day, we all usually agree on what's good for the band.
ERNEST AGUILA: I'd compare it to being part of a Zombie Apocalypse Survival Group. If you're slow, you're zombie meat.
What's your dream project?
ENZO HEROMOSA: Collab with Julian Casablancas of The Strokes!
MAU TORRALBA: I want to make a We Are The World song with all of our fellow indie artists because we need more unity in a scene that has a lot of room to grow.
SAAB MAGALONA-BACARRO: A big band hybrid with Ang Bandang Shirley.
JIM BACARRRO: We're releasing an album with Ely Buendia next year so I guess you can call that a dream come true.
Let's make a quick playlist. What's everyone's favorite song right now?
1. Stockholm Syndrome by Yo La Tengo.
2. St. Lucia by Elevate
3. Pariwara by Itchyworms
4. Generator by Foo Fighters
5. Vulfpeck by Back Pocket
6. Mamborat by Radioactive Sago Project
7. Favoritism by She's Only Sixteen
8. Sad Sad Sad by The Rolling Stones
If you were to pick three things from the #YSProm party that would best describe the band, what would these be?
Burgers, booze, ball pit (and Rob Cham for Jason).