Start of something (slightly) new
(The Philippine Star) - January 28, 2016 - 9:00am
We're all in this together when it comes to remembering our former faves.
Two Mondays ago, as I was scrolling past the usual #ih8Monday tweets on my timeline before breakfast, I came across a stream of retweets directed at one Zac Efron.
Plastered above group photos of Vanessa Hudgens, Corbin Bleu, Ashley Tisdale, Lucas Grabeel, and Monique Coleman were harsh comments like, "ONCE A WILDCAT, ALWAYS A WILDCAT YOU CAN'T JUST NOT GO TO A REUNION," "GETCHA HEAD IN THE GAME BOLTON," and "WE ALL IN THIS TOGETHER WTF."
As a former die-hard High School Musical stan, I was surprised by the sudden emergence of song references from the movie. What was happening? Did I miss out on news of a reunion movie? And more importantly, where was former crush-ng-bayan Zac Efron (a.k.a Troy Bolton)?
To seek out the answers to my questions and to see what all the fuss was about, I immediately checked Zac Efron's Instagram account. True enough, all of his recent posts were bombarded with similar punny comments. A quick check of the accounts of his fellow High School Musical (HSM) castmates only affirmed what everyone was freaking out over and *virtually* yelling at him about: an official HSM reunion was happening, minus Troy Bolton.
HSM was the in thing back in grade school. In my opinion, it was the biggest Disney Channel song/dance sensation to hit our generation since 2003's The Lizzie McGuire Movie and The Cheetah Girls. I remember excitedly sitting beside my brother in the den of my lola's house to catch its 7:30 p.m. premiere on Disney Channel Asia, tightly clutching a pillow in anticipation as the opening credits rolled.
We all knew the songs whether we liked them or not, all thanks to our classmates or siblings who insisted on belting out Breaking Free every chance they got. One effect: ask any random college student to sing the chorus of We're All in This Together, and I guarantee that 90 percent of the time, he or she will either break into song and/or start doing the choreography (complete with the arm/leg pumping and Wildcat claws).
As it turns out, the original cast got together last week to pre-record a special for the movie's 10th anniversary. While it wasn't the widely requested follow-up to HSM 3 (the whole anniversary special consists of short clips of the cast reminiscing in a gym decorated with the original East High Wildcats posters), it was still enough to throw the Internet into a frenzy. And if the lack of punctuation and abundance of capital letters in the tweets I previously mentioned were anything to go by, the range of emotions exhibited by fellow fans of the movie varied from sheer joy to deep anger (at Zac, of course).
Though I swore to move on from my Disney phase after the Jonas Brothers broke up, seeing the main cast together again conjured flashbacks of what my life was like back in 2006. As an awkward 10-year-old at the cusp of puberty, I still had yet to be introduced to the typical high school dilemma of how to "be myself." It was HSM that taught me that it was okay to be the captain of the basketball team and the star of the school musical. That you could be a dancer and a mathlete.
The capacity of film studios to come up with fresh new content sure has been questionable in recent years because reunions and revivals are popular right now. To prove this, look no further than the buzz whenever revivals of beloved late '90s/early '00s TV show are announced. The fanfare is noticeable internationally, with the Gilmore Girls and The X-Files mini-series reboots, to HSM, and especially the Friends cast reunion (to be honest, everyone was still hoping that they were just on a break) and, locally, with A Second Chance and Pangako Sa 'Yo.
It's common to see a "'90s kids remember this" post on Facebook, complete with a collage of essentially '90s things like Lip Smackers and those star- and heart-shaped stick-on earrings. These posts get tons of shares all the time because our generation seems obsessed with remembering the past. Specifically, we relish the past that we lived and experienced ourselves.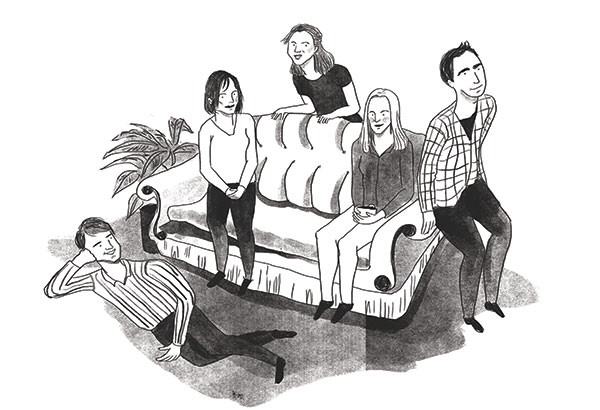 Art by Sam Ganzon
Maybe it has something to do with our situation. Usually, a significant amount of time has passed since the last season or last film. In that time, we, as the audience, have all grown older and more experienced. We're at a challenging point in our lives — one that sees us either facing the real world head-on as part of the work force, or still preparing to face it as students of higher learning, but we all know that it's just going to get harder.
During the anniversary special, Corbin Bleu (who played Chad) mentioned that it's a new thing when people tell him that HSM was their childhood. He was right, too. We like to relive our childhood vicariously through all of these cast reunions and TV revivals. To go back to the days when we didn't have to worry about anything harder than our algebra assignment, even just for an hour and a half.
Being reintroduced to the films and TV shows that we loved when we were younger allows us to view them through a different, slightly more mature lens. The experience shows how the messages that all of these shows and movies carried might still apply to us, and may even be more applicable than ever.
Rewatching HSM recently made me see the importance of the message of how it's okay to break away from the status quo and have more than one interest. Though I took a while to fully grasp its meaning, it's something that I've been coming to understand and apply these past few years of my college life.
As a soon-to-be 20-year-old, I'm close to saying goodbye to my teen years for good. The casts of my current favorite shows and movies will eventually have their own reunions that'll remind me of this time: me looking back at me looking back.
But until then, I'm not going to settle down until I get to retweet a proper HSM reunion, complete with that #ZaNessa selfie everyone's been waiting for.