Royal rumble
October 8, 2015 | 10:00am
MANILA, Philippines - A lot can be said about princesses –– at least about the princesses we grew up knowing. Belle was the cutest bookworm, Aurora lived the life we all wanted (come on, she just slept all day) and Jasmine was as badass as her choice of pet. Our modern fave, Mia Thermopolis, made us believe that ordinary people can be princesses, too.
While most princesses become royalty by random marriage or by blood, how about the normal people? Surely, not everyone can be Kate Middleton. With the continued rise of weird reality TV shows (we're look at you, MTV) it's only a matter of time before we choose royalty through a contest. This is the strange premise that Kiera Cass' New York Times bestseller The Selection explores.
Her fantastical universe expanded to her new book The Siren. Kiera self-published the book even before The Selection existed and it was only later that her publisher picked it up. The novel is about a group of beautiful women whose voices drive sailors to their deaths. The story follows the girl Kahlen as she lives her life of service to the sea. She is about to get her voice and life back until she meets a boy, which kind of throws a wrench into everything.
If there's anything that Kiera is good at, it's letting her characters breathe and live in the world she has created. We caught up with her during the Manila leg of her book tour to talk about her inspirations, fanfic and how she created her fantastical world. Because there should always be room for daydreaming and, who knows, it might even inspire a book out of us, too.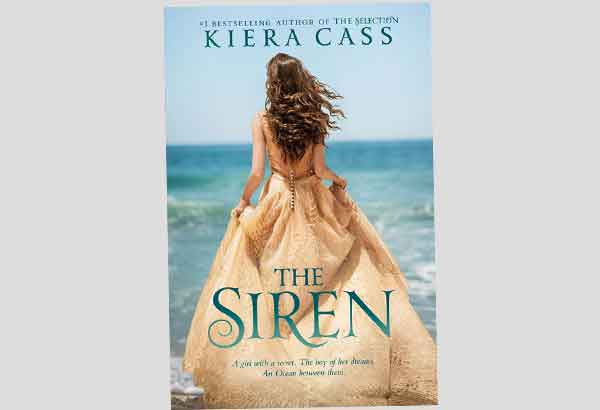 Young STAR: That's a cool crown tattoo on your wrist! Is that because of the book (The Selection)?
Kiera Cass: The first book in The Selection series debuted No. 1 in the New York Times bestseller list overnight. It was on for a week and it hopped off and that was it. So I said "You know if the second book is on the list for five weeks, I'll get a tattoo," thinking that's never going to happen. It went straight to No. 1 and it was there for a while. So I got the tattoo.
You wrote a lot of novels based on the world you created for The Selection. What was your inspiration in writing the book?
It came from thinking about the what-ifs for other stories like Esther's from the Bible and Cinderella. I look at Kate Middleton having a baby and coming out of the house three hours later looking gorgeous. It's impossible. (Laughs) Those things kind of marry in my head.
There are a lot of dating shows right now like The Bachelor or even UnReal. I read that The Selection was once optioned for a TV series as well.
Yeah! But that's no longer happening. Warner Brothers optioned it for a movie but it's still in the early stages. Where they were going with it, children wouldn't have been able to watch the television series. I think what I write works very well with young audiences but with the TV show, it was not. It would've been rated R. (Laughs) I'm much happier with the direction they're going with the movie.
You seem to have a very close relationship with your readers. Are you somehow influenced by what they want to happen in the books?
I realize I sound like I'm crazy when I say this but I'm very much dependent on the people in my head. Sometimes I won't know information until late in the game, which is really inconvenient. I just have to roll with it. The only way that I am god in this world is that I created the world and I created the people (in my books). Once they're there, they have free will and they just go about their lives and I document it. Again, I know I sound crazy. (Laughs)
How do you feel about fan fiction?
I don't read any of it because I don't want to get influenced by anything to change the story. Some fans are very hardcore and some fans send death threats. It was really sketchy for a while.
* * *
The Siren is available in all National Book Store branches nationwide.