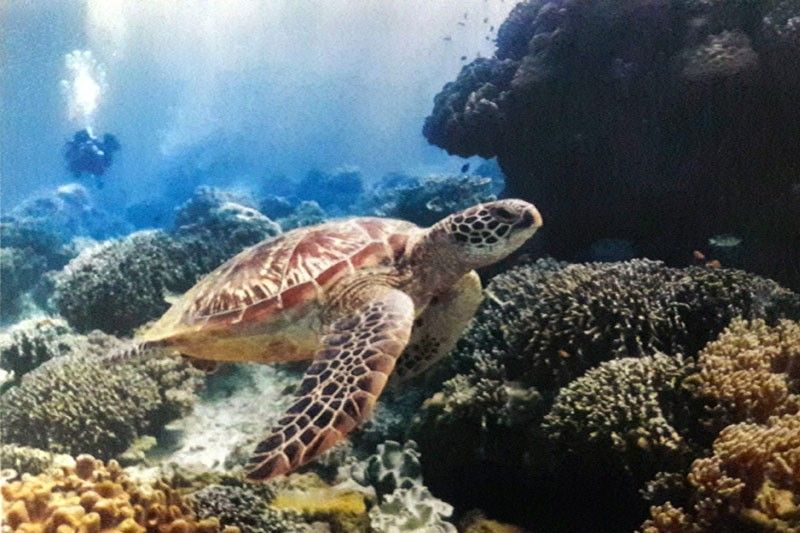 The diving's great in Dumaguete.
Bucket List Philippines goes sustainable
"This is not your typical travel book," writes editor Simeon Ventura Jr. in his introduction to the book. "I think what sets this book apart is that we made a conscious effort to present different aspects of sustainable tourism, hoping that it encourages and inspires."
While the book's first edition published in 2018 explores the Philippines' hottest destinations in true bucket list fashion, the new book focuses on personal stories from the islands of the guardians of culture and the environment.
Ventura poses a question and a challenge to readers: "Can Philippine tourism healthily grow and capitalize on its award-winning natural attractions and inborn hospitality, yet still be sustainable?"
He posits, "The answer may lie in the grassroots level…"
Thus, the book features the stories of ordinary Filipinos in the tourism sector who are doing remarkable things for the environment from which they get their livelihood.
For farm tourism there are features on farm owners Ronald and Josephine Costales of Costales Nature Farms, the first agri-tourism farm accredited by the DOT; as well as Danica Gapuz who is continuing her grandfather's grape farm legacy.
The book also takes readers island hopping following a chocolate trail from the famous Malagos Farm in Davao to Casa de Cacao in Cebu, to the Chocolate Princess Dalareich Polot in Bohol, and more.
Boracay is featured extensively in the book after the six-month shutdown for the famed beach's rehabilitation. "Without tourists, millions of dollars in income were lost, but the island began to heal itself."
The book reports Boracay has become more sustainable with a maximum carrying capacity of 19,000 visitors per day and daily arrivals capped at 6,000. "Boracay laid out a doable template and we are called not only to follow, but also to improve these current practices. In a few years, perhaps Boracay will not only be one of the world's most beautiful islands, but also one of the most sustainable."
Aside from farm tourism, the book features hiking destinations like Sagada, Batanes and UNESCO World Heritage Site Mt. Hamiguitan; diving spots in Dumaguete, Tubbataha and more; as well as top tourist destinations in Palawan, Boracay, Siargao, Cebu and Davao along with features on their local sustainable movements, eco adventures and advocacies.
In the final chapter, Caring for the Planet, the book presents the concept of "voluntourism" – something that "elevates the ordinary tourism experience by adding an element of meaningful service."
In the past few years, activities like tree planting and sea turtle patrolling have become a trend for tourists who want to give back to the beautiful places that they visit.
Among the projects featured are MAD (Make a Difference) Travel that offers a Tribes and Treks tour to Sitio Yangil in Zambales dubbed "an adventure that matters." The tour takes the travelers on a trek through lahar to a thriving nursery of cashew, ipil-ipil, rambutan and calamansi planted by members of the Aeta community together with volunteers.
Pure Oceans Philippines combats plastic pollution by organizing ocean cleanups and by implementing waste management systems in tourist towns.
TREK (Trails to Empower Kids) was founded by a group of mountaineers who wanted to give back to the welcoming communities of the places they would hike to. The group organizes hikes with a mission, whether transporting textbooks and hygiene kits, or providing disaster relief to communities in the mountains.
Project CURMA (Coastal Underwater Resource Management Action) organizes volunteers to help patrol the beach in San Juan, La Union to secure turtle nests and eventually help to safely release the hatchlings back into the ocean.
Waves for Water (W4W), an organization based in California, first came to the Philippines to bring relief after Super Typhoon Yolanda. The group's efforts include implementing water filters, restoring wells and rainwater harvesting.
In its write-up on sustainable tourism, the book says, "This chapter serves to remind the Filipino traveler of the ultimate goal of sustainable tourism – to visit a place and leave it better than when you first came."
With the effects of climate change manifesting more and more every day, sustainable tourism should definitely be on the top of every responsible traveler's bucket list.