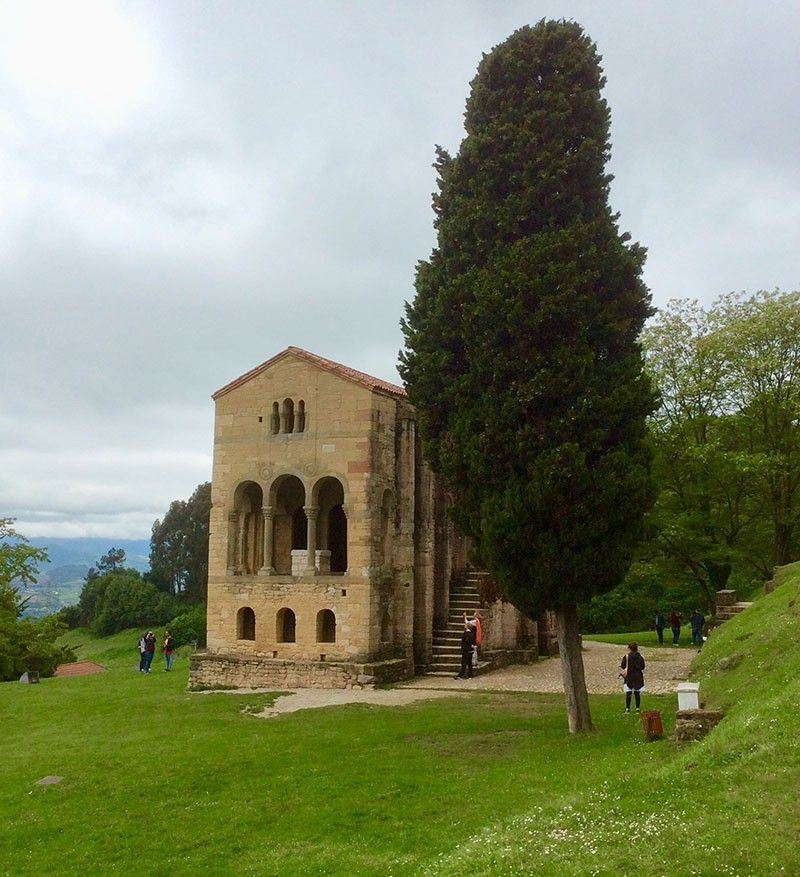 The charming Santa Maria del Naranco church just outside Oviedo.
Photos by JVM Francisco
Asturias: Spain's secret paradise
MANILA, Philippines — My knowledge of Asturias prior to my trip to northern Spain was practically zero. I knew of the title "Prinsipe de Asturias" as one conferred upon the heir apparent to the Crown of Spain but beyond that, Asturias was just a distant land in northwest Spain waiting to be explored.
Asturias was thus happily the final and longest leg of our road trip in northern Spain. It also helped that Pablo, my traveling companion who runs BrÄvo, a luxury travel company specializing in northern Spain, comes from Gijón, a picturesque coastal city along the Bay of Biscay that was our base.
I stayed in a charming 6-bedroom hotel called La Ermita de Deva located on a mountain slope in the outskirts of town. The owner-manager is a vibrant young lady called Mara. She cooked, cleaned the hotel, entertained the guests over cocktails and told interesting stories about Asturias.
One thing I noticed about my friends from Gijón is that they are endearingly patriotic and proud of Asturias. The principality is the sole region of Spain that was never conquered by the Muslims, so they call Asturias the real Spain. As the saying goes, "Ser españoles un orgullo, ser asturiano es un título" or "If being Spanish is a matter of pride, to be Asturian is a mark of nobility."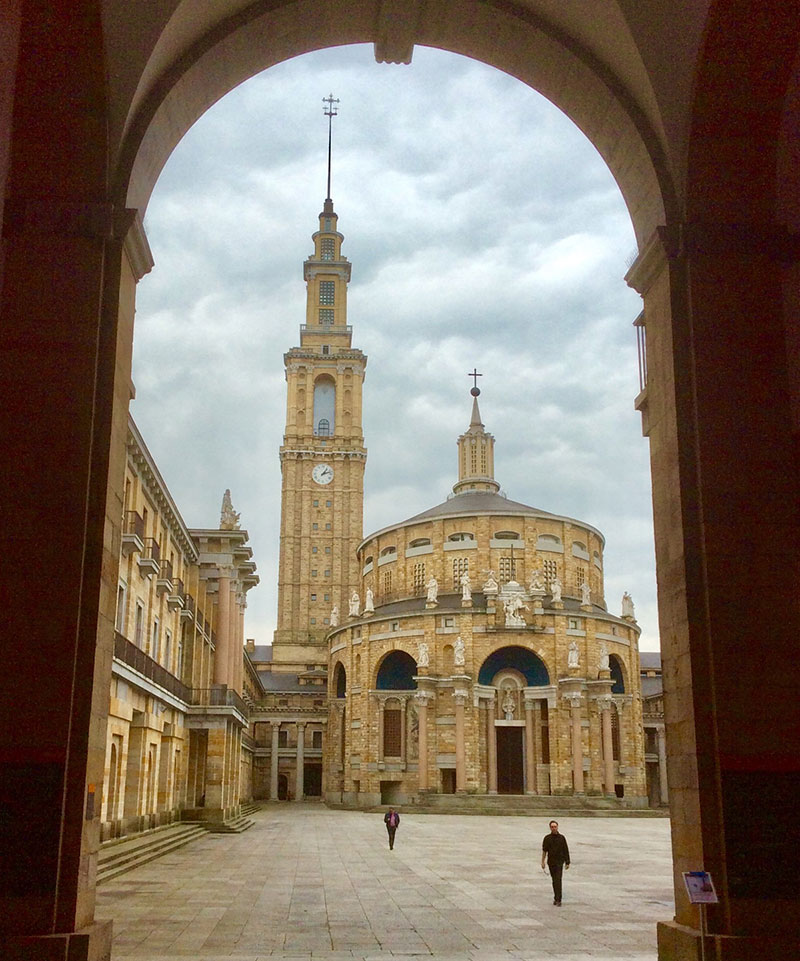 Laboral Ciudad de la Cultura houses several art institutions.
Asturias is also amazingly distinct from the rest of sun-parched Spain. Its coastal area has over 200 beaches interspersed along the jagged coastline. On the southern edge of the region is Picos de Europa, a chain of hills and soaring mountains that separates it from the rest of Spain. The result of these geological features is a verdant and fertile land that is lush and green most of the year.
Late spring in Gijón is still a bit cold (14-20°C) and mostly wet. The main beach, Playa de San Lorenzo, usually teeming with people, was practically empty due to the inclement weather. On the western tip of the cove is the San Pedro Apostol church perched atop a picturesque headland that provides a beautiful view of the Bay of Biscay. In front of the church is an important archaeological site called the Termas Romanas de Campo Valdés, a subterranean museum that showcases the remains of ancient Roman baths.
On my second day in Gijón, we visited the Jardín Botánico Atlántico, a 25-hectare open air museum with more than 2,000 species of vegetation from the Atlantic zone.
As we leisurely walked through the four sections of the park – the Cantabrian Gardens, the Plant Factory, the Island Garden and the Atlantic Path – we reveled in the scent of flowers beginning to bud, the aroma of oranges, strawberries, cherries and apple, the sight of majestic oak trees lining a path and the relaxing sounds of water flowing from small waterfalls and brooks. It was truly a pleasure for the senses and a balm for the soul.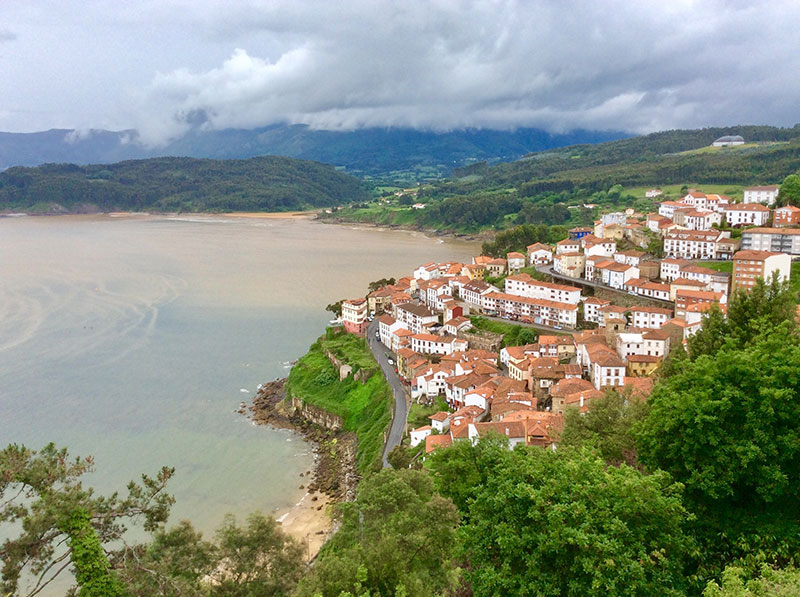 The harbor town of Lastres.
Just across the botanical gardens is the Universidad Laboral de Gijón, a must-see for any visitor and considered the most important architectural work of the 20th century in Asturias.
The complex has several school buildings, a church converted into a multipurpose hall, a large theater and a tower that is the tallest stone structure in Spain. The university has been renamed Laboral Ciudad de la Cultura in 2007 and houses several arts institutions.
Central Gijón is dotted with architectural gems from the pre-Romanesque, art nouveau, art deco periods interspersed with modern buildings. My favorite place is Café Central Gijón, a lovely art nouveau restaurant with interiors reminiscent of the sinuous shapes and forms of the late 19th century. On top of its distinctive ambience, Café Central offers scrumptious traditional dishes that gave me the taste and smell of the real Asturias.
I had several hearty meals in the restaurant and savored with gusto the fabada asturiana (a rich bean stew with sausages and pork), percebes or goose barnacle (a lightly boiled delicacy typical to northern Spain), almejas a la marinera (a yummy clam dish cooked in olive oil and white wine) and my comfort food in Asturias – arroz con almejas (rice stew with clams and herbs).
One unique architectural structure I saw all over Asturias is the hórreo, an age-old granary used to store various crops. It looks so familiar because it's quite similar to the torogan house of the Maranaos in Mindanao. The hórreo is built of wood and stone and is elevated by pillars to prevent rodents from getting to the crops. But nowadays, many of them have been converted for other purposes like extra lodging, artist's studio or storage space.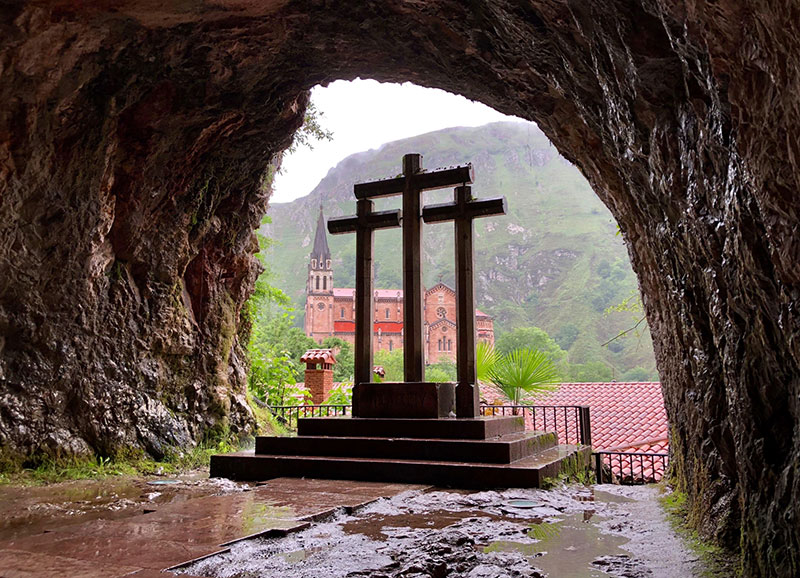 The holy cave of Covadonga.
We spent two days exploring Oviedo, the capital city of Asturias. It is not as vibrant as Gijón but Oviedo has some interesting destinations.
Just outside the city, we visited two UNESCO heritage churches from the pre-Romanesque period – the Santa Maria del Naranco and the Iglesia de San Miguel de Lillo. Both built in 842 AD, these little churches are rare examples of well-preserved structures of that era.
The highlight of our visit to Oviedo is the Catedral de San Salvador, which houses important Asturian religious relics and key symbols of medieval Christianity in Spain. The structure itself is fascinating because it displays an array of architectural styles from the pre-Romanesque, Romanesque, Gothic, Renaissance and Baroque, a clear indication that the cathedral has survived and evolved through the ages. Its main altar is a stunning wooden retablo mayor created in 1521 by a team of Spanish and Flemish artisans.
One memorable day trip that Pablo organized was a visit to Ribasedella, Lastres and Covadonga. Ribasedella is a charming fishing village 60 kms east of Gijón. We went there to have lunch at La Huertona, a Michelin star restaurant with a lovely view of the Picos de Europa.
For aperitif, we were served Spanish cider, a refreshing alcoholic drink produced from apples. This drink originated in Asturias from as far back as 1st century BC. It has a ritual attached to drinking it – the cider must be aerated and therefore poured way above the glass; then it must be drunk in one gulp; but one must leave a tiny portion in the glass to be thrown away.
The marina in central Gijón.
After the delicious seafood lunch, we headed off to Covadonga, an important pilgrimage site tucked within the soaring mountains of Picos de Europa. It has a majestic pink-colored basilica, a holy cave, a hermitage and waterfalls. What is significant about the site is its historical and religious symbolism to Spain. The Battle of Covadonga in the year 722 began the re-conquest of Spain from the Arab and Muslim rule.
Our last destination for the day was Lastres, a scenic harbor town with winding cobbled streets and a pretty beach. We had coffee along the harbor while watching fishermen prepare to set off for a fishing expedition.
My only regret is that I did not have the time to spend a day or two in this charming town. But of course this is incentive enough to go back and explore Lastres and the other hidden treasures of Asturias.