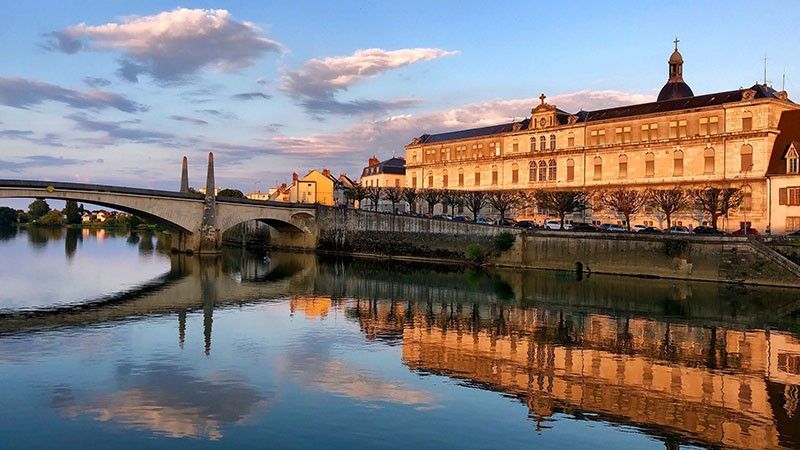 The luxury ship Scenic Sapphire starts its South of France river cruise at Chalon-sur-Saône in the Burgundy region, which produces some of the most expensive wines in the world. Local winemakers once distributed their products up and down the river Saône.
Photos by Tanya T. Lara
A scenic route of wines, truffles & rivers through the South of France
Scenic River Cruises takes the hassle out of planning your vacation by including everything you want to see, eat and drink — all in luxury and style.
At some point on the train speeding from Lyon, France's third largest city, the landscape changes into my mind and memory's picture of the South of France — a scenic route of vineyards, wheat fields, farmhouses and red-roofed village houses.
And plenty of golden hay rolled under the gathering blue skies of July.
I am on my way to Chalon-sur-Saône, a commune in the wine-producing Burgundy region 130 kilometers away, to join a river cruise on the luxury ship Scenic Sapphire, starting in Chalon, sailing the Saône and Rhône rivers back to Lyon at midpoint (where I'm to disembark), and then continuing its journey further south to Nice.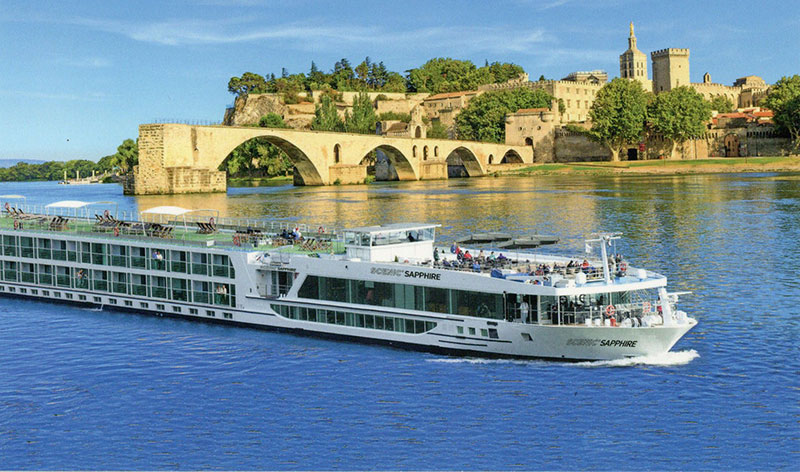 Scenic Sapphire is part of the 20-ship fleet of Scenic Cruises, which offers itineraries around the world's greatest rivers. In the Philippines Scenic Cruises is represented by Acewin Travel & Tours (0915-5000-678, 0917-572-5540).
Having arrived in Lyon two days earlier, I've opted to take the TGV myself rather than the complimentary shuttle service that Scenic offers its passengers arriving at Saint-Exupéry airport or the train station.
It's a one-and-a-half hour journey, and now that I think of it, the train ride is just enough time to adjust your eyes, like when you walk out into the blinding sun when you come out of the house for the first time during the day.

The Sapphire Lounge serves drinks and snacks all day. At the front is River Cafe for light meals, and L'Amour which is a five-course menu featuring French specialties paired with local wines.
Except in this case, your eyes are adjusting from Lyon's urban vistas to farmlands draped in a light that renders the landscape with such stillness it's as if you're looking at a painting. I don't know why this is, in the South of France. I've been to the lavender fields of Valensole in Provence before and was struck by the singularity of its light, especially at sunset.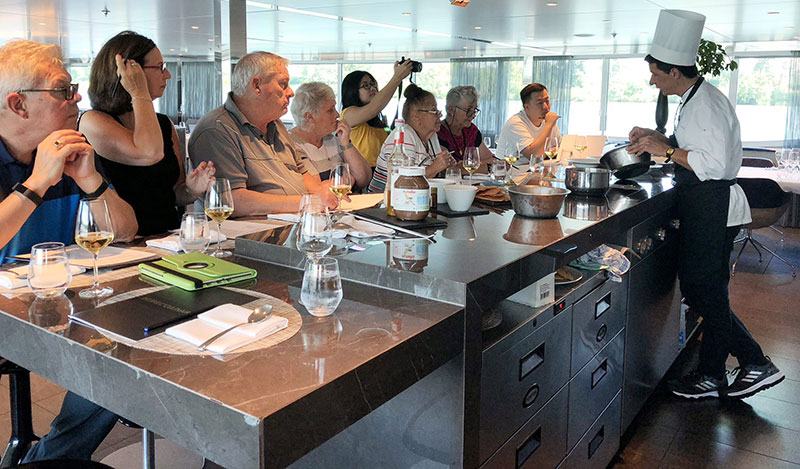 A French cuisine lesson is held every afternoon with each class limited to 10 passengers.
Arriving in Chalon, you have two choices — to walk 15 minutes to the docks or take a taxi from the train station. It's now noon and the sun is blazing. There are three taxis on the curb outside the station, but there are no drivers inside the cars. A minute later, the driver approaches and asks where I'm going. It seems even they are hiding from the summer heat.
But you get my point — it's not a busy town. It's so slow and laid-back that their idea of a race to raise funds for a children's charity — as I would find out the next day — is to release 10,000 rubber ducks downstream on the river and see which one would float to the finish line first. Apparently, it's a thing in first-world countries, this rubber-duckie race.
The scenic route
Being onboard a Scenic Space Ship (that's how the ships on their fleet are called) is like being in a floating luxury boutique hotel. Obviously, it's much smaller than an ocean liner, plying on rivers around the world instead of the open sea — but the keyword here is luxury.
Scenic offers butler service to its passengers, the cabins are well-appointed with complimentary minibar, a step-out furnished balcony, L'Occitane toiletries, flatscreen TV and a sitting area.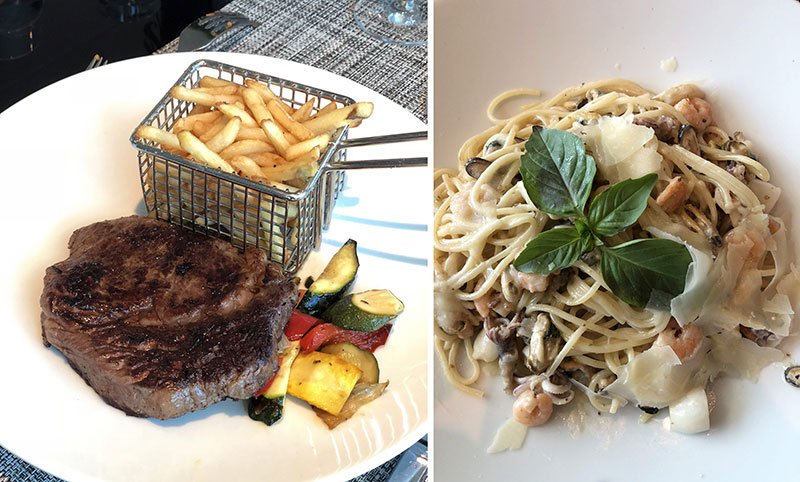 Crystal Dining offers four-course meals with wines and other drinks; you can also order off-menu.
It's also all-inclusive — the land tours, meals, wine and drinks at the bar (we're talking about top-shelf spirits here) and snacks.
My friend Abbie Sandico, general manager of Acewin Travel & Tours which represents Scenic River Cruises in the Philippines, says, "Scenic has the best curated tours on Europe's rivers. They've got your history covered if that's your interest, but they are also strong with experiences: truffle hunting, a private concert in a palace, exploring on ebikes, etc. In a fast-paced world where everyone is busy, Scenic removes the hassle of planning and allows you to slow down and just enjoy the experience."
Scenic Sapphire is only 135 meters long and 11.4 meters wide. It has 10 suites, 67 cabins and 28 crew cabins; and can accommodate about 160 guests, 43 crewmembers and seven nautical crew.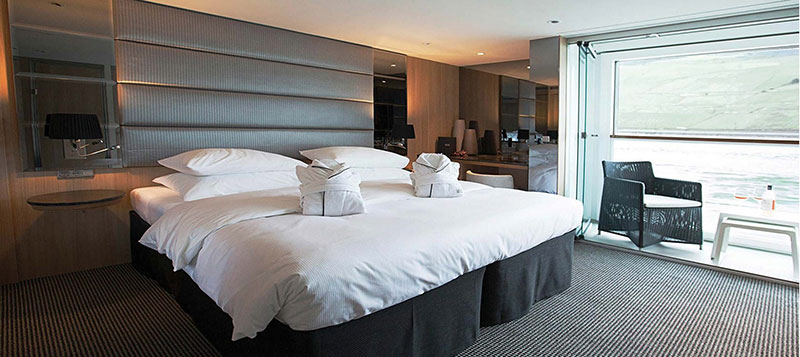 Sapphire Suite with a step-out furnished balcony
Founded in Australia by Glen Moroney, whose wife Karen Moroney designs the interiors of each of the 20 ships on their fleet, Scenic started 32 years ago with coach tours throughout Australia. In the 1990s they expanded to New Zealand and Southern Africa; in the next decade, they went pretty much around the world. And then they went into ship-building, constructing their own Space Ships.
Discovering burgundy wines
One of the great things about a river cruise is you're never far from land. On Scenic, you get to choose from two to three tours to take in the morning, and the rest of the day you can go onshore on your own with Scenic Tailormade, a GPS locator that guides your own personal excursion. Think of those handheld devices in museums that are automatically activated with an audio commentary at each point of interest.
You can wander but you won't get lost because the device has an interactive map.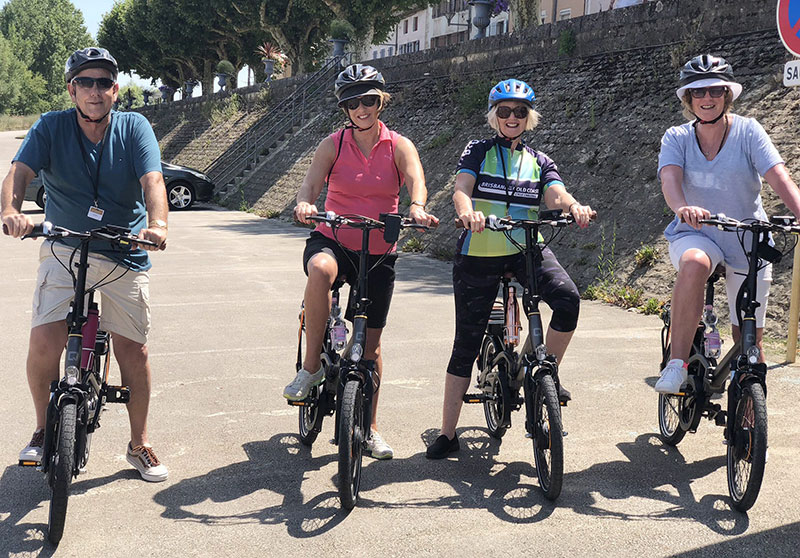 River cruises allow guests to bike to the next port on ebikes, which are aided by solar power, with a guide and Scenic's Tailormade GPS guide.
The tours I choose in Burgundy are all wine and food-related (after all, this is the region that produces some of the best wine appellations in the world).
Is it any wonder that in Burgundy you can casually stop at a random restaurant and find that it has a Michelin star?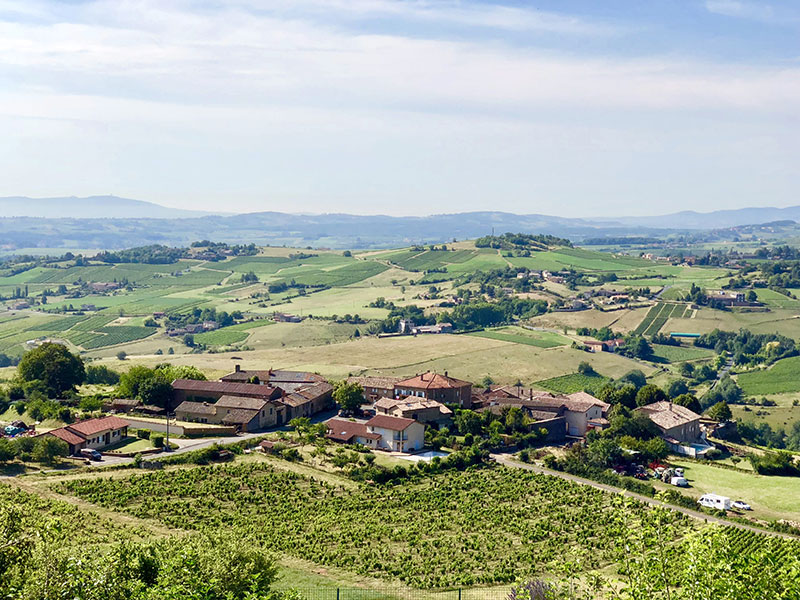 Vineyards in Beaujolais grow gamay grape. Beaujolais Nouveau is released on the third Thursday of November and is greeted with wine parties across France.
Chateau de Savigny les Beaune, an hour by the arranged coach from Chalon, was built in the 14th century. During the wine tasting, we are told that Burgundy produces the most expensive wines in the world, and the region accounts for three percent of French wines and — surprise! — 65 percent is white wine. In Burgundy, vintners aren't allowed to blend varieties — the pinot made here is 100 percent pinot grapes.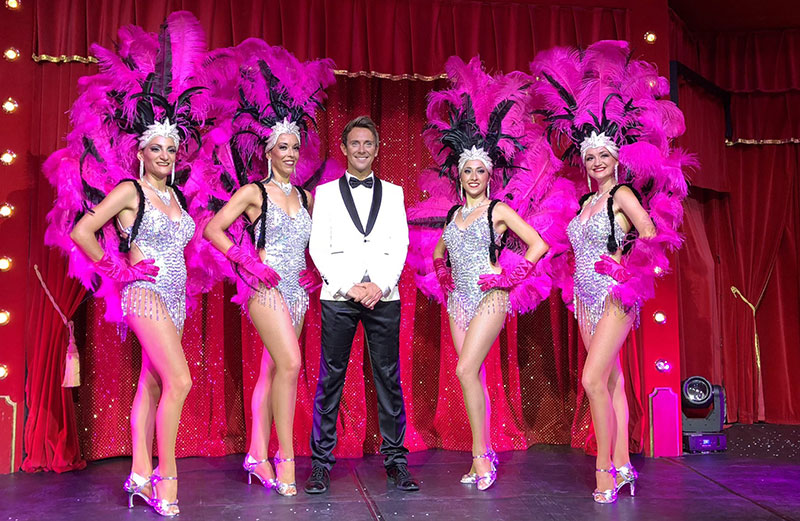 A night at the circus in Lyon is part of the Enrich experience on Scenic Sapphire.
More than the wines, the chateau is known for its unlikely collection of aircraft and helicopters, and motrobikes. The estate has a park lined with twin props and in the museum thousands of scale models of bikes.
On another day, we travel to Beaujolais to try the light-bodied red wine at Chateau Montmelas, and also white and rosé, all made form gamay grape. This variety allows for quick fermentation of just a few weeks and the arrival of Beaujolais Nouveau on the third Thursday of November is greeted with parties across France and tasting starts in bars, cafes and bistros.
Perched on a hill, the estate affords views of the vineyards growing gamay grape. It is a breathtaking sight.
The truffle trade
An Englishman living in the South of France is in financial ruin and so one day he takes out an ad in the International Herald Tribune looking for interesting and unusual work. "Anything considered…except marriage," he says. What follows is a job to impersonate a wealthy gentleman who has the formula to grow truffles quick and cheap, and he's soon plunged into truffle espionage.
If this story sounds familiar, you've probably read Peter Mayle's 1997 fictional novel Anything Considered, the caper that kicked the door open for the public to have a look into the rare mushroom.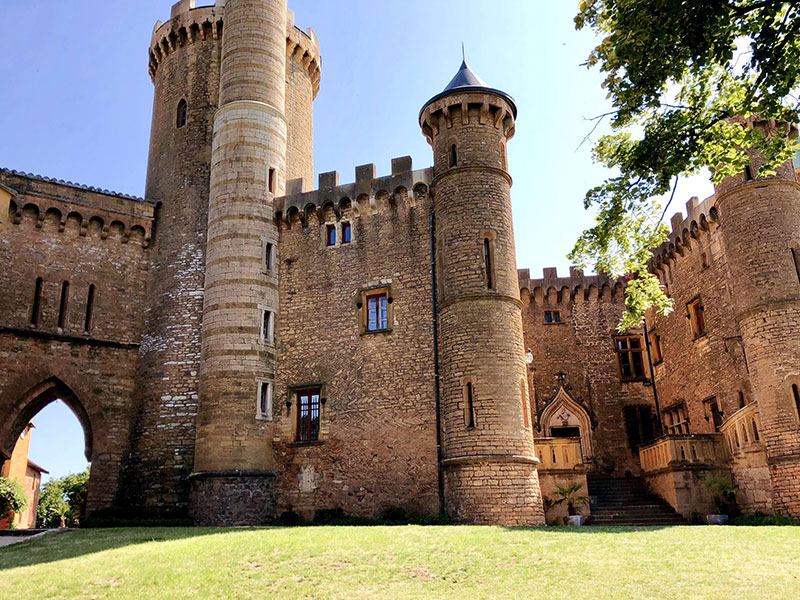 Chateau Montmelas in Beaujolais
On a truffle farm in Tournus — a commune with only one four-star and one three-star hotel but with four Michelin-star restaurants — the story is not quite as dangerous.
Oliver, who quit his job as a soil researcher in Switzerland to farm the land he inherited in Cortevaix, is a truffle farmer. He started from scratch, reconstituted the forest on his estate and planted it with truffle and saffron trees to have long and short-term yields. He grew two species of Burgundy truffles, one of them historically served on the tables of the French kings.
Truffles are fungi found near the roots of trees and they're expensive because they grow only in specific kinds of soil, such as Burgundy's or Tuscany's in Italy. It takes five years before you can harvest truffles and you can only do so with animals with an acute sense of smell.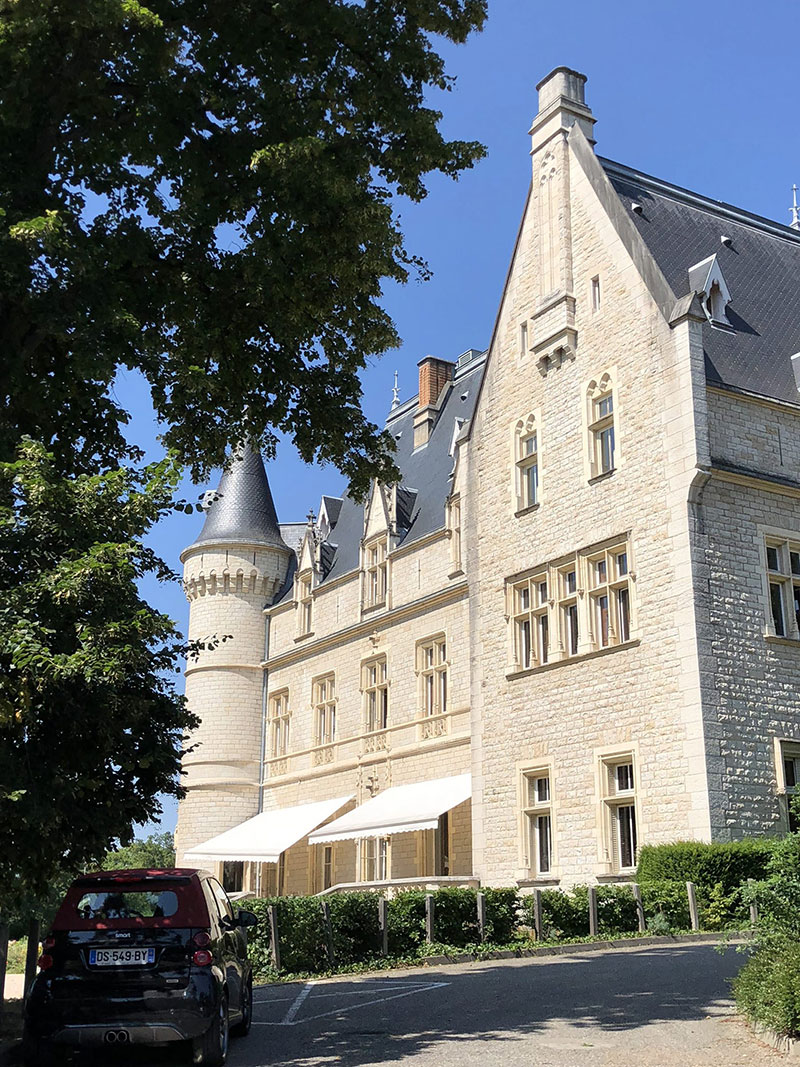 A tour of Lyon includes a cooking class at Institut Paul Bocuse.
Pigs were previously used to hunt truffles, but I read somewhere that the problem with pigs is they enjoy eating truffles, too — and you can hardly teach them to refrain (being pigs).
Enter dogs.
Oliver's dog is 14-year-old Chinook, a female working dog whose only mission in life it seems is to please him. It's a relationship that he knows will end in a few years given her age, and so he started training another dog — a hunting dog. But the problem with hunting dogs is that they're too efficient and want to get the job done as quickly as possible. The new dog doesn't wait for Oliver; Chinook, meanwhile, sits on her heels and waits as he gathers the fungi in his basket and then they walk together in the forest to hunt some more.
It melts my heart seeing Chinook looking up adoringly at Oliver as he is telling us about truffles and complicated French laws regarding land and farming.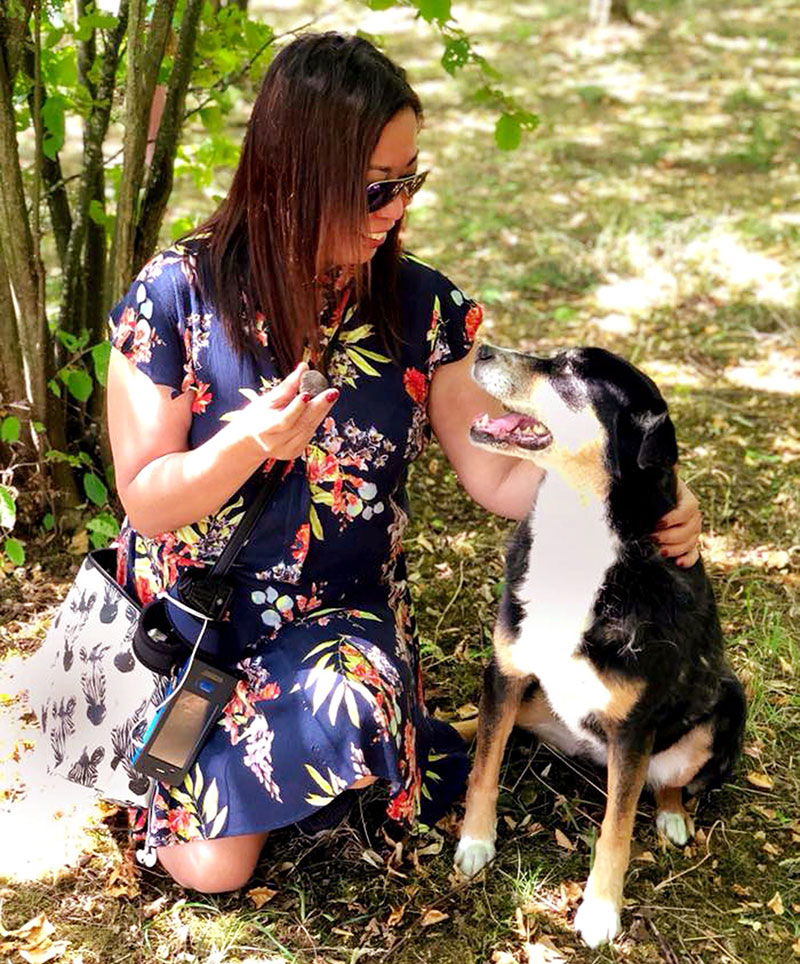 The author Tanya Lara with truffle-hunting dog Chinook
The truffles Chinook digs up aren't ready yet, as they are usually harvested in autumn. Oliver's wife tells us that the best way to enjoy truffles is fresh — shaved on a dish like pasta or eggs. As for saffron, they should be in their stalks because you never know what's been added to the powder form. A kilo of truffles can go as high as $50,000 (P2.65 million) and saffron $20,000 (P1.06 million).
At the end of our tour, Oliver scoops Chinook up in his arms and carries her back into the house.
On this truffle farm, at this moment in France, I suddenly feel homesick thinking of my own senior dog thousands of miles away.
Paul Bocuse Institut
In his lifetime, legendary chef Paul Bocuse had three bypasses, three wives and three Michelin stars. It is the last that he is revered for because he never lost them.
It's in no small part that, because of him, the city of Lyon is today known as the gastronomic table of the world (not just France).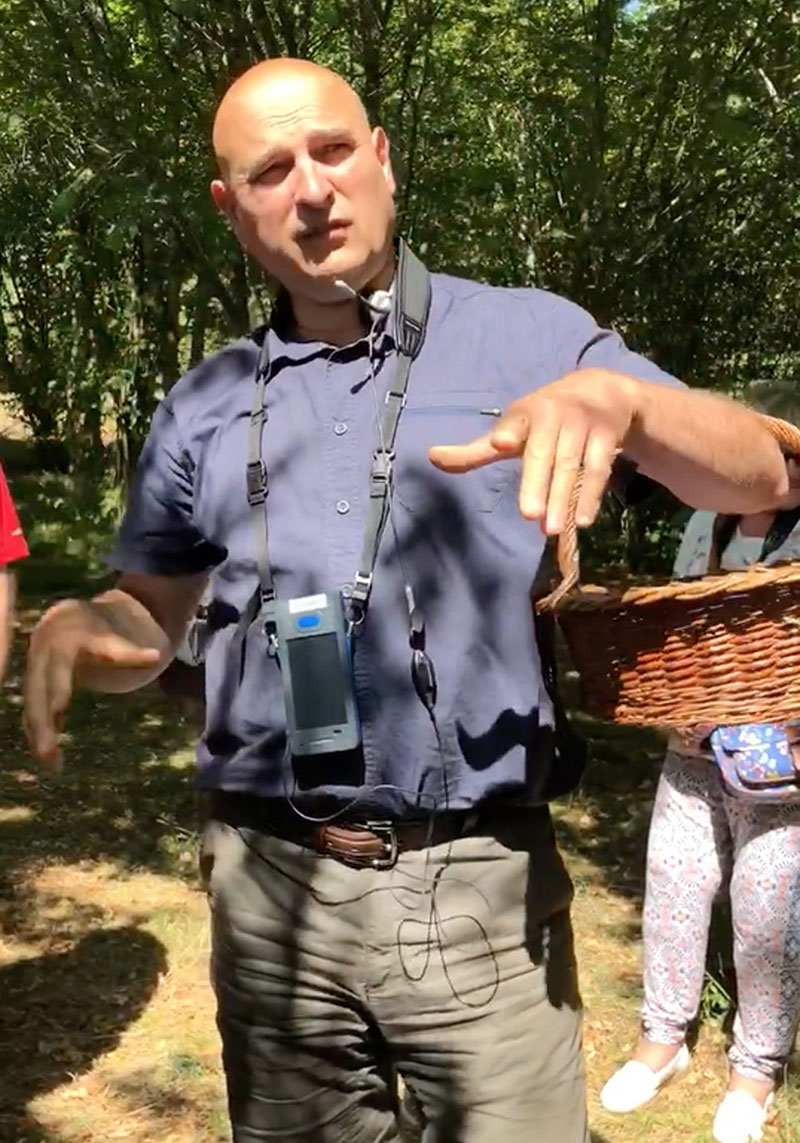 Truffle farmer Oliver inherited Le Cos Piguet estate and planted truffle and saffron trees more than a decade ago.
So I am here at the Paul Bocuse Institute, which he founded with hotelier Gerard Pelisson, a neo-Gothic castle that distills the man's lifework into cooking classes, training, gourmet meals and kitchens for home cooks interested in French cuisine.
The dish for the day is chicken and morel mushrooms fricassée, cooked by his mentee, chef Sebastien Charretier. Like Bocuse, the young chef loves teaching and so he joined the institute in 2012.
While cooking the fricassée, Sebastien tells us some trivia about his mentor, like how Paul Bocuse loved tarragon or how he believed that "butter and cream are life."
When Bocuse died in January this year, 1,500 of the world's top chefs gathered at his funeral in Lyon Cathedral wearing their crisp white chef's uniforms, including Alain Ducasse, whom Bocuse considered his "spiritual son."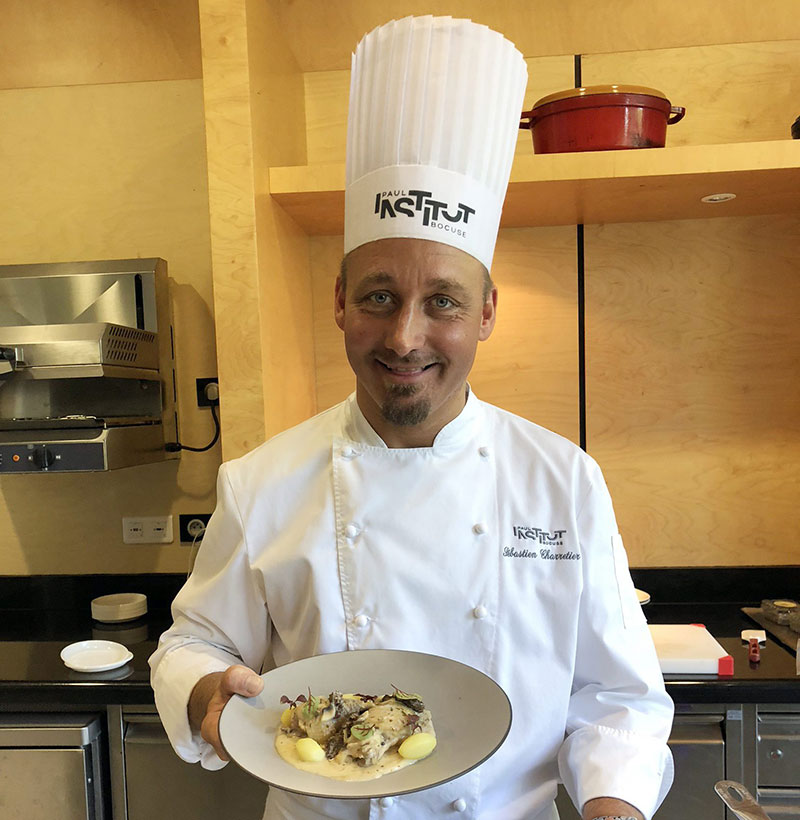 Chef Sebastien Charretier cooks Paul Bocuse's famous chicken and morel mushrooms fricassee.
Bocuse once famously said, "Without butter, without eggs, there is no reason to come to France."
But with the great Lyonnaise cuisine available everywhere, the Burgundy wines, and the stunning landscapes and rivers, there are so many reasons to sail on the rivers winding through the South of France.
* * *
Visit the author's travel blog at www.findingmyway.net. Follow her on Instagram and Twitter @iamtanyalara.
In the Philippines, Scenic River Cruises is represented by Acewin Travel & Tours. For inquiries and reservations, call Acewin Travel & Tours Corp. at 0915-5000-678, 0917-572-5540, 729-66-88. Email acewincruises@yahoo.com or visit their office at the ground floor of LPL Bldg., 17 Eisenhower St., North Greenhills, San Juan.