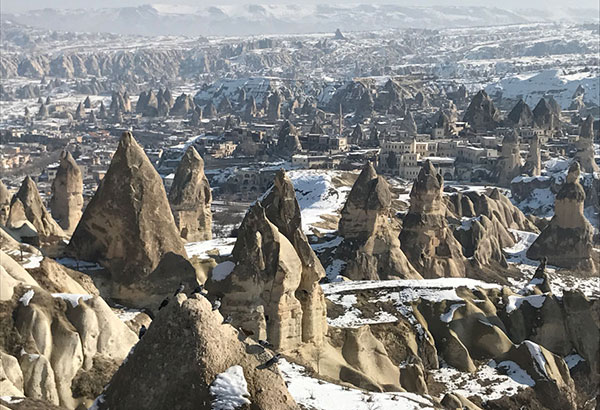 At Goreme National Park, the ancient landscape crests and troughs, formed entirely by erosion. Cappadocia is a region so big it straddles several provinces, including Nev?ehir and Kays ri where two of the nearest airports are located. Photos by TANYA LARA
Musings on Turkish breakfast & Anatolian landscapes
The first time I fell in love with Turkish cuisine was on a trip to Istanbul in 2014. It was the second of what would turn out to be many over two and a half years. Some of these were long breaks, some no more than a weekend.
I don't know if I fell in love with the country first or the food first. But in those small side streets in Istanbul's Beyo?lu district, which are lined with balik (fish) restaurants and nargile (shisha) bars, or in the gleaming malls of ?i?li and trendy Ni?anta?i, or around Anatolia, there was always some new food to discover beyond kebabs or kofte (meatballs).
I remember sitting on a spring night two years ago in a rooftop café on the famous shopping street Istiklal Caddesi, where the chestnut carts resemble the Nostalgic Tram that goes up and down the street to Taksim Square, and eating Mara? ice cream for the first time. It was a cold night and the café provided small blankets to put over our shoulders. The ice cream (frozen solid like a block of ice) was served on a plate instead of a bowl, and it came with a knife and fork instead of a teaspoon.
I said, "I'm supposed to slice ice cream?"
This peculiarity aside — ice cream and Turkish breads may be the two things I would brave the traffic and cross the Bosphorus for.
I've traveled around enough to have favorites in each country's cuisine — and when it comes to breads, only two countries before Turkey have made me a huge fan: France and Germany. France is expected because of its long tradition of boulangeries at every street corner. Germany is equally proud of its bäckereien and I was once told by a local that Germany does three things exceptionally well: cars, beer and breads.
Years ago, I happened to mention to a Frenchman that Germany may have better breads than France. He looked at me incredulously and for a second I thought he would stick a butter knife in my eye.
Imagine how he'd react if I told him how much I adore Turkish breads!
Because no matter where you are in Turkey, the ekmekler (breads) and other baked goodies are always delicious.
And Turkey wants the whole world to know this.
When the Turkish Flour Yeast and Ingredients Promotions Group (TFYI) hosted Filipino importers and journalists on a cultural tour of Turkey two weeks ago, it was not just to hold negotiations and promote its exports to the Philippines, it was also to strengthen cooperation and promote Turkey in general.
Mehmet Büyükek?i, president of the Turkish Exporters Assembly, an umbrella organization that represents all Turkish exporters (they have 65,000 members from 26 different sectors), reveals that Turkey is among the world's leading producers of agricultural products. "Turkey's exports to the Philippines was $104 million in 2015; its imports from the Philippines was $116 million. Last year, our exports increased by three percent and reached $107 million."
TFYI president and chairman Turgay Ünlü says, "Turkish flour is of high quality and very competitive. Last year we produced 20 million tons of wheat in the harvest period, 12 million of which was consumed domestically." Of the remaining eight million tons, 50 percent was exported to Europe.
To study the Philippine market, TFYI last year funded research projects in bakeries across Metro Manila using Turkish flour and ingredients to make pandesal.
To Turkish palate, according to Prof. Dr. Hamit Köksel, president of the International Association for Cereal Science and Technology, our traditional breakfast bread is good but "too sweet" to be really healthy.
This is where the uniqueness of Turkish breakfast comes in. To fall in love with its cuisine is to fall in love with its breakfast. It is special. Breakfast showcases the Turks' preference for a healthy diet, fresh produce and the variety of its ekmekler.
As a frequent visitor to Turkey, I've sat down for breakfast all around Istanbul, whether in hotels in historic Pera and Ç?ra?an, in the business districts of Levent or Bomonti, or in Anatolia — in the coastal towns of Antalya and Bodrum, in Cannakale, Selçuk, Goreme, Konya — and the mountain province of Bolu.
Breakfast is about the freshness of the produce — crisp cucumbers, sweet cherry tomatoes, olives, chickpeas, lettuce, nuts — the various regional cheeses and the breads.
Ironically, it's Turkey's "national bread" simit (circular, pretzel-like and topped with sesame seeds) that's on the lower end of my list, but only because there are so many better ones. I once told the Turk I'd been seeing that it tasted like cardboard and I thought that he, too, would stick a butter knife in my eye.
But for breakfast, I absolutely love simit. I love dipping it in menemen, a one-pan dish of scrambled eggs with tomatoes, onions chilies, and olive oil — very similar to ours except the eggs are loosely scrambled and barely set. In fact, the one-pan-eggs tradition comes every which way — the eggs broken in a very hot pan with lots of olive oil, then taken off the fire, added with pastrami, peppers or cheese and it continues to cook on your table.
Any kind of Turkish bread is always great to dip in honey, fresh from a honeycomb, and then added with crème fraîche.
My favorite bread would have to be po?aça, a savory pastry that crumbles in your mouth and comes plain or stuffed with cheese or spinach.
Borek is another mainstay for breakfast and comes in a variety of styles. A favorite during the Ottoman Empire, it's a layered, filled pastry that's like filo, except one variety — su böre?i (water borek) which is almost as thick as lasagna sheets. The best borek I've had was made by a chef from Gaziantep, a region renowned for its kitchen and where, they say, the best baklavas come from.
Breakfast might have been the secret behind the Ottoman Empire lasting 625 years!
The liveliness of Istanbul is the total opposite of the landscapes we see and love in Anatolia.
?irince is a quiet, beautiful village with a population of 650. It's so small that people literally know each other — the vendor in the market is married to the waiter at the inn; the grandmother selling Anatolian socks (knitted on the outside and lined with cotton fabric inside) owns the cottage that was assigned to me.
A Turkish friend based in Stuttgart told me last Christmas that in the rural areas of Turkey, "You can knock on any door and tell them you're hungry, and they will not only provide you food but also a bed for the night."
We were in huge Cevahir Mall in the heart of ?i?li, one of the busiest of Istanbul's 39 districts. "What about Istanbul?" I asked. He said, "No, because cities have become corrupted through time."
It's the same story in every metropolitan city, including Manila. And it takes an inherent warmth and kindness for villages to stay the same despite tourists coming in hordes.
I think this is what he meant: ?irince.
There is an inn on the main road in the village with a rooftop café. Outside you can see houses hugging the cliffs. A chimney is blowing smoke, becoming thick and heavy in the cold air. We order Turkish coffee and tea, waiting for the room assignments to be fixed and enjoying the views (there's not one hotel or inn big enough to accommodate all of us under one roof). When we finally get up to leave, I ask for the check in Turkish and the waiter or owner— it's hard to tell in ?irince who is the employer or employee — smiles and waves his hands. No, it's on the house.
Most of the merchandise in the market is handmade and vendors are not out to make a killing, just a small profit for all the work that goes into each item. A discount of two or three liras and everybody's happy because, like one woman said, "This is not the Grand Bazaar."
Beyond this hamlet of stone houses and cobblestone streets, ?irince's grapes are grown, fermented and bottled. The wines are sweet, fruity, and they taste so good. We down bottles of it over dinner and at the "after-party" (if it can be called one) in the cottage I'm staying at with two colleagues from other newspapers. We also have raki (or at least I have it), Turkish's anise-flavored liqueur. Guests come and go through the night — people we don't know, people we do know — following the music and laughter from the restaurant to our lanai.
We must have woken up the whole village.
Two days before ?irince, we were in Cappadocia. For anyone going through Central Anatolia, Cappadocia is a must. I first visited it two years ago in autumn and was blown away by this strange landscape that's millions of years old.
Balloon rides are usually scheduled to catch the sunrise or the sunset, but since our group is big enough (18 people), we could fit in one balloon basket, which is divided into a quadrant, and off we go after lunch.
In winter, covered in a white blanket of snow and seemingly hushed by the cold wind, floating above this landscape is an altogether different experience. Perhaps it is because there are no other balloons in sight as we glide through the horizon, or perhaps because the snow makes the peaks of the stone formations look like candies with their thick frosting dripping down slowly, intentionally.
Looking down at this, I feel like I understand what Basho's famous haiku might have meant: "Winter solitude — in a world of one color / the sound of wind."
Cappadocia is a region so big it straddles several provinces, including Nev?ehir (where we fly in from Istanbul), Aksaray, Nigde, and Kayseri (where we fly out to Izmir).
We don't see much of Izmir City due to our tour in the afternoon being cancelled due to the light rain. But here, after stopping by the Izmir Clocktower in the evening, we have one of the best meals we have in Turkey: at Me?hur Tavac? Recep Usta in Alsancak. The restaurant is known for its meat dishes, especially lamb, and its wine selection.
Two places in Izmir Province are especially important to Catholic pilgrims and history enthusiasts, respectively. The first is the House of the Virgin Mary, where she was supposed to have lived out her dying days, brought here by John the Beloved. The house was "discovered" from the visions of Catholic nun Anne Catherine Emmerich and is believed to be the place where the Virgin Mary's Assumption into Heaven took place.
The second is Ephesus, an ancient Greek city not far from present-day Selcuk. Built in the 10th century BC, there are two places here that are tourists' favorites: the Library of Celsus and a theater that could seat 25,000. The Gospel of John is believed to have been written here.
Being low season, there aren't too many people in Ephesus. The walk into and around the ancient city is cool and pleasant. Once in a while, you see a cat sleeping on top of a column or a dog sunning itself on the ground.
Surrounded by ruins thousands of years old, I am thinking of all the times I have been to Turkey, how I feel about this country — its people, its lively modern museums and the little ones tucked in the old houses of Pera. I was standing on the same street the day before the March 19 attack last year in Taksim; in the same place a week before the suicide bombing in Sultanahmet Square in November the year before; and on New Year's Eve last month, we were at Ciragan Palace Kempinski looking at the Bosphorus Bridge, having a quiet and lovely time and waiting for the fireworks. We could hear the ambulances going to Ortaköy past midnight but it didn't occur to us that the club Reina had been attacked.
This may have been why they took us around Anatolia for this coverage — to show us these ancient landscapes and the spirit of this country. The fairy chimneys and the rock formations in Göreme — they have been there for millions of years, and no matter what time brings, they will still be there.
* * *
Check out the author's travel blog at www.findingmyway.net. Follow her on Twitter and Instagram @iamtanyalara.