Taal Vista gets ready for 75th anniversary
MANILA, Philippines - When the then Taal Vista Lodge opened on Oct. 7, 1939, it did not take long for it to become a landmark. Fast-forward to the present and now sporting the name Taal Vista Hotel, it is both landmark and icon. No other place in Tagaytay offers the most breathtaking view of Taal Lake and Volcano in the most comfortable surroundings — that's Taal Vista Hotel for you.
Now 75 years later, Taal Vista continues to attract and charm people from all walks of life. Guests come in to stay, dine or just take in the famous view. Whatever the reason, Taal Vista has written itself in its guests' personal histories and persistent memories. For its anniversary, Taal Vista is in the mood to celebrate. Just ask area general manager Walid Wafik.
"Taal Vista being a heritage hotel deserves nothing but an exciting and different selection of activities," Wafik enthuses. "Just spreading the word about the anniversary and the hotel is new to us. We are trying to reach the maximum number of people in showcasing Taal Vista."
Wafik rattles off: "There is a 30-second TVC promo in SM Cinemas. In social media, we do the 'Be the 75,000th Like on FB and receive a free gift' kind of promo, or free stay for the 1,939th guest this month since we opened in 1939."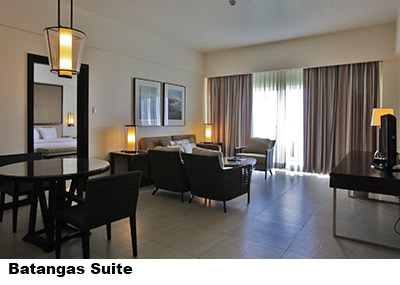 More big activities are in store. They are holding a Taal Vista Hotel exhibit that will tour six SM malls. Each mall will allocate one week for this exhibit. Wafik adds: "We will sell gift vouchers, F&B discount vouchers, so people can buy their accommodations at a good rate from this exhibit. The exhibit will start in Taal Vista and then will move to the malls."
Wafik is likewise excited about the celebrity chefs taking care of the hotel's weekend buffet. Previously announced to headline the buffet were chefs Jackie and Roland Laudico, Bruce Lim, Sau del Rosario, and Fernando Aracama. Of course, there is Taal Vista's executive chef Edwin Santos keeping the home fires burning.
"Every month, different chef," he remarks. "All this in preparation toward opening day of Taal Vista which is Oct. 7 but we tweaked it to Oct. 11. It will be a grand 1930s-themed party. You do not have to show up in a 1930s outfit. The staff will be in costume; that is the direction we are going."
Wafik stresses that food has evolved into an attraction at Taal Vista, with visitors coming over all the way from Manila just to dine. "Of course, our party is for those who supported us all these years."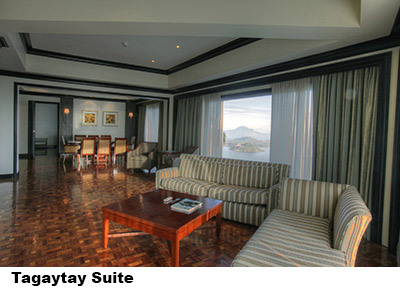 He fully understands why the support has been constant, consistent, and continuous. "When I first came to Taal Vista, I immediately fell in love with it. The place may be old but it means something to a lot of people. It could be that their parents had the wedding reception here, their first dates, and such. People have a history with Taal Vista. We thought it is a good idea to remind people about it."
Wafik says Taal Vista is giving its guests one more reason to enjoy the hotel. "We are adding the new Magnolia Steakhouse on the ridge. I want people to come and try it. That will be my highlight for 2015. We would love to offer what is going to be the best tomahawk steak in the Philippines."
The tomahawk steak is a bone-in rib steak with the entire rib bone intact, and weighs from 900 grams to 2.3 kilos. "Even us here we order one steak and it is sufficient for all of us. I want each serving to be impressive," says Wafik.
With Magnolia Steakhouse, do not expect a wood-and-brick kind of restaurant. Taal Vista is going for the countryside style, to blend in with the view and the greenery with yellow and green being the dominant colors.
If daytime proves worthwhile, Wafix says they are giving guests good reason to stay until evening. The steakhouse will turn into a lounge in the evening.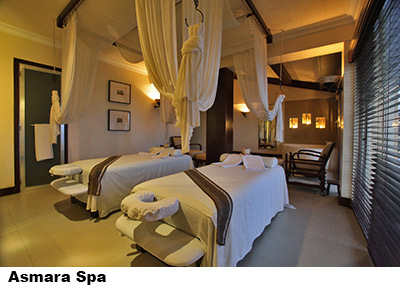 "There is a lack of evening entertainment around here. Only the lobby lounge provides the sounds. I want more nightlife, with people having a drink and enjoying themselves. You can come in to Magnolia at 8 p.m. and stay after that. There will be a DJ. As we go deeper into the night, the faster the tempo will be. That's my vision," he reveals.
It is no small feat that the 75th anniversary celebration is just the formal beginning of Taal Vista Hotel's new chapter. After all, being able to overcome trends and time is an accomplishment in itself. For Taal Vista, this is no time to be complacent. It is determined to adapt to people's needs, to satisfy them, and to make them happy as they leave Taal Vista's portals. Indeed, there is more history to be written and made at Taal Vista.
***
Taal Vista Hotel is located at Kilometer 60, Aguinaldo Highway, Tagaytay City. For more information, call +63 (2) 917-8225, +63 (46) 413-1000 or +63 (917) 809-1254; fax at +63 (46) 413-1225 or visit its website at www.taalvistahotel.com.Photos by Fernan Nebres