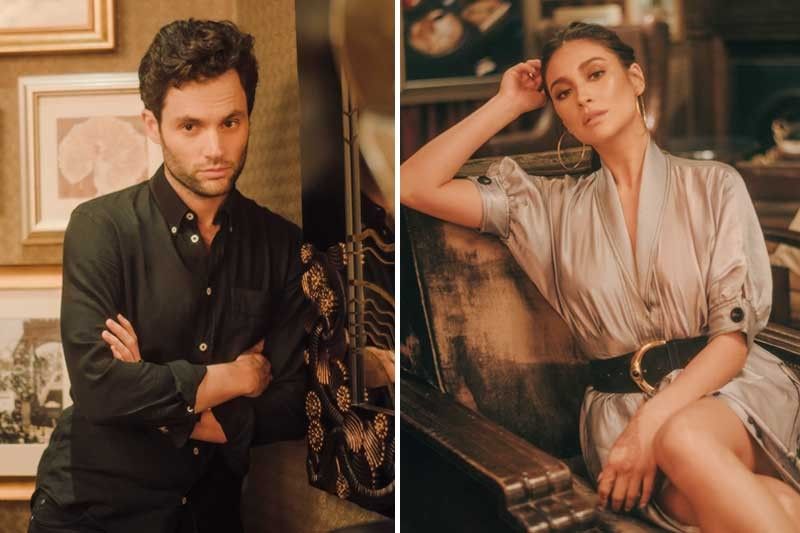 Penn Badgley plays Joe Goldberg, a bookstore clerk who stalks and falls in love with a woman from work in the Netflix series You.
Photos by ANDREA BELDUA
'You' stars Shay Mitchell and Penn Badgley discuss their 'compelling' and 'troubling' show over halo-halo.
MANILA, Philippines — Penn Badgley is on the first of many spoonfuls of halo-halo. "That is better," he remarks, and Shay Mitchell, who has taken back the glass still with heaps of shaved ice, ice cream, and all the rest to try it herself, simply responds, "See?"
To me, she says, "Please write we were sharing halo-halo at the same time that you were interviewing us," adding, "And that he loves it more now that I made it right."
"What was wrong with it the first time?" I ask. Everyone knows by now that the two spent the day before trying a decadent serving of the local summertime dessert straight out of a trifle bowl.
"It was huge!" says Penn. "It was in a bucket. That was not a bowl." Later, the entire thing finished, he would tell me, "You can also put in there that now my stomach hurts."
The two actors recently visited Manila to promote their show, You — based on the book by Caroline Kepnes and already renewed for a second season before it even premiered — which dropped on Netflix at the end of December and has become the internet's obsession du jour. Penn plays Joe Goldberg, a bookstore clerk who has a meet-cute at work with a woman named Guinevere Beck, played by Elizabeth Lail. Instead of the romantic comedy one would expect to play out, the series follows Joe as he stalks his new object of infatuation and goes to great lengths to prove how they're made for each other. Shay plays Peach Salinger, Beck's best friend.
"She sees Joe for who he is," Shay says of her character, whom she likes to describe as a queen bee, having based some of her performance on the way girls in her high school would behave. She and Joe are often at odds with each other, and she says it's because they're actually similar people. "Except Peach is wrapped in a nicer package."
Penn tilts his head and makes a high-pitched noise, as if to say, I wouldn't know about that!
"I mean she's more acceptable!" Shay laughs. "She's seen as less threatening because she's another woman. You don't know what Peach's intentions are (with how protective she is of Beck), and you also don't know how far Peach would really go."
"I loved working with Shay, I really did," Penn says. It was a good mix, he quips, "like the ingredients of a halo-halo."
"When I read the script for the first time, I couldn't put it down," says Shay. "I knew that this would be a show that, regardless of whether I'm on it or not, I would be watching." She found the writing funny and interesting. "I also love the fact that it dealt with social media in the way that we use it, because I don't think that other shows have really touched on it."
"I found it compelling," Penn agrees. "It was well-written. The thing is, you know, I don't love playing Joe. It's tough." Laughing, he says, "I needed a job!"
Penn has made it very clear that he isn't very fond of Joe Goldberg. Think Robert Pattinson struggling to promote Twilight — only this time around, it's coming from a place of personal and social responsibility for the material he's putting out.
Some tweets of his have reached tens of thousands of likes and retweets — he's been snarking back, in a nice way, at fans who have been swooning over Joe. "I'm not taking it seriously," he says. "I think it's funny how many people are just like, 'Oh, my God, I love Joe!' I scroll through my Twitter feed and I see that. I'm encouraged to know that a lot of people are very troubled by him, because I am, too, and that's the point, I guess."
The fans' reactions, he adds, have revealed to him what the purpose of the show really is. "A lot of people have said, 'I feel so conflicted about this because I really love him and I'm really afraid of him,'" he says. "But I do think that that can be the experience of a lot of women in relationships, and that's awful, right? So I think it's touching on something that we're ready to have conversations about in a more visible way, with the #MeToo movement and everything, so I think that's positive."
On the other side of it are the male viewers, I point out — making sure that You doesn't accidentally set an example with Joe and have men follow in his footsteps. "That's a terrifying prospect," Penn says. "I don't believe that it's possible to watch this show and to take Joe's actions at face value and not think that he's an insane person."
Personally, he observes, the men he has spoken to seem to be more troubled by Joe and the show than women are. "I don't think that's reflective of anything other than maybe women are like, 'Yeah, that's a certain level of objectification and abuse that we're just simply more familiar with.'"
"Men are like, 'Holy crap, this guy is crazy!'" he continues. "And women just say, 'Yeah, that's kind of the way that we get treated all the time.'"
Asked whether they would define You as a romance, he posits, "It reveals the faulty logic of a lot of romantic arcs we've seen." The cliche, after all, is boy-meets-girl, and somewhere down the line, boy would get girl, and it's all's well that ends well for everyone. "But here," Penn says, "he waits outside her house."
The book and the show have indeed been called a modern (anti-)love story, reflecting very concrete ways in which social media can distort identities and create unrealistic ideals around who we really are. "There are so many people that can fall in love and become obsessed with somebody who they've never even met before," Shay says. "It's the world that we live in now. You end up making up this person in your mind. People become fascinated with other people, because you feel like you get to know them from what they put out there."
"And the thing is, the way Joe uses social media is quite normal," Penn chimes in. It's not a high-tech, hacker-type invasion of privacy — it's the way we go about our days scrolling through Instagram feeds and Twitter timelines. "That's the most disturbing part."
He also notes that real-life psychological profiles of people actually capable of what Joe does on the show really can be quite charming and seen as attractive on the surface. "I think that's definitely part of what we're trying to (explore) on this show," he says. "How far are we willing to go to forgive an evil white man?"
The answer, he's come to find, is: "Quite far. Apparently, very far."