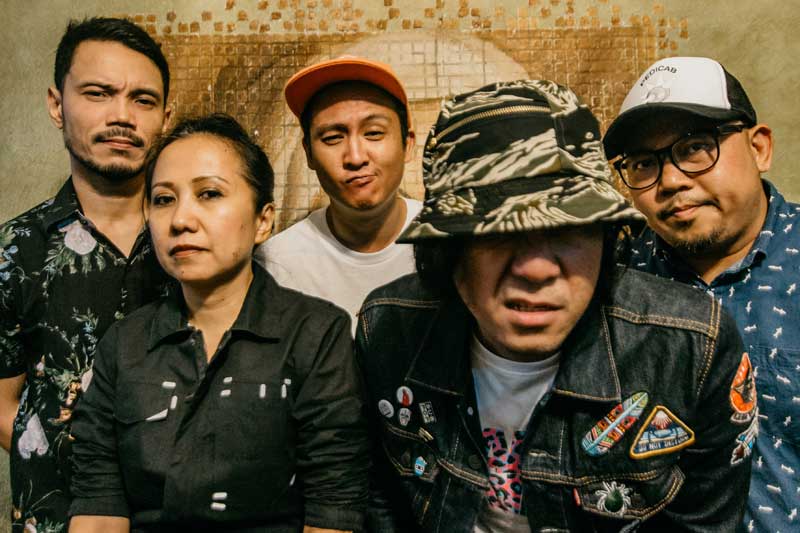 This year, Sandwich marks their 20th anniversary with a special concert that not only aims to champion their musical achievements, but also celebrate the most punk thing in their existence: their friendship. Photo by Chealsy Dale, Shot on location at Saguijo Café
Ian Urrutia
(The Philippine Star) - March 17, 2018 - 12:00am
MANILA, Philippines — With eight acclaimed albums and a successful music career spanning two decades, Sandwich has written enough history to secure their place in the pantheon of local rock greats. While they are not often mentioned with the same level of curiosity and distinction as their more hit-making peers, the band has gained tremendous respect for delivering remarkable albums that cover wide stylistic range. Most notable among the bunch are 1999's "Grip Stand Throw," a sonically adventurous debut with interesting guitar work and jammy tendencies; 2003's "Thanks to the Moon's Gravitational Pull," their first independently produced record and also former vocalist Marc Abaya's last with Sandwich; 2006's "Five On The Floor," a crossover classic that is also the first album to feature Raymund Marasigan prominently on lead vocals; up to 2015's "Debris," the band's latest release, which music blog Earthings praised for "embracing the crunchier, snappier side of rock and roll."
They're also not the kind to settle for less. One moment you'll find them flirting with ambition and experimenting with noise; the next thing you know, they're ripping everything to shreds with a straightforward take on the form. For every ubiquitous stadium anthem in the vein of Two Trick Pony, Sugod or Betamax, they offer up charming oddities like New Romancer, reveling in simplicity and sonic subtleties, noise-rock jams like Mayday coasting through unpredictable sonic motifs or lovely guitar-pop ballads like Masilungan earworming its way to the radio dial. For every spindly sing-along in the form of Butterfly Carnival, there's a song out there inspired by the Beastie Boys such as Food For The Soul, a garage-punk stomper like Procrastinator or a lilting indie-rock tune called Selos ready to turn your whole world upside down with a kick-ass playlist. In essence, I think both music critics and fans can agree on this: Sandwich's collection of anthems and studio experiments would make for a formidable "Greatest Hits" compilation. They have unearthed a string of hits that wouldn't feel out of place in any contemporary karaoke playbook, and gladly retain its rarity status for good measure.
Secret to Longevity
But there's more to Sandwich than their serving of eclectic pop smarts and riotous anthems. They have also managed to last this long, surviving the shifting of the old guards and weathering music industry trends. From shifting management to drastic changes in the lineup, the alt-rock icons have adapted to the changing rules of the game while constantly reinventing themselves as artists. When Sony-BMG Records dropped them in the middle of recording their third album, "Thanks to the Moon's Gravitational Pull," the crew soldiered on with an independent mindset, producing, pressing, distributing and marketing their own material using the very little knowledge Diego Castillo had when he used to work for a record label and the connections they had within the music community.
"We did everything for that album," bassist Myrene Academia says. "With the help of a village and a few friends, we were able to release the album to the market. Sobrang community effort. Mike had to go to the press to have the CDs made. We tapped our graphic-artist friends to help us with the layout of our album cover." A few years later, when digital downloads and streaming forever changed the way music is consumed, Sandwich were the first few hacks to have already learned the ropes, utilizing the magic of the interwebs to their advantage.
Apparently, headlining big music festivals and maintaining a legion of dedicated followers 20 years and counting take a lot of hard work; but according to the band, it isn't that daunting to achieve when your heart is in the right place. As lead vocalist and guitarist Raymund Marasigan puts it, the key to their longevity is simple: "We are each other's kids, ninongs and ninangs. We hang out as friends and family even in non-music, non-work-related settings." Rhythm guitarist Diego Castillo echoes that sentiment, seemingly proud of what they have accomplished as a group. "We watch each other grow. We're a family. I've spent more time with Myrene, Raymund, Mong and Mike than my own family and girlfriends. More than half my life kong kilala itong mga 'to, and that makes it easier for us to stay."
20th Anniversary Concert
This year, the rock quintet marks their 20th anniversary with a special concert that not only aims to champion their musical achievements, but also celebrate the most punk thing in their existence: their friendship. To commemorate their landmark moment in the music biz, Sandwich teams up with Jam 88.3 in mounting a music festivity filled with top-notch visuals and elaborate production values, happening April 13 at the Metrotent Convention Center in Pasig City. The event, as the members point out, will feature a cross-section of old bands that have played along with Sandwich from the beginning, young bands that inspire them to keep things going, a hip-hop group, and a couple of DJs to set the groove. "We want it to be special night," Marasigan tells Supreme. "We chose the set list that we like, that our friends and fans would certainly enjoy."
The process of picking the song lineup for the concert was quite a challenge, with the members of the band deliberating not on the merits of commercial success, but on the level of fun and connection it gives them onstage. "We met a couple of months ago at Diego's house," Marasigan fondly recalls. "We had some drinks and nice food. We listened to all the albums chronologically — that's eight records and a hundred plus songs, including rarities and soundtrack contributions. We listed down a total of 40 songs and narrowed it down to 20."
As for those hoping to see Marc Abaya join his former bandmates for a couple of songs, don't get your hopes up. The band maintains that they will be performing with the present lineup from first song to the last, with not a single hint of a surprise collaboration any time soon. "We love Marc, but we're not hanging out with him every day," Marasigan says. "We'll definitely invite him in the concert, hoping to hang out with him backstage along with our friends. Wag na natin siya pag-trabahuin."
* * *
Join Sandwich as they celebrate their 20th anniversary with a major concert on April 13 at Metrotent Convention Center in Pasig City. Tickets are available in all SM ticket outlets nationwide.