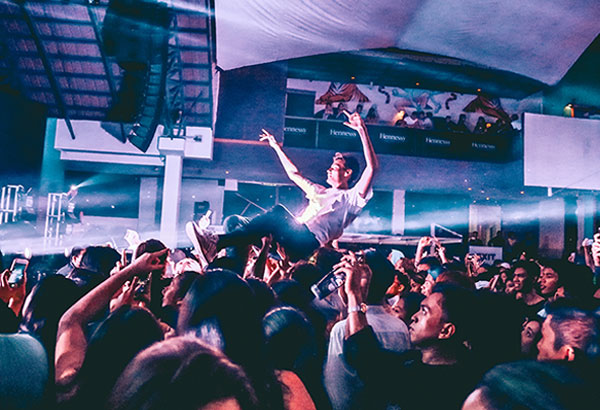 Sleepless: The crowd goes wild as Flume drops the jams. Photos by Chealsy Dale
Ian Urrutia
(The Philippine Star) - December 22, 2017 - 4:00pm
Despite steering clear of prevalent trends in electronic dance music, Flume, aka Harley Edward Streten, has always been a massive presence in commercial radio, music festivals, and online streaming all over the world. The 26-year-old DJ and record producer further galvanized his bid for global superstardom after scoring a Grammy award for Best Dance/Electronic Album early this year, while topping the charts with his crossover smash Never Be Like You.
Notwithstanding the success that he attained in a span of five years, when his debut self-titled album broke record sales in Australia and New Zealand, Flume remains essentially drawn to the experimental side of electronic music, the bedroom intimacy of acts such as SBTRKT and J Dilla, and the emotional fragility of late '90s R&B. Instead of working with A-list pop stars and embracing shimmery mutations of electronic music for inspiration, Harley Edward Streten nourished his blend of sonic palette with silky vocals featuring unknown and obscure talents, sophisticated textures and genre-defying production style. He pioneered a sound called "future bass," where harsh, detuned synths and bass drops have become a template for a softer, watered-down version of EDM popularized by the likes of Marshmello and the Chainsmokers.
Flume at the Palace
With its slick production values and bass-thumping ravers, Flume's set at the Palace Pool Club was nothing short of breathtaking. Much to the delight of music fans, the acclaimed electronic/dance producer dished out banger after banger with curation expertise and enthusiasm. The crowd lifted their hands up and sang in unison to Flume's more pop-leaning anthems like the set opener Say It, the Vic Mensa-assisted jam Lose it and the colossal hit Never Be Like You. They erupted in wild cheer as Flume performed a remix of Lorde's Tennis Court and Disclosure's You and Me, and lost it completely when the Australia-based producer played a cover of M.I.A.'s Paper Planes and Major Lazer's Get Free.
Never the type to just mess around with the volume, Streten's DJ set was packed with jaggedly mesmerizing takes on his catalog, tweaking and mixing the material with interesting improvisations that you won't hear elsewhere. What makes it more compelling is his ability to pull the audience into a state of euphoric trance, where everyone beams with pride, bliss and desire, like an entirely new level of emotions has just been unearthed.
As expected, the lighting and visual aspects of the show were a sight to behold. Accompanied by psychedelic and abstract patterns, pulsing lights display and fluid animations, the cinematic spectacle melds in perfect synchronicity with Flume's pumped-up jams. A major highlight was a video clip of an androgynous man and woman in pixie cuts, slowly leaning in to share a passionate kiss. With Flume's music serving as soundtrack to this astounding moment of intimacy, the stage captured the kind of reassuring warmth one would feel while at home, safe and sound. And it's the best feeling to end a night: a show that can make so many people escape for just a few hours, yet walk away with a sense of familiarity of one's self.