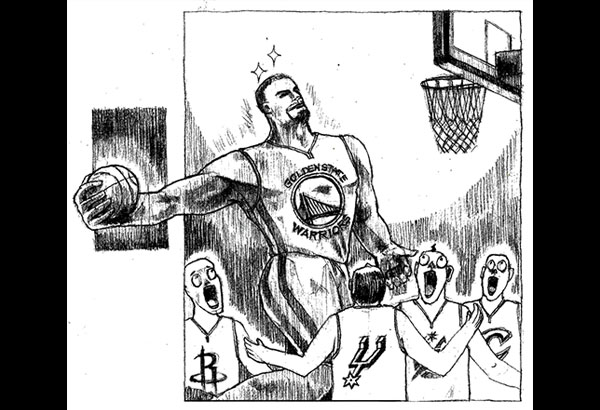 The Warriors will win the title. This is inevitable. The Warriors are death. Illustration by Patrick Dale Carrillo
REVIEW: Searching for the meaning of life in the 2017 NBA playoffs
The Golden State Warriors are going to be the 2016-2017 NBA champions. This is not so much a prediction as it is an expression of common sense, like telling someone that his eighth buffet plate will hasten his next bathroom visit. The 2016-2017 Warriors is a ridiculously talented team that plays with great chemistry and exhibits no significant weakness. They have great shooting (Steph Curry, Klay Thompson, and Kevin Durant are three of the most dangerous shooters in NBA history), an elite defense (virtually tied with the San Antonio Spurs at number one in defensive rating), and a reliable supporting cast of playoff-tested veteran role players. No one is good enough to beat them four times in a playoff series — not even the defending champion Cleveland Cavaliers, whose defense has taken a steep fall this season. The Warriors will win the title. This is inevitable. The Warriors are death.
This is bad news because it renders the NBA playoffs meaningless. If it all leads to the crowning of an unfairly superior team whose invincibility makes them uncompelling, then what are we even here for? What are those other teams playing for? What are (non-Warriors) fans still watching these games for?
If what awaits us all is the certainty of death, then what's the point of living?
Humans have done a fairly good job of coming up with reasons to keep waking up, inventing existential guideposts like art, religion and philosophy. We either cling to the belief of a rewarding afterlife or bury the thought of inevitable death under layers of modern bull****. Most of the time, it works. It should also work for this year's doomed NBA playoffs.
A number of non-Warriors playoff teams have been compelling to watch despite their destiny as crossed-out brackets. Love doesn't last either, but that doesn't make it any less worth chasing or holding on to, so I guess there should still be reasons to watch the NBA playoffs. If ball truly is life, then these are the five that have made life worth living.
1. Art: Houston Rockets
Like most of Internet culture, the new NBA has won the hearts of young people while infuriating the elders. The game is now freer and more fun, but it's also too spread out and too reliant on outside shooting for people weaned on the physical, proximity-based basketball of yore. "Everyone's taking too many three-point shots" is the "everyone's taking too many selfies" of the NBA. I guess this makes Mike D'Antoni, head coach of the Houston Rockets, basketball's Mark Zuckerberg.
D'Antoni is the innovator who saw the value of the three-point shot way before it became the norm, taking an undersized and often undermanned Phoenix Suns team to four straight 50-plus win seasons in the Aughts. Now that his indie spread-pick-and-roll offense has gone mainstream, he's back on the bench, coaching the three-point factory that is the Houston Rockets. Their best player, MVP candidate James Harden, has taken D'Antoni's freewheeling system into an art form by running the offense like jazz. His deft skill allows him to improvise and bend the defense at will; he goes left, then jukes right; he runs pick-and-roll, then swings the ball to an open teammate on the weak side; or he can drive to the basket, then lob an alley-oop to the open screener. Critics complain about his propensity to draw fouls but even his contact-baiting is choreographed beautifully. Within the context of this season's fatalism, it looks like he's dancing to Peggy Lee's Is That All There Is?, a nihilistic waltz that embraces the meaninglessness of it all. If that's all there is to the 2017 playoffs, "then let's keep dancing."
2. Religion: Boston Celtics
The Boston Celtics franchise is a cult with a deep tradition of winning, fan base douchebaggery, and occasional racism. But let's not get into that. For now, all you need to know about them is head coach Brad Stevens, the baby-faced messiah of a people praying for the rebirth of a dynasty. He inspires faith despite the dearth of recent playoff success. "Because Brad Stevens" has become an inside joke on basketball Twitter, a riff on Boston fans' blind trust on the young coach to lead his underwhelming team to victory. Forget analyses, advanced stats, or potential mismatches; the Celtics will win because Brad Stevens.
His reputation as a coaching prodigy is founded on the Celtics' constant overachieving. Snatching the top seed with a team whose lone superstar is a 5'9" point guard is the basketball equivalent of the multiplication of loaves and fish. His team's lack of elite-level talent is a sort of built-in asceticism that forces them to play based on values. Just set good screens, execute well, play hard, be unselfish, and you will be rewarded by the basketball gods. Of course, playing the right way isn't always enough and the Celtics look destined to be eliminated in the Eastern Conference yet again, but winning is not the essence of faith. As an ancient basketball proverb goes: You miss 100 percent of the shots you don't take.
3. Gainful employment: San Antonio Spurs
The San Antonio Spurs is the most professional franchise in the NBA. Their superstars over the last 20 years — David Robinson, Tim Duncan, Tony Parker, and Kawhi Leonard — are like button-downed financial executives who are boring as hell but insanely reliable. Over that period, the Spurs have won five titles and more regular season wins than any other team. Rooting for them is like having security of tenure in a corporation that's too big to fail.
Their current best player, Kawhi Leonard, makes workmanlike anonymity look beautiful. He's not showy or expressive like his fellow MVP candidates. He's not spectacular but his efficiency is, the way his flat jump shot seems to always go in, the way he coldly and effortlessly takes the ball out of the opponent's hands, the way he seems to never get tired. He just shows up for work, punches the clock, puts up 30 points, guards the other team's best player, and leaves you breathless in the most routine way possible. The Spurs aren't winning the title this year but not everyone gets to be a rock star. Sometimes, the responsible adult in middle management is the one who gets to live longer.
4. Children: Washington Wizards
Having kids, they say, is like having a new lease on life. Raising children offers the luxury of reliving moments of your life vicariously — birthdays, Christmases, and even quotidian visits to the mall become fun again. The soft-skin innocence of our progeny makes our gradual decay more bearable.
That's why the rise of the Washington Wizards' John Wall as a playoff badass is such a delight to see. Watching him breeze through the defense for a flash-like dunk or a laser pass is like seeing your kid finally solve a math problem. Now in his seventh season, he and backcourt mate Bradley Beal reminds me of what it felt like to watch the Oklahoma City Thunder with a young Russell Westbrook and Kevin Durant, those innocent times before their relationship was reduced to Instagram and fashion subtweets. This is what a young up-and-coming team looks like before the pressure of expectations crushes your soul until you're dead inside and all you want to do is shoot open jumpers in a Warriors uniform. That's not a subtweet, Durant. I'm nakedly referring to you.
5. The fading promise of youth: Cleveland Cavaliers
There are times, however, when living vicariously through your children isn't enough. When the presence of your kids and their attendant responsibilities actually make life less bearable as you lose more of yourself each day. You used to have grand dreams. You wanted to be a great artist. You wanted be a racecar driver. You wanted to be a famous rapper. If your family only knew how fire your bars were.
Midlife crisis is a drag, which probably explains why the Cleveland Cavaliers fizzled out in the regular season. They're probably depressed, with Golden State looming like the Grim Reaper, or at least like a retirement party at an office you hated for 20 years. There's just not much time left — LeBron James is balding and he's played more minutes than anyone at his age, which is 32, which is the age when basketball players typically start to decline. But they're still a very good team, so they get to have a romantic midlife crisis. Last year's dramatic come-from-behind championship victory against the Warriors was like finding your soulmate while backpacking across Europe in your 20s. It's likely never happening again. But they're still handsome and healthy enough, so now they're searching for that old flame they know deep down is gone, or married, probably to the Warriors. My metaphors are a mess right now.
LeBron James and the Cleveland Cavaliers may never be this good again. Let's enjoy them while they last. Every second matters because the inevitability of death makes life more important, not less. I hope the same applies to the NBA playoffs, because otherwise we're all screwed.
* * *
Tweet the author @colonialmental.