Who will be better for the Philippines? Trump or Biden?
November 1, 2020 | 12:00am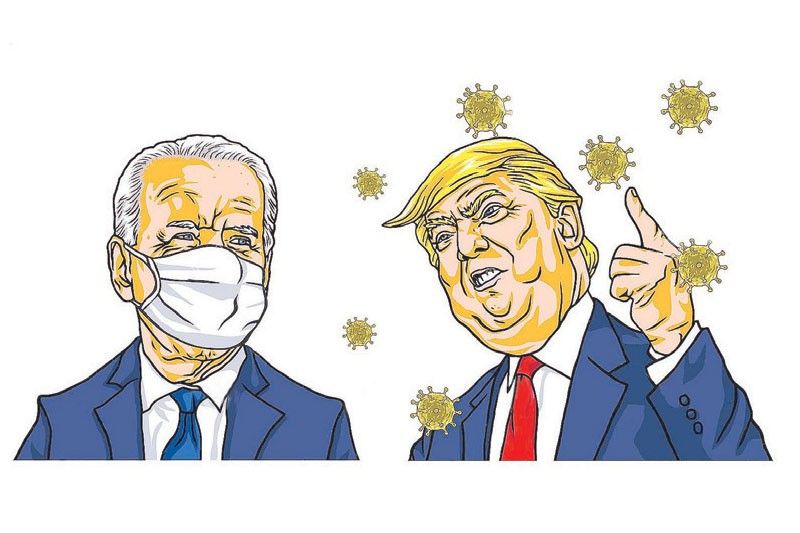 Who will win the exciting and reality TV-like Nov. 3 election race in the US? Rambunctious President Donald Trump or more affable former Vice President Joe Biden? How will it affect us here in the Philippines, in Asia, and the world? At an Oct. 28 Zoom dialogue with Senator Sherwin "Win" Gatchalian with about 300 business and civic leaders of the Federation of Filipino Chinese Chambers of Commerce & Industry, Inc. (FFCCCII) from across the Philippines attending, which I also moderated, the main concerns were how to help revive the economy and save jobs. However, one of the questions asked was: What impact would either a Trump or Biden win have on the Philippines? Boston University-educated Senator Win Gatchalian gave a succinct and very smart reply: "I think an election victory for President Trump will be good for the Philippines but bad for the world, while a Biden win may be bad for the Philippines but good for the world. The reason for this is the good personal relationship and rapport between Trump with President Duterte."
On Oct. 29, at the first Zoom virtual version of the non-partisan Pandesal Forum at Kamuning Bakery Café in Quezon City, the resource speakers including top geopolitics experts Dr. Rommel Banlaoi and Ramon Casiple discussed that upcoming US election. Banlaoi is president of Philippine Association for Chinese Studies (PACS) and chairman of the Philippine Institute for Peace, Violence and Terrorism Research, while Casiple is executive director of Institute for Political and Electoral Reform (IPER). Dr. Banlaoi echoed the views of Senator Win Gatchalian that a Biden win might be better for Asia and the world, saying: "I think if Biden wins, there will be more flexibility, and more rhyme and reason compared with Trump, because we know the position of the liberals — more accommodating and willing to engage
and talk with China. So there will be more room for settling of political differences under Biden." Also mirroring that analysis was Dr. Banlaoi, who said a Biden administration could exert more pressure on the Duterte government on issues of human rights and democratic reforms in order to grant US economic and military aid.
US Filipinos divided...but Biden has an edge
At the Pandesal Forum, GMA 7 News journalist Raffy Tima asked how Filipinos in the US were likely to vote. Both Casiple and Dr. Banlaoi noted that the Filipino-American community is divided, but since Filipino-Americans are an ethnic minority, more will likely go along with other Asians like the ethnic Chinese, Koreans, Japanese and others to vote for Biden who upholds a more liberal stance towards minorities. Banlaoi observed a number of Filipinas married to US Whites tend to side with Trump.
In the Oct. 24 Zoom meeting of the Diliman Book Club led by former University of the Philippines (UP) Diliman philosophy professor Henson Tiu Laurel and other professors as members, political science professor Dr. Benjamin Muego (a UP 1964-1965 student council chairman, former international debate champion and retired Bowling Green State University professor) expressed surprise that there were still a sizeable number of Filipino-Americans supporting Trump, who is anti-immigration and perceived to be racist. He said, "Maybe they think they're already part of the White community?" Diliman Book Club member Dr. Ed Clemente theorized: "Maybe it's due to still lingering 'colonial mentality" or maybe they're victims of the so-called 'Stockholm Syndrome.'"
Fearless forecast! Biden landslide by 300 to 375 electoral votes
Philip Jose Paja, Philippine Embassy's Assistant Defense Attache in Bejing, shared with the Pandesal Forum that he attended a meeting in which retired US General Bob Spalding predicted that Trump will win "by a landslide," but his other American friends told him it's more likely a close race. When Paja asked Banlaoi and Casiple for their forecasts, both noted that, according to polling, Joe Biden is ahead in the presidential race. At the Diliman Book Club session, Dr. Ben Muego likewise predicted that Trump will be repudiated by voters and that Biden will win by "a tsunami, a tidal wave of votes." Personally, I share the views of Banlaoi, Casiple and Muego that Biden is most likely to win. In fact, though a candidate only needs 270 out of 538 electoral votes to win the US presidency, my fearless forecast is that Trump's tragic mishandling of the pandemic and his many other scandals will lead Biden to win by a landslide of 300 to 375 electoral votes! I urge the genial and less quarrelsome Biden to gloss over President Duterte's public support for his bellicose rival Trump's reelection, hoping he will treat the Philippines with respect and fairness in terms of continued trade and other support.
Philippines' independent foreign policy and US interest in 2022 elections
At the forum, I brought up Japan's Nikkei Asia piece from Oct. 28 titled "US election: Trump's China policy is here to stay, no matter who wins. Allies see America as tougher, but weaker." How should we in the Philippines react to all these pressures from the two contending giants — the world's No. 1 biggest (yet now troubled) economy versus the world's No. 2 (but now rising) economy? Dr. Banlaoi and Casiple said whoever wins the White House, Trump or Biden, the US-China strategic rivalry intensified by Trump will essentially continue and will definitely affect us in the Philippines. They both assessed the independent foreign policy reforms pursued by President Duterte — trying to balance Philippine relations between our traditional US ally, our ancient trade partner China and our new friend Russia — as wise, healthy, beneficial and pragmatic policy for the country.
Banlaoi and Casiple said that the Duterte government's adroit "balancing and hedging" strategy in regards to the US, China and Russia is similar to what other astute Asian countries like Singapore or Thailand have been doing for many years. Banlaoi added that, unlike before when past Philippine foreign policy was just an extension of our ex-colonizer US's foreign policy, our diplomacy is now guided more by our own strategic national interests.
Casiple and Banlaoi said that after the Nov. 3 US polls, they expect our own election season for 2022 to start heating up. They said either a Biden or Trump administration will actively attempt to influence our Philippine election, in order to pursue America's own strategic national interests in Asia. Casiple opined that President Duterte's renewed vocal anti-corruption rhetoric is a signal that our own election season has unofficially begun, because that has been the common theme of our politicians' election oratory for generations.
Wow! Let the horse race begin!
***
Thanks for your feedback at [email protected]! Follow @wilsonleeflores
on Instagram, Twitter and Facebook. Read also https://investment.fwd.com.ph/experts/asia-s-business-leaders-and-what-we-can-learn-from-them.