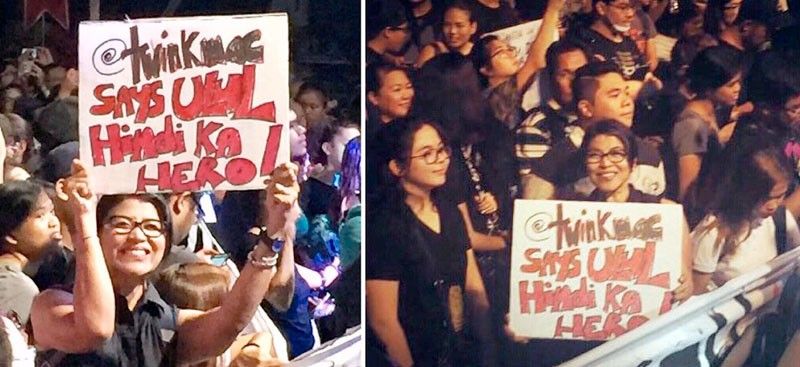 Gang Badoy holds up placards for the author Twink Macaraig.
When a Luddite goes viral
My sister excitedly reported that my last piece for The STAR — "Why I Fight" — had gone viral. I don't quite know what that means. I don't know the threshold number of Likes or Shares for something to be considered sufficiently virulent. I'm not on Facebook or Instagram or any social networking site that might force me to learn to take selfies. (I am on Twitter, though, which is convenient for getting real-time news updates, skimming thesis statements before choosing which articles to dive into, and to follow Conan O'Brien's quips. Otherwise, I tweet, but pretty rarely — mostly to call out those who use "alibi" interchangeably with "excuse.")
I do know that my article was widely read judging from the messages received via antediluvian methods like email and SMS — some from people I hadn't heard from in ages — sent to my old postpaid SIM which I'd long passed on to my son. My hubby, who's amassed a sizeable FB following on the strength of his fictitious party-list, The Metropolitan Alliance For The Development And Fixing Of Kantos And Sidewalks (MADAFAKAS), showed me hundreds of reactions my article garnered.
But it was really my sister who took it upon herself to scour the net for feedback, screencapping the choicest ones and Viber-ing them to me.
I was, apparently, for one brief shining moment, the top trending item on iPhone News, besting Anjo's escorting Maine to her coronation as Box Office Queen. Even Lolit Solis picked up my story; misspelling my name in her Pilipino Star column, correcting the misspelling in her IG post of her column, and missing the point both times.
Journalist friends then warned me: Watch out. You're going to attract trolls now.
So I braced myself for the onslaught of logic-deprived, grammatically-deficient, punctuation-less vitriol characteristic of DDS fanatics. I was prepared to go full Cancer Warrior mode: I stare death in the face every single day, gadamet! Mess with me and I'ma make you my b*tch!
But there were virtually no attacks. Maybe it had to do with my aforementioned absence from the more popular socmed apps. Maybe my sister shielded me from the nasty comments. Maybe bots draw the line at harassing people undergoing chemo.
Maybe it was the bold tweet by my friend, social media maven Gang Badoy (I would call her an influencer if I were sure she didn't mind the label), whom I haven't seen in years, but who nevertheless never fails to stick up for me, literally stand up for me whenever I can't do it for myself (see pic of Gang attending a rally on my behalf when I was laid up in the hospital).
Gang served notice to the multitudes that follow her: "If anyone wants to refute or trivialize the latest article of @twinkmac — tag me. And we shall talk."
But I was still paranoid. What if the insults and threats against me were veiled? Can trolls be passive-aggressive? Could they be capable of guile?
Scrolling through the messages I found some recommendations for cancer-curing diets of daily boiled cassava or raw pork pancreas. Some hawked multi-level marketing products. There was the occasional "You will get well if you remove hatred of Duterte from your heart" (which I didn't find particularly offensive). But by and large, the comments were supportive, complimentary and offered sincere prayers. Then, I espied some suspect ones: somebody wanted to take me to see a healing priest who was also an exorcist(!?). Others sent religious "chain letters." You know, the ones requesting you to send to x number of friends and warning of consequences if the chain is broken? (I tend to forward such things to people I don't like). I also received an invitation to a workshop on writing creative non-fiction (not as a speaker, mind you).
There were also a couple that really stung — the ones that asked if I could possibly translate my article into Pilipino.
I'll assume that they weren't wishing upon me a nasal hemorrhage-induced death from attempting such a feat. But even well-meaning suggestions like this are a painful reminder of my inadequacies as a writer. Despite living my entire life in the Philippines, the last five years of broadcasting in Pilipino (resorting to Taglish whenever possible) and some adeptness at editing Pilipino copy, I cannot write in our native language. That, my digital illiteracy, my inability to understand gay lingo or hip-hop lyrics, more than the restrictions imposed by my disease, will forever limit my capacity to reach a younger, broader audience — a crucial skill in these perilous times.
Then, a friend sent me a post her friend found in an online forum about my article. It was written by one Niña* Salcedo.
Sabi ng Tatay ko kahapon, "Nak, nabasa mo ba yung article sa Philstar? Kinumpara ni Twink Macaraig yung cancer niya sa cancer ng bansa natin ngayon. Galing!"
Binasa ko. Aba, magaling nga! Maganda pagkakasulat. Witty pero may punch. Relate ako kahit wala akong cancer (uhm sana wala). Gets na gets ko sinasabi niya sa article.
Natuwa ako dun sa bucket list niya. Ako simple din lang naman ang bucket list ko: see the Sistine Chapel.Go to the Holy Land. Sleep under the Aurora Borealis. Sky dive.
At pareho din kami ng tanong sa mga nangyayari ngayon: "So where is the outrage? Where is the resistance?"
Nasaan nga ba? Bakit walang pumapalag? Bakit ok lang sa tin na ginagawa tayong tanga ng mga yan? Bakit tinatanggap lang natin na normal ang patayan? Bakit ok lang na bastusin si God, ang Simbahan, ang mga babae? Bakit ok lang na hindi importante ang honesty? Bakit ok lang ipamigay ang mga isla natin?
At… bakit ok lang na humihinga pa at minumura pa tayo ni Duterte kahit kasing itim na ng budhi nya ang mukha nya?
Napakaraming tao na dedma. Ngangey lang sa mga nangyayari. Ugh.
Hindi puwede puro dasal lang. Dapat may gawa din. Hindi pueweng parang si Cardinal Tagle na puro discernment (3 years na, discernment pa din??? Ayaw pa din magsalita laban kay Duterte???)
Pero kung si Ms Twink nga na may sakit, hindi sumusuko sa laban na to…Tayo pa ba?
So, Ms Twink, kung mababasa mo po ito, isa lang masasabi ko…SALUDO!!! Salamat po sa katapangan mo sa paglaban sa Stage 4 cancer mo at sa Stage 6 cancer ng Pilipinas ngayon.
And thank you, Niña*, for understanding that my article wasn't an appeal for prayers, although they're certainly appreciated. Fighting cancer — physical or societal — essentially means taking action, despite the odds, whatever the chances, because apathy, silence — being dedma — is about as good as being dead.
Ikinalulugod ko na, sa kabila ng aking alintana na walang kabataang makikinig sa mga pinagsasabi ng isang Inggliserang baldado't kalbo pa, ay meron din palang nakakapagtanto sa aking nais iparating. Sana'y ma-gets din ito ng mas nakararami.
Let's keep on keeping on, ika nga. Padayon!