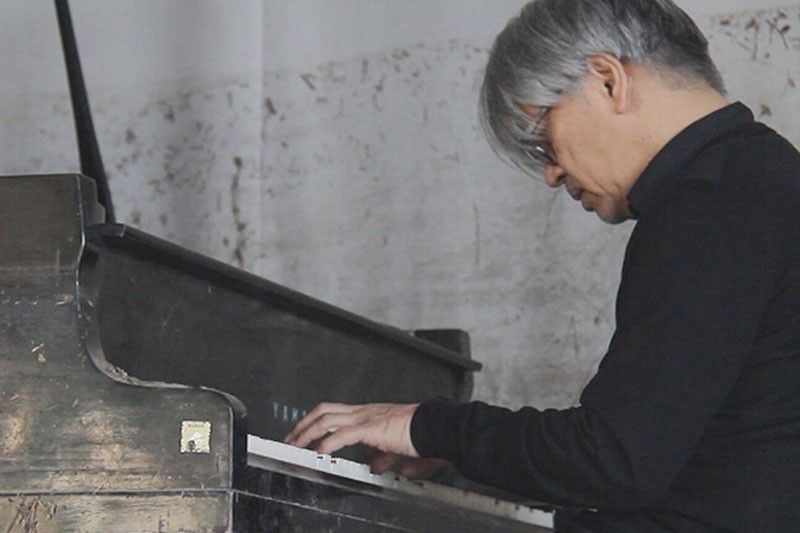 Japanese composer Ryuichi Sakamoto finds music in a tsunami-warped piano.
Ryuichi Sakamoto and his drowned piano
There's something unexpectedly inspiring — and somehow moving — about seeing Ryuichi Sakamoto put a plastic bucket over his head to better hear the rainfall against it. In the documentary Coda: Ryuichi Sakamoto, we encounter the Japanese composer — Oscar-nominated for his soundtrack to The Revenant, Oscar winner for The Last Emperor — late in his life, recovering from throat cancer, living (seemingly) alone, as a filmmaker records his daily life and his interactions with many different environments.
The common connection is sound: walking through still-radioactive Fukushima with a microphone and a Geiger counter, the former Yellow Magic Orchestra member picks up on the natural vibes. He plucks the strings of a piano that was washed up in the 2011 tsunami that unleashed radiation from nuclear sites there; he finds the tone of the warped, "drowned" piano touching and sublime, and vows to compose something on it.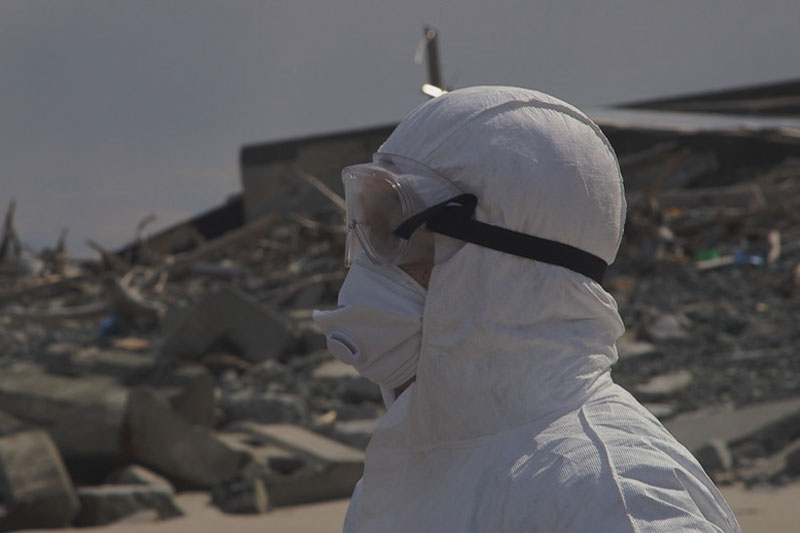 Strolling through still-radioactive Fukushima with a microphone and a Geiger counter
Sakamoto records many things. We see him run a cello bow across a large cymbal to gather an eerie sound, dutifully captured on digital audio. He later turns this into a composition, rounded out by his minimal, probing piano notes. In one sequence Sakamoto is invited to visit the North Pole and records the sounds within a crevasse of ice; in another he lowers a microphone into a hole in the ice, capturing the rushing waters below. "Fishing for sound," he jokes.
Sakamoto has always been a thoughtful composer, committed to liberal causes. In Coda, we explore many phases of his life, from early pioneering techno in the '80s Japanese band YMO, where he muses over how fast musicians can play, and how synthesizers will always be faster. After the new wave crested, he turned to solo and side projects, recording with David Sylvian, Bill Laswell, Talking Heads' frontman David Byrne, before exploring Brazilian music and a roster of film scoring projects. You've heard him just about everywhere in film, from Merry Christmas Mr. Lawrence to The Handmaid's Tale to multiple scores for Brian De Palma, Bernardo Bertolucci and Pedro Almodovar. In between, he campaigns against nuclear power and nuclear war, and takes a quietly engaging view of the world that can be likened perhaps to filmmaker Werner Herzog's.
Coda shows us how rare this kind of consciousness is nowadays. As we gather stimuli nonstop from small silvery rectangles — our phones — every waking moment, Sakamoto instead operates as artists have always operated: engaging what's in front of them, seeing it in a different way. The composer is particularly obsessed with Tarkovsky, the Russian director of Solaris and others, marveling at the attention to natural sound in his films. Thus, in a later sequence, we watch Sakamoto listening to the rain outside his doorstep, trying out various glass and plastic containers as receptacles until he hears just the right sound of rainfall that engages his imagination, so he can record it. That's when he see him with a plastic bucket over his head, and realize what we've lost by no longer actually inspecting the world around us. Sakamoto hears things we do not. He's a detective, in some ways, and a pack rat in others: he never stops collecting experiences.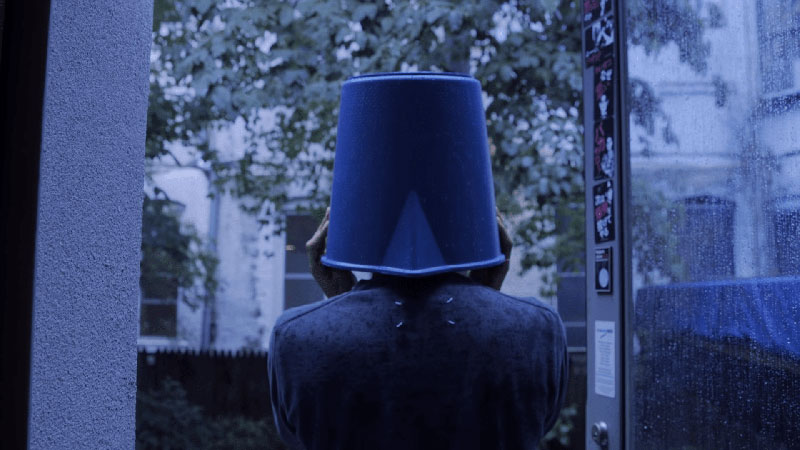 Buckethead: The composer explores sound in Coda: Ryuichi Sakamoto.
Sakamoto's biggest challenge late in his life was battling cancer, and many thought he was going to become an obituary notice. But he changed the way he ate, endured his treatments, and now lives on a regimen of maintenance medicines (in one touching scene, we see him diligently brushing his teeth; he explains he must ward off "infections" constantly to live longer). He wants to keep on living, feeling there's a lot more music to be made.
Sakamoto is eventually shown composing music on that warped tsunami piano. It's not just a gimmick: it's a way of reimagining what creates art and how we experience it. This is a moving documentary, not only in the way it depicts the life of an artist — his choices and approaches to seeing — but also because it makes any modern person sad about the limitations of our own way of "seeing" in the digital age. Yes, we are gifted with marvelous technology, with gadgets that do things better and faster — as Sakamoto noted early on about synthesizers — than man has ever witnessed before. But in many ways, we've traded the whole world for a boxed-in version of it, one that only exists on the screens in front of us. Who actually experiences a rainbow or sunset these days without thinking about how best to snap it, filter it, post it? We have made a transaction with technology, and it offers us a new world, but it's trapped within the parameters of digital boxes. We are never really "outside the box."
Anyway, that's one hot take from the inspiring documentary Coda: Ryuichi Sakamoto. Artists will always remember that technology is merely a tool, not the end product.