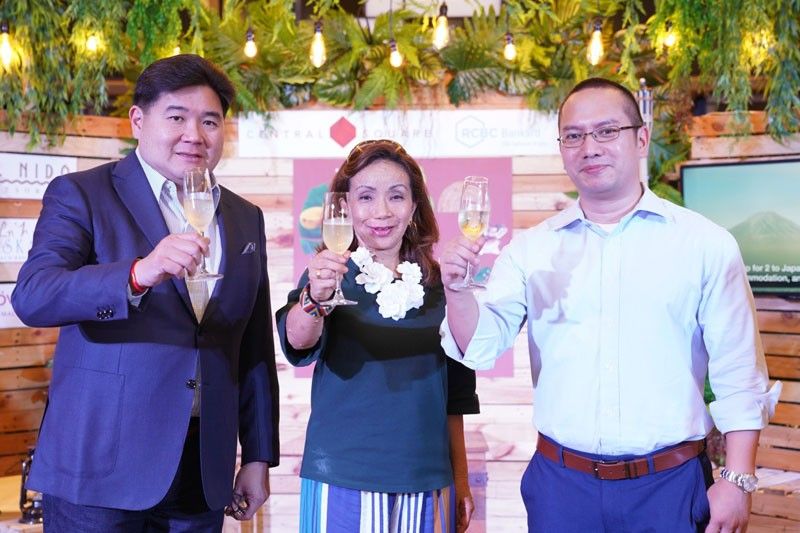 Tropicale was formally launched with a ceremonial toast led by SSI Group president Anton Huang, Rustan's Maritess Tantoco-Enriquez, and RCBC Bankard president and CEO Simon Javier Calasanz.
Anton Huang: Tropicale is Central Square's ode to all things local
MANILA, Philippines — It was a wise man who once said, "You cannot love what you do not know." This could very well be what Anton Huang, SSI Group Inc. president, had in mind when he launched the Tropicale campaign of Central Square mall at BGC.
"Tropicale is Central Square's ode to all things local," Huang remarked. "This campaign allows you to discover everything there is to love about living locally, bringing the best of what the Philippines has to offer, from local artisanal products to iconic travel destinations."
On every weekend of September and October, Central Square will feature Tropicale's Love Local theme through events such as Lokalidad, a Filipino artisanal market showcasing the best of Filipino craftsmanship.
"We've held a lot of fairs here featuring local products, such as Philippine Harvest, which is our tie-up with the Department of Tourism, highlighting local food and farm tourism," Huang shares. "I think we are perfectly placed to really promote the best of the Philippines to the world. Central Square is located at the heart of Bonifacio Global City. If you look at the surrounding community, we have a lot of foreign guests and expatriates who work here. We also have a growing young community as far as the Filipino workforce is concerned, who work and live within the area. And we take pride in providing them the opportunity to learn more, not only about Philippine products, but also about Philippine tourism destinations."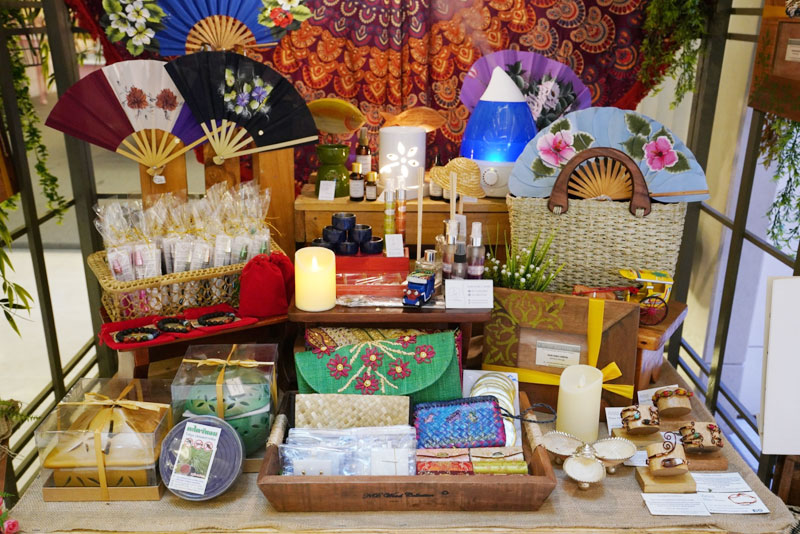 Central Square celebrates all things local through Tropicale, which highlights artisanal products and showcasies the best travel destinations of the Philippines with SSI Group and RCBC Bankard.
Through the Tropicale getaway promo, the SSI Group and RCBC Bankard, one of the counry's premier credit cards, gives its loyal customers a chance to go on their dream vacation to the most luxurious resorts in the country — Lagen Island Resort in Palawan, Eskaya Beach Resort & Spa in Bohol, and Movenpick Hotel Mactan Island in Cebu. From September until end October, shoppers at Central Square and select Bonifacio High Street stores are entitled to one raffle promo entry for every single or accumulated receipts of P3,000 from participating stores.
These include Beauty Bar/Dashing Diva, Brooks Brothers, Eden Park, Gap, Hackett London, Kitchen's Best, Lacoste, Marks & Spencer, Superdry, Tommy Hilfiger, Lipault, Saddle Row, Samsonite, WomenSecret, West Elm, Aeropostale, Baskin Robbins, Charriol, Corterfiel, Hamleys, Pottery Barn, Pottery Barn Kids, Starbucks Reserve, Stride Rite, Superga, Acca Kappa, Benefit, Diptyque, Dune, Furla, Kate Spade, L'Occitane, Kurt Geiger, 158 Designer's Blvd, Michael Kors, Nars, TWG, Fireside, Saladstop!Marketplace by Rustan's, Designer Blooms, and Eric Kayser.
RCBC Bankard cardholders will not only get to pick a prize instantly from a selection of items from Central Square stores, but are also entitled to three times as many raffle entries if they use their RCBC Bankard. The grand raffle will be held in November.
"When we look at our cardholders' spending, these are among the top brands
where we see our customers go for shopping," says Simon Javier Calasanz, president and CEO of RCBC Bankard. "For us, it's a natural inclination for us to partner with those kinds of brands."
"We have done a lot of tie-ups with RCBC in the past," Huang adds. "They have been a great support to our group of companies. We have been very much aligned in the way we think about how we want to approach the market. And so it was really a perfect match, for us to tie up with them for the Tropicale promotion."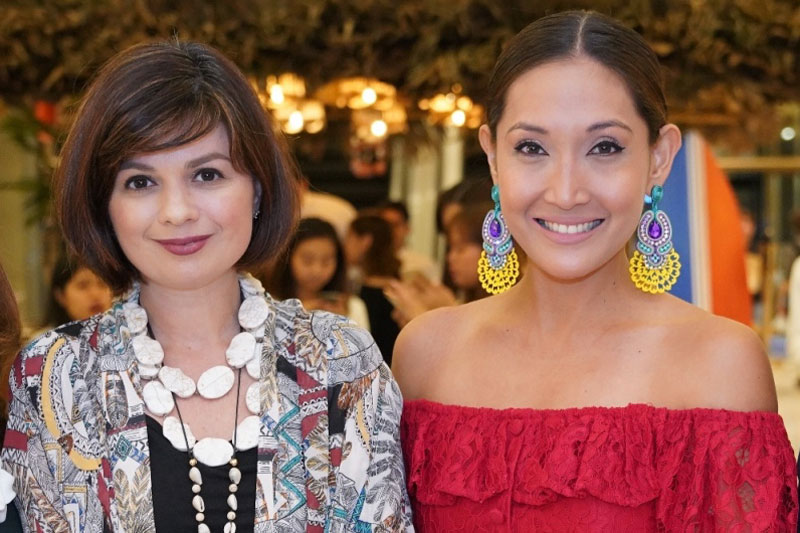 Lexi Berenguer-Testa, SSI's head of marketing communications Mitch Suarez
"When we saw that they were supporting local crafts and Philippine destinations,
we really felt that that was also what we want to promote with our cardholder base," adds Calasanz. "I've met many guys here in the Philippines who have traveled to many exotic places outside the country, but they have not visited or seen many of the beautiful places in the Philippines. We feel that it's a shame. Love our own. Love local. That is something we want to do."
For the weekend of Sept. 15-16, Maker's Market highlights top locally handmade products such as macramé hangings, embroidered pillows, mini sculptures, children's accessories and toys. From Sept. 21-23, the focus will be on mommies and their kids, with Mommy Mundo and Expo Mom, showcasing top lifestyle and baby products, alongside exhibits and parenting workshops.
Sept. 28-30 and Oct. 5-7 is all about awesome food finds, with Let's Eat Pare's Central Eats, featuring food selections that include fresh empanadas, specialty coffee, and other sweet treats. Good Trade, a zero-waste and sustainable fair, will be held on the weekend of Oct. 13-14. And from Oct. 18-21, Tropicale again showcases the Filipino artisanal market, Lokalidad.
"Staying true to our Group's thrust to bringing the best of the world to the Philippines, through Tropicale, we continue to be an avenue to bring the best of the Philippines to many," Huang says. "This is testament to the SSI Group's mission to continuously enrich the lives of our customers by giving them only the best curated lifestyle experiences."