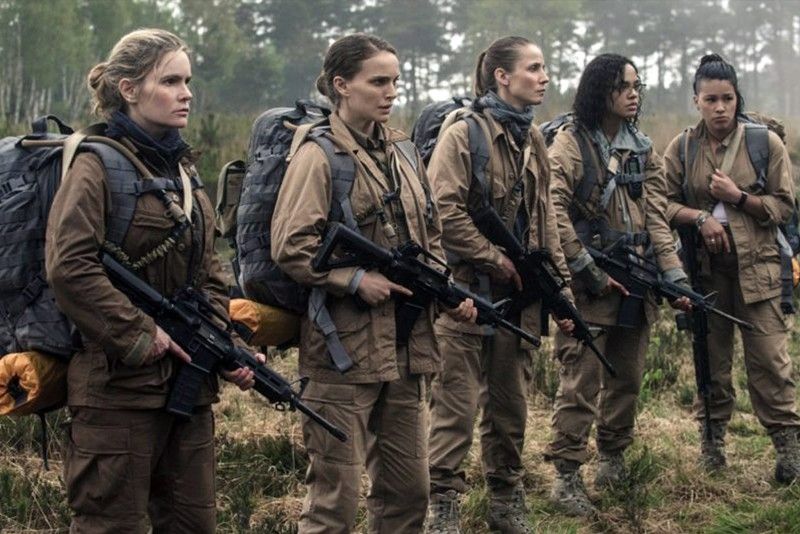 Locked and loaded: Jennifer Jason Leigh (left) and Natalie Portman lead a team of female scientists into Area X in Alex Garland's Netflix-premiering Annihilation.
On Netflix, ' Annihilation' hints at a new species
It was supposed to be a Natalie Portman big-screen vehicle, something like Predator except with four badass women types entering the confines of a highly strange military zone called Area X. Based on the first in a sci-fi trilogy of novels by Jeff VanderMeer, Annihilation didn't fare so well at the US box office — viewers complained the female characters were too ambiguous, too unsympathetic — but it had a backup plan: it was released by Paramount straight onto Netflix in Asia, almost simultaneously.
On Netflix, it makes perfect sense: nestled amid Black Mirror and other sci-fi series like Altered Carbon, the Alex Garland-directed movie provokes without answering too many questions. Garland, who wrote the screenplay and is having a nice career directing smart, intense speculative dramas such as Ex Machina (which, like Annihilation, features Oscar Isaac), prefers to tackle big questions such as artificial intelligence and the future of the human species rather than focus on boom-boom action scenes.
Though Annihilation does have some of those, as it follows a quintet of females who enter "The Shimmer," a secured zone surrounding a lighthouse in the Southern US (hit by some kind of celestial asteroid, we learn in the opening moments), trying to find out why the 12 previous military missions never returned. They're locked and loaded with weapons, but each has special skills as well. Portman is Lena, a cell biologist, joined by a paramedic (Gina Rodriguez), a physicist (Tessa Thompson), a geomorphologist (Tuva Novotny) and psychologist Jennifer Jason Leigh who leads the mission. The fact that the only man who's ever returned from Area X — Lena's husband Kane (Isaac) — isn't saying much and has slipped into a comatose state makes things all the more urgent for Lena.
What do we know about The Shimmer? It settles a psychedelic haze over the lighthouse that seems to warp and wipe our female team's memories. They start to see things. Beautiful things, as well as frightening things. Are they imagining the new variations of species along the jungle trail as they head to the lighthouse — the weird plants, the mutated deer with flowers for antlers and overly large alligators roaming around the southern swamps? Are we to believe this is all just happening in their heads? The movie takes us further into the mystery, framed by a running argument between Leigh and Portman over psychology versus science, nurture versus nature.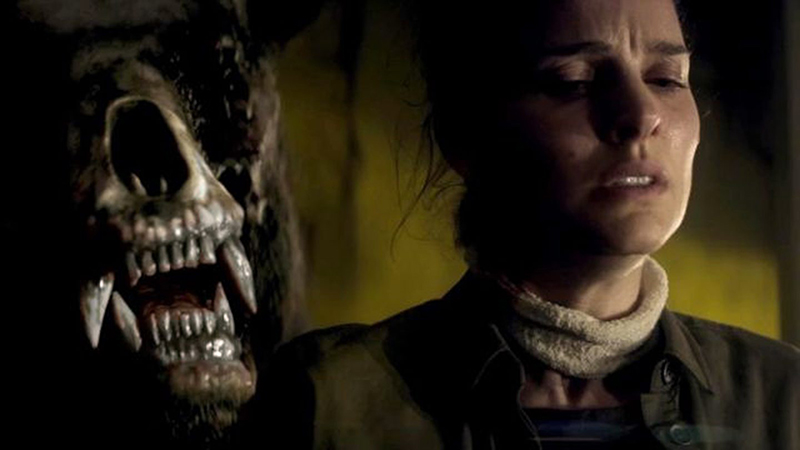 What big teeth you have: We don't know exactly what's breathing down Natalie Portman's neck, but it doesn't look too friendly.
It reminds me of something I read recently about an astronaut on the International Space Station, who had a twin brother back on Earth. He was found to have slightly different DNA from his twin after living in space for several years. Was it simply radiation that altered him? How secure are we in our carbon-based identities, after all? That's the kind of questions Annihilation poses.
Writer/director Garland, who has come far from his Leo DiCaprio/The Beach days (and early Philippines travels) to pen movies like 28 Days Later and Ex Machina, admits that, in writing the script, he didn't so much follow the VanderMeer book faithfully as surrender to its hazy spell.
The movie is a fun actioner as well, with our female cast exploring the mystery in a way that a testosterone-heavy Schwarzenegger-type crew might not have figured out. Still, they all have their personality quirks, which do grow somewhat predictable. Even in a female-populated world, after all, strains do develop. Garland ratchets up the tension with echoes of Aliens and John Carpenter's The Thing: suspicions arise, trust goes out the window, and before you know it most everybody's tied to a chair, trying to prove they're still human.
It's an interesting gambit, premiering a new movie on Netflix (though its modest $55 million budget means Paramount didn't have too much to lose). It's not the first big production movie premiered by the streaming service, which surprised viewers by dropping a Cloverfield chapter out of nowhere last year (The Cloverfield Paradox) as well as the Will Smith sci-fi feature Bright. Whether Netflix audiences embrace Annihilation in the face of box office indifference is not really the point: Netflix is clearly still perfecting its own laboratory methods, seeing what clicks with viewers and what doesn't. Like our female crew in Annihilation, it's perhaps closer than most to the cutting edge, seeing what new species of entertainment can survive in these changing times.