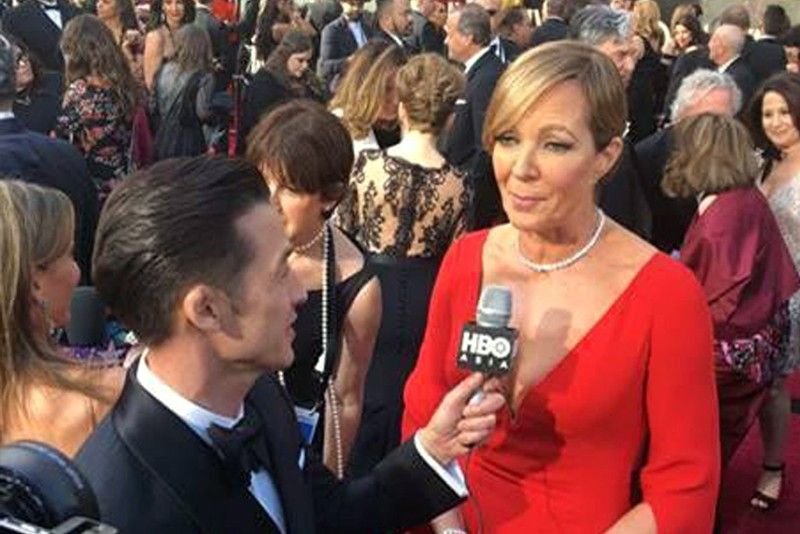 Staking out the Oscar Red Carpet
MANILA, Philippines — Let's put it out there: Meryl Streep was the most regal, the most well loved, the most anticipated by Oscar fans and red carpet hounds. When she arrived in a red gown near the end of the 2018 Oscars red carpet entrance, stopped in front of our packed fan bleachers and formed a "T" sign with her hands (a reference to #TimesUp), the crowd blew up; some even screamed "Meryl in 2020!" — clearly wishing the multi-awarded actress would try her hand at American politics. She was a vision of Oscar royalty.
But she was the self-possessed calm toward the end of a storm — a virtual perfect storm of celebrities, actors and famous faces, flowing in and out of the red carpet tsunami.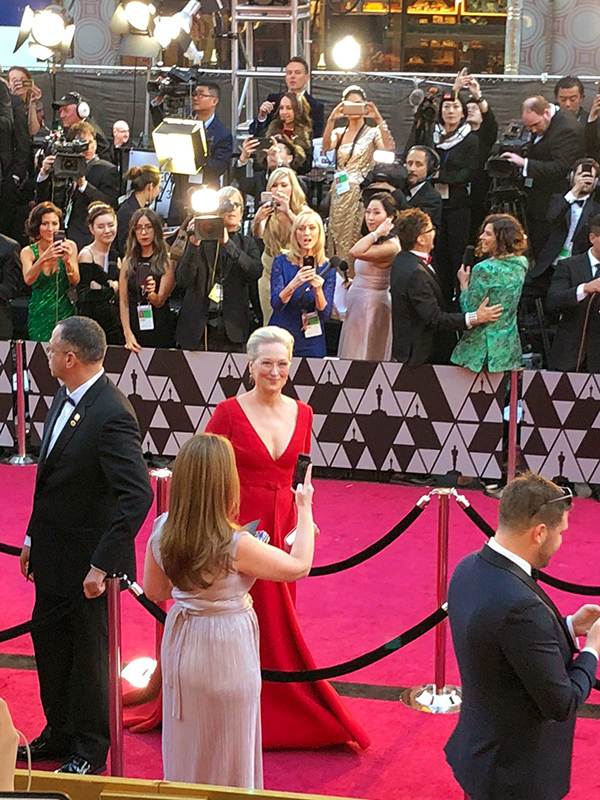 Meryl Streep
Being in the midst of Oscar red carpet mayhem was one of the most mind-blowing, head-exploding experiences of our lives. It's nothing like the neat and orderly pre-Oscars red carpet interviews you see on HBO Asia, which sponsored our trip to Los Angeles after we won its Ultimate Oscars Experience contest online last year. It's not one star at a time, stopping in front of one microphone. It's chaos. If you're with the press, you're grappling with other reporters for that chance to corral Nicole Kidman or Armie Hammer for a precious few seconds on camera.
If you're us, though, you're sitting in a row among about 2,000 others in the fan bleachers, just trying to make sense of the nonstop parade of faces, darting in and out of the crowd. Your camera hand whips around — whoa, there's Jennifer Lawrence! Wait, there's Timothée Chalamet on the dais! No, wait, it's Salma Hayek, next to Helen Mirren in blue sequins, next to Jane Fonda in white chiffon! Where do you focus? How do the paparazzi even do this for a living? Therese likened it to "Where's Waldo": you're staring at a mosaic of gowns and tuxes, trying to make out and focus on a particular face in the crowd that yelling fans inform you is nearby: "Matthew McConaughey!" "Gary Oldman!" "Saoirse!" "Emma!"
Scott likens it to Dunkirk, Christopher Nolan's nominated WWII flick that plunges you into the chaos of aerial war: all you can do is keep breathing, and keep shooting. Almost doesn't matter where. Try to get as many faces as you can.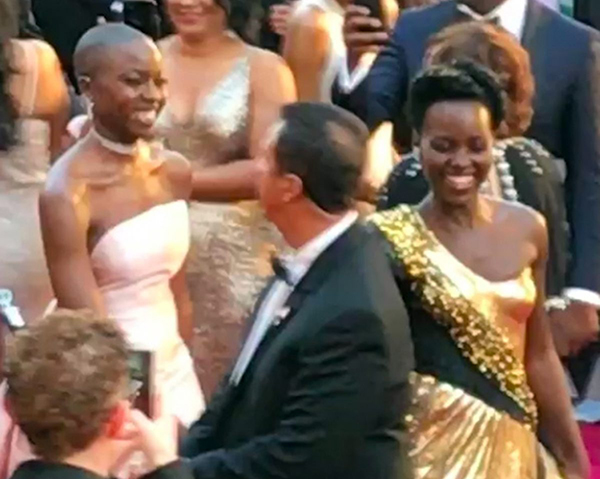 Danai Gurira and Lupita Nyong'o
HBO Asia was our gracious host, granting winners prizes, including several days in Los Angeles, a helicopter flight over Hollywood, a special VIP tour of Disneyland in Anaheim — all before and after The Dream: the actual experience of being next to the red carpet. Safely ensconced in bleachers, of course, but still within camera range of the stars.
There were stipulations, naturally: we were invited as winners, not press. No interview privileges were allowed.
But we did get to experience some of the behind-the-scenes glamour of Hollywood's best through the Ultimate Oscars Experience. Here are some highlights:
• Every year they need to keep those fan bleachers filled so the stars can play to the people who love and cheer for them, which makes for good TV. So, many organizations like HBO Asia hold contests for those precious slots. People magazine is the main sponsor, picking winners from within the United States — some have even won more than once and seem to know how to work the system in their favor. (The ones who win multiple times call themselves "Bleacher Creatures.") HBO Asia picked eight winners from eight Asian countries, and each could bring a plus one.
• Security is the No. 1 concern: winners have to submit photos for official badges and are screened very carefully. Rules are abundant: You can only bring clear plastic tote bags of certain dimensions, and outside drinks, cigarettes and vaping are strictly prohibited. No clothing with slogans or signs with messages are allowed. Anyone who tries to jump onto the red carpet or try to take a selfie with a star will be promptly ejected from the premises.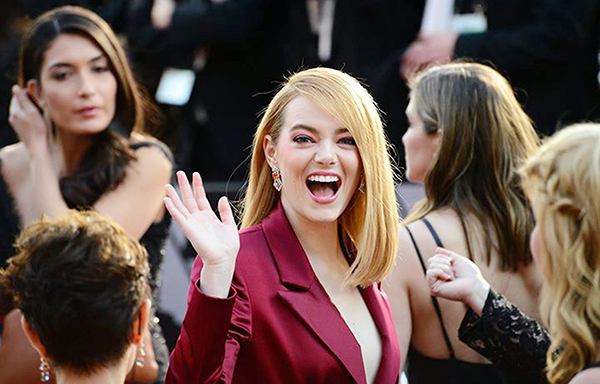 Emma Stone Photo by Ingrid Hankewitz
• Groups are also assigned a certain time when they can check in to the Oscar Fan Experience. Our group had to show up at 8:30 a.m., so we left our hotel early — 8 a.m. — and picked up our badges before filing to the corner of Hollywood and Vine, where all roads leading to that corner are closed to traffic, to make way for the red carpet leading up to the entrance of the Dolby Theatre.
• Surprise: the Hollywood press is just as boxed in as the fan bleachers. They are penned in to the left of the red carpet, while we are on the right. The only people actually allowed on the red carpet are the stars, their plus-ones, security, and official ushers/guides who lead them to the theater.
• When they arrive, bleacher fans are given gift bags with items from various sponsors, like a souvenir Oscar T-shirt, water bottle, snacks, breath mints, and a cushion so their butts don't get numb sitting on the metal risers. Nothing like the major swag the Hollywood stars get, but hey, we're not complaining.
• The red carpet officially opens at 1:30 p.m., and is cleared of TV press doing standups, mingling and taking walking selfie videos; security dudes get into place and black ropes line the middle walkway. (Those black ropes become mostly useless by the time the star swarm begins in earnest.) By then, the press and fans will already have been waiting five or more hours for the stars to make their appearance. To kill those hours, People sets up various booths like the Glam Bar, where fans can get their hair done; a photo booth where they can pose with props for souvenir shots; and an Eye & Lip booth where they can get makeup applied. Food is also plentiful: they serve breakfast, lunch, and a buffet dinner at the El Capitan Theater, where the fans proceed after the red carpet closes to watch the Oscar ceremony on a movie screen.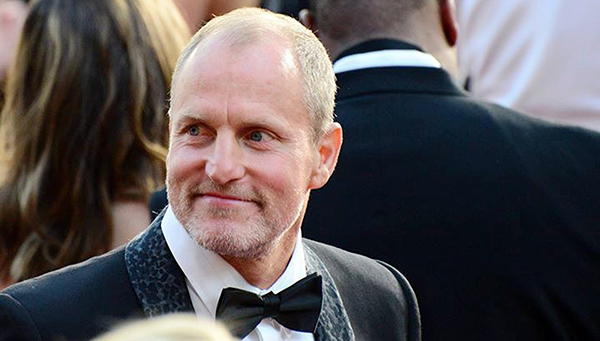 Woody Harrelson Photo by Ingrid Hankewitz
• Speaking of food, at a certain point, in what seems like tradition, chefs wheel out some of Wolfgang Puck's creations for the later Governors Ball after-party: we heard it was an Oscar-shaped salmon this year.
• You won't necessarily be seen on camera by a billion people, but we tried. At one point HBO Asia anchor Utt Panichkul (aka DJ Utt) approached our section and did an impromptu TV interview with the Asian winners. "Which star do you most want to see?" he asked. Therese yelled out "Meryl Streep!" And what's your pick for Best Movie? I went against conventional wisdom and yelled out, "Dunkirk!" So if you watched HBO Asia, you might have seen us on camera. Mission accomplished!
• Though the red carpet officially opened at 1:30, the stars actually started arriving an hour or more later. The first celeb to arrive was Kelly Marie Tran, who plays Rose Tico in Star Wars: The Last Jedi. We heard later from a Disneyland tour guide that she was so thrilled about her upcoming role that before the movie even came out, she would go to the theme park's Star Tours ride and photobomb visitors, telling them not to erase their photos from their phones; they would know who she was soon enough.
• Stars behave so differently on the red carpet: some are low-key, like Gal Gadot and Daniel Day-Lewis, who were so stealth we missed them slipping through completely. Some take their time, bask in the glow, like Salma Hayek, who shook her booty for the fans; others are shy like Christopher Nolan, walking head down, hands in pockets. Some, like Timothée Chalamet, are composed, waving to the crowd with his mom in tow; Call Me By Your Name co-star Armie Hammer meanwhile was stiff and unsmiling, walking robotically through, accompanied by wife Elizabeth Chambers (who calls herself an "Armie wife").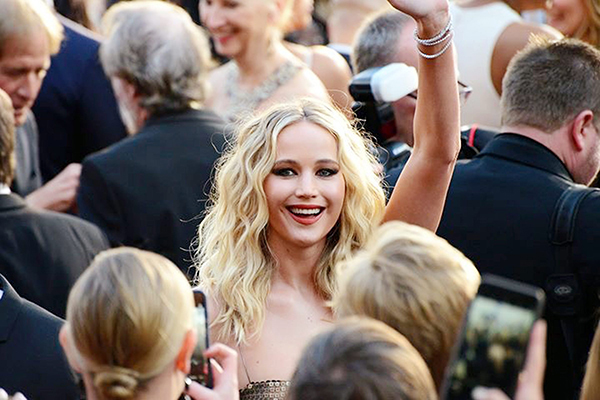 Jennifer Lawrence Photo by Ingrid Hankewitz
There were a lot of sports figures — US Olympic ice skater champions earlier in the day, but more notably Kobe Bryant with wife Vanessa Laine Bryant. Some seem comfortable with the Hollywood glitz, like Kobe, who later that night won an Oscar for writing and producing a short animated film — belying the claim that NBA stars should not speak their minds but just "shut up and dribble."
Nice to see Lupita Nyong'o with her Black Panther co-star Danai Gurira, showing up as females in force; their co-actor Chadwick Boseman, meanwhile, sported true Wakanda-style fashion on the carpet.
Emma Stone — maybe in compensation for rushing through last year's red carpet because she was late — did stop briefly to wave and do a shampoo ad-worthy hair flip for the crowd. Jennifer Lawrence kept walking but waved at us and then started pumping her fist in the air.
Nobody in our section (but us) recognized Andy Garcia — he crossed in front of us in shades, still looking cool, but too reserved to draw appreciative screams.
Some stars showed actual humility even if they were nominated — Gary Oldman flashed the fans a "V" for victory sign, echoing his Churchill character in Darkest Hour. Patrick Stewart was gallant not only to the fans but also to his wife, extending his arm so that she could go ahead of him on the red carpet, and smiling warmly and waving to the fans.
In a year when Star Wars: The Last Jedi scored at the box office but got little Oscar attention, Mark Hamill was seemingly everywhere: on the red carpet, presenting at the Oscars, even popping up at Disneyland's Star Tours attraction weeks ago to surprise fans.
Power couple Judd Apatow and Leslie Mann had to do a bit of waiting as Leslie paused to hug and pose with Oscar performer Common — while the raunch-comedy director took their photo.
Best Supporting Actor winner Sam Rockwell led his actress wife Leslie Bibb down the line, waving graciously and clearly enjoying the moment.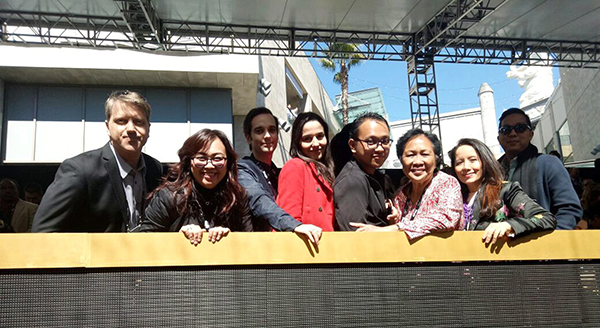 HBO Oscar fans including authors Therese Jamora-Garaceau (right) and Scott Garceau (left) in front of red carpet
• A few faces trickled in at a time, but when several big stars arrived at once, it was madness down there. One former tour guide working the red carpet said it was the most stressful job he's ever had; his duty was to guide the stars from their cars and limos to the beginning of the carpet, but he never knew who was arriving when; adding to the chaos was having to fend off paparazzi and press, who could "turn nasty really quickly" as he escorted stars down carpet. His job was to keep them moving smoothly, but as we saw that's nearly impossible: the stars bunch up in the middle of the carpet, they hug it out, they take selfies with each other.
• This year the Oscars started 30 minutes earlier, so by about 4:30 p.m. the celeb swarm starts to slow down to a trickle. By that time you've caught about 40 or 50 famous faces, however blurrily or fleetingly, on camera. And that's about the time that Nicole Kidman decides to make her entrance: a real savvy operator, she waited until the red carpet thinned out, took her time, high-fived the front row of the fan bleachers section, and generally strutted her stuff in a blue gown before disappearing into the Dolby. Phew. The Oscars red carpet was now officially finito.
• So we then headed across the street to the famous old El Capitan to watch a simultaneous broadcast of the 2018 Oscars from our comfortable movie theater seats, eating popcorn and brownie à la mode with sprinkles and jimmies. (The chocolate ones, not the kind that hosted the Oscars.)