Sing like Julie London
November 11, 2017 | 4:00pm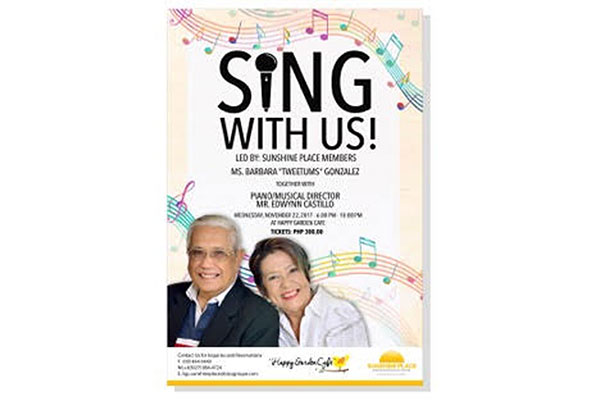 After being sick and stuck in my home for 10 days did you really think I would wait until Monday before sneaking out again? Of course not! On Sunday I did what has become my standard routine. I passed for a friend who lives across the church I go to and we went to Mass. Readers who have been reading me a long time, don't die of shock. I have been going to Mass again for a while now, since someone dragged me to church one Sunday and I rediscovered the serenity one gets from Mass. Now it has become a habit.
There we ran into my cousins — Mandy and Ruben Torres — and my friend, Loy Ventura, invited us all to his place for lunch then we talked and sang together. It was a lovely time. Our love of song had brought us together. The two men — Loy and Ruben — are part of my singing group in the Happy Garden Café.
But that's not all the singing we do. The Sunshine Place is having a Christmas party and is trying to set up a choir. We try to sing there too. It isn't easy because we are crooners, meaning we like to sing in the low keys. Here the women's singing parts are very high and I have trouble reaching them but we go to the twice-a-week rehearsals anyway and struggle because, what's the alternative? Stay home and watch TV? Better to go out and sing. It is less boring.
In my dreams, I want to create a stable of people who love to sing to come together once a month and sing at the Happy Garden Café. Most of us are singers who are amateurs, who don't sing professionally, whose voices do weird things once in a while but we continue to sing anyway for the fun of it. We sing because we enjoy it. We sing to have fun, only to have fun. We sing old songs. I like to sing songs before my time, from my mother's time because that's the music I love.
Last show I had my Gonzalez family over and Noli, my cousin, sang for the first time publicly. The Rotarians I had just met were there. Justice Ranada sang If I Loved You beautifully. His wife Evelyn kept whispering to me that I should get Yvonne Cortez to sing. I did, then Yvonne got Evelyn to sing. Ruben Torres sang love songs and Gil Yuzon, an old dear friend from advertising, who was my next door neighbor once, also sang If Ever I Would Leave You. He even brought me flowers and his book of poetry. I felt so good when he handed me the red roses. It made me feel like a young girl again.
Preparing for the show makes me listen to YouTube all the time because that's where you can research old music. You can listen to Bing Crosby sing in his wonderful, cool voice. He has been dead a while but in the '80s, when I lived in San Francisco, I lived in Burlingame and there we had a small mall called Crosby Commons, named after Bing Crosby, who once lived in the area.
I also listen to Jerry Vale, another wonderful voice, who sang You Don't Know Me, a song I loved once because I used to sing it alone for someone on whom I had a crush but he wasn't paying attention to me. "You give your hand to me, and then you say goodbye, I watch you walk away beside the lucky gal, to never never know the one who loves you so, no, you don't know me..." That's how the song ends. Who would not love it?
I want to sing like Julie London. I idolize her. When I was young I watched her black-and-white TV commercial, a sexy ad. It showed her in black lace sitting near an ashtray where there was a cigarette burning and she held another lit cigarette in her hand. She sang, "You got a lot to like with a Marlboro. Filter, flavor, flip-top box." That's all she sang and I still remember it 65 years later. Then she ends it by flicking the other cigarette with her lit one. No male talent. Just a lit cigarette. Julie London has a bedroom voice. That's the voice I want. Sometimes I think I want a bedroom voice or a man in my bedroom. Since I can't have the latter, I'll settle for the former.
Please come to my next show and become part of my stable of singers. It's on Wednesday, Nov. 22, at 6 p.m. at the Happy Garden Café at #56 Jupiter Street, Bel-Air, Makati. We fill up the place so you need to make reservations if you want a good table. Their landline is 824-5440 and their cell is 0927-684-4724. We hope to see you there.
* * *
Please text your comments to 0998-991-2287.