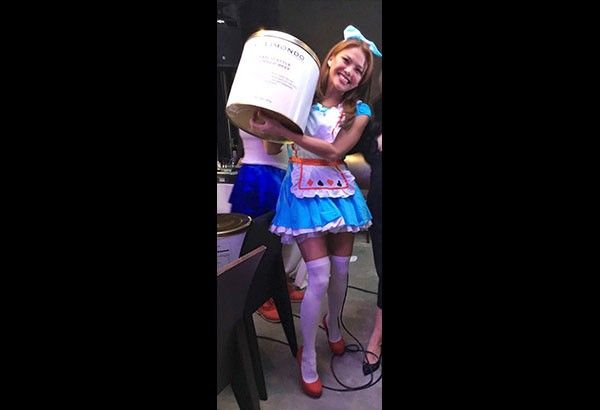 Gretchen Fullido as Alice in Wonderland
Halloween in the time of Trump and Duterte
SUPREMO
(The Philippine Star) - November 6, 2016 - 12:00am
Like we needed another scare fest to make us forget about what's happening in real life.
Still, you can't take Halloween out of Filipinos or the other way around. The only reason why the malls have delayed decking their halls is because Halloween has become big business. From people's homes to stores to clubs and everywhere you look around social media, everyone is trying their best to bring out the funny, the witty and the bizarre out of the season.
The challenge of Halloween becomes higher, with its costumes and a sense of fun escape when the headlines are gorier. Suddenly, you don't want to become a zombie anymore (coz there's too many in real life. We'll save for those who came as train wrecks from Busan, which is relevant). So every girl and their sister came as badass Harly Quinn. Suddenly baseball bats and hair color kits were sold out.
Years ago, people only prepared one costume, for the eve of Halloween itself. Oh, well, times have changed indeed, and people now have to prepare not one, but two to three Halloween costumes. Two for the weekend before and one for All Hallow's Eve itself. You can't be caught dead wearing the same one all throughout, like you didn't prepare! Shudder.
My Halloween hop started on the weekend before the scare fest, where I got to take a sneak peek at the newly-reopened Petra and Pilar on Chino Roces, strategically located beside Delimondo heaven. Make Up Addicts blog maven Katrina Ponce Enrile hosted the Halloween pre game with a yellow blond Sailor Mooned Frank Briones, where guests brought home giant canisters of the world's yummiest corned beef (minced meat — how apt for Halloween!) to the best dressed ones that night, which included Boom Sason who was sizzling hot like her idol Rihanna. Boom the perennial Halloween boldstar never fails to disappoint with her jaw-dropping pieces and beautifully (semi) naked body.
Who Came As What
That following Monday, the Palace was ground zero for all Halloween activities, what with Viber and Globe broadcasting the party to their entire networks — the space odyssey went full circle at the Fort. Some folks decided to start their evening at 20:20. I was happy I didn't have to go far to do my Halloween rounds. Others were in New York (Anne Curtis and Erwan Heussaff as the peeps from Stranger Things, Belle and Adrien Semblat as Captain Planet one night and Hillary Clinton and Donald Trump on another, Liz Uy as Ariana Grande, et al.), Hong Kong (Vice Ganda as Tinkerbell, Colleen Garcia as Edward Scissorhands, Billy Crawford as Beetle Juice) while others stayed online and posted pics from different parts of the world to be part of the Halloween fun.
Aside from Harley Quinn, Kim K. was a favorite, with Nino Gaddi coming as a champagne toasting Kim Kardashian from her Paper magazine cover while Nix Alanon replicated Kim's IG post in Paris, complete with bodyguard Pascal, in the form of a black clad Rajo Laurel. Anyone and everyone knew how to orchestrate, make their entrance and post it on social media for all to enjoy.
Hollywood wasn't remiss on their duties to inspire with Heidi Klum changing her game of not just one, but five Heidis spicing up your Halloween. The Timberlakes went as trolls, Kylie Jenner as Christina Aguilera and JayZ, Beyoncé and Blue Ivy as the Barbie family.
I was gonna come as Annalise Keating from the Netflix hit How To Get Away with Murder but didn't have enough time to look for that trophy to seal the deal. So three days before Halloween, I decided to do a Trump, even if he's the last person I'd vote for. That night as serendipity would have it, I met someone dressed as Duterte, and another one dressed as De Lima. Me as Trump gave the costumed Duterte a brief but firm handshake, and we gave each other the eye.
Now just imagine if that scenario happened in real life?
* * *
Stranger, scarier things @officialtimyap on IG, Twitter, snapchat and IG stories.
<
>