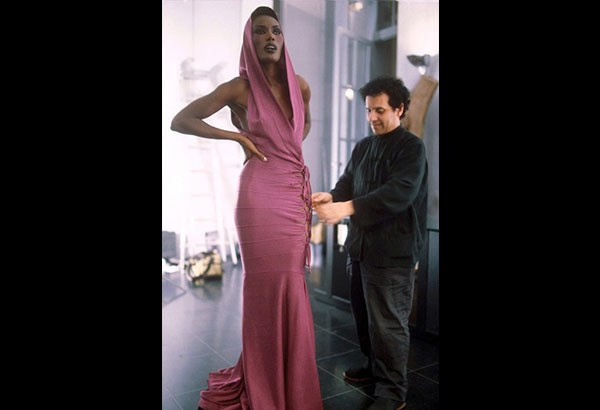 Azzedine Alaïa fitting Grace Jones with one of his jersey siren dresses
Adieu To Alaïa, The Master Craftsman of Slow Fashion
(The Philippine Star) - November 23, 2017 - 4:00pm
The fashion world is mourning the loss of Azzedine Alaïa, one of the world's foremost couturiers who passed away last Nov. 18 in Paris, the city where he built his famed atelier. He created some of the most extraordinary pieces worn by the cognoscenti and celebrities from Marie-Helene de Rothschild and Greta Garbo to Carine Roitfeld, Carla Sozzani, Lady Gaga and Michelle Obama.
He was born in Tunis sometime between 1935 and 1942, with no one knowing exactly when — a mystery in keeping with his reputation as a Sphinx whose riddles kept everyone always guessing. He could be quite mischievous, taking jibes at fashion icons like his colleague Karl Lagerfeld ("Too much caricature . . . He never touched a pair of scissors in his life.") and Anna Wintour ("When I see how she is dressed I don't believe in her tastes one second."); but was also known to be generous to friends for whom he would cook in his kitchen and have conversations with till dawn. His parents were wheat farmers but a twin sister influenced his love for fashion and the French friend of his mother would slip him some copies of Vogue. Their family midwife, Madame Pinot, recognized his creativity and gifted him with art books including his memorable first book of Picasso. She also enrolled him at the School of Fine Arts in Tunis where his training in sculpture would later influence his designs. He actually started handling clothes when a small shop hired him to finish dresses.
"That was my first real experience with fashion, and while I was in the shop, I improved dramatically," the designer recalled in an interview. A chance meeting with two wealthy girls introduced him to the world of Paris couture. Invited to the girls' house one night, Azzedine met their cousin who wore Christian Dior and Balmain and through her was able to get a job with a dressmaker who made copies of Balmain creations. He eventually made it to Paris when a friend of the cousin was able to help in getting him a job with Christian Dior in 1957.
In Paris, the Comtesse Nicole de Blégiers offered him lodging in exchange for making her clothes and babysitting her children. This introduced him to the crème de la crème, which included Cecile and Marie-Helene de Rothschild and Louise de Vilmorin who became loyal clients, helping him establish his own atelier in a small apartment on rue de Bellechasse in 1979.
Moving to a bigger space in the Marais in 1980, he produced his first pret-a-porter collection, a ground-breaking, erotically-charged line of leather moulded to the body. One of his clients, the interior designer Andree Putman, while walking down Madison Avenue wearing one of the first Alaïa leather coats, was stopped by a Bergdorf Goodman buyer and asked who she was wearing, resulting in the sale of his pieces in New York and Beverly Hills boutiques. With his body-sculpted fashions, the media started hailing him as "The King of Cling," increasing the demand for his designs which led to the opening of his own boutiques in 1988 in the two US cities as well as in Paris.
In the '90s, following the death of his sister and with the advent of deconstructed minimalism, he practically disappeared from the scene but continued to create clothes for his loyal clientele, presenting collections at his Marais maison. "He never allowed himself to be distracted by the trends of others, and by the year 2000 acolytes began returning to his atelier," according to Vanessa Friedman of the New York Times. He also refused to follow the fashion system's traditional seasonal calendar. "When the collection is ready, it's ready," he used to say. He believed that the system "corrupted the creative power of what could be an art form."
This year, with what was to be his last collection, he surprised everyone with a fall/winter couture line with his muse, Naomi Campbell, opening the show in a black and white shearling coat which showed that the designer was still at the top of his game. "New ideas flowed in . . . there was more movement for the body as opposed to his once signature 'King of Cling' dresses, and the geometric lines brought both boldness and freedom. It was the continuity of the show that was exceptional, in its roll-out of modern looks from start to finish and in the sense that the designer had not changed his vision in all the years I had known him," reported Suzy Menkes in vogue.com. She marveled at the construction of the pieces, as well as how complicated it was to produce the fabrics, all conceived and designed by Alaïa himself.
"While I enjoyed and still do enjoy doing ready-to-wear, my roots are in couture — all my clothes are first made by myself, all patterns are traced by me and then developed by my couture ateliers," the designer said. The show was a rousing success, with colleagues and friends in attendance giving a standing ovation to honor his great talent and contribution to fashion — from Jack Lang, the former French Minister of Culture and Fabrice Hergott, the director of the Museum of Modern Art in Paris to Nicolas Ghesquiere of Louis Vuitton and former first lady, Carla Bruni-Sarkozy. But as always, Azzedine did not appear on stage at curtain call. He always thought that most of the credit should go to his staff who crafted the clothes. Till the end, he preferred to work quietly, perfecting his métier in his studio, creating the most beautiful clothes which brought joy to the many happy women who were fortunate to have known him.