WATCH: Greenhills Malls spins pure imagination during Candy Cake launch
MANILA, Philippines — Following 2017's grandiose Christmas Village, Greenhills Malls is at it again, this time keeping it minty fresh amid the open, chilly air with the launch of its Candy Cake right at the heart of the bustling V-Mall lobby on November 8.
This year's Christmas Village, which opened Thursday night, is a world of pure imagination. And right at the center stands the first and only Christmas Candy Cake. This giant, 4-tier masterpiece is decked in a festive rainbow of sweet confections.
The event was graced by San Juan mayor Guia Gomez along with other local government officials, as well as Jimmy Ysmael, president and chief executive officer of Ortigas & Co., and other members of the Ortigas family.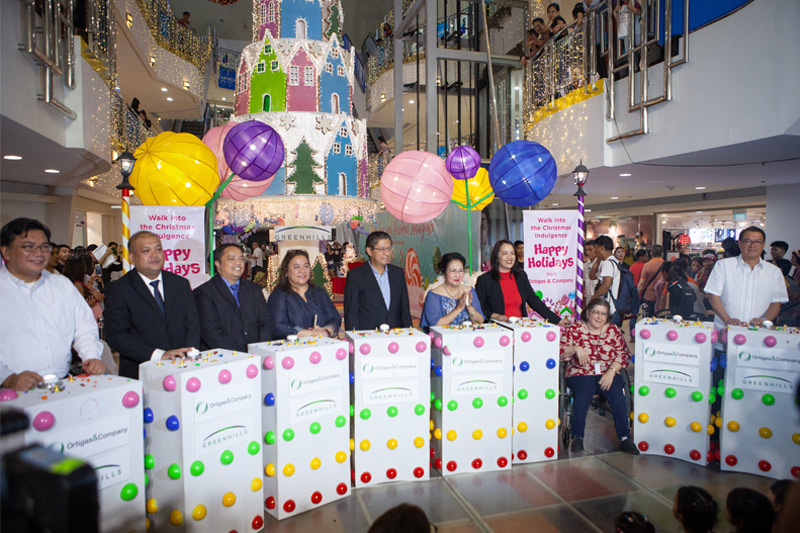 Leading the lighting ceremony were key players from the San Juan local government and the Ortigas & Co. family: (From left) Davee M. Zuñiga, Councilor Vincent Pacheco, Councilor Allen Christopher Silvano, Councilor Mary Joy Ibuna-Leoy, Jaime Ysmael, president and chief executive officer for Ortigas Malls, San Juan Mayor Guia Gomez, Arch. Renee Bacani, vice president for Ortigas Malls, Maite Ortigas, Atty. Mike Abundo. Released
"The four layers (of the Christmas Candy Cake) symbolize various components of the estate—residential, malls, offices, open spaces. It is representative of Ortigas & Company's goal of Building Great Places for Life and affirming its commitment in supporting San Juan City, that it may continue to be one of the top cities in Metro Manila," Ysmael said in a statement.
As a genuine extension of generosity, Greenhills has also invited special guests—children under the care of the Department of Social Welfare and Development (DSWD) to join the festivities.
Everyone was able to satisfy their sweet tooth. And with a sustained sugar high, guests proceeded to embark on a Christmas-themed saccharine adventure, as activities full of excitement ensued during the event.
Wilder and wilder went the fanfare as audiences got to witness a scrumdiddlyumptious-filled Willy Wonka performance. What's more is that mall goers get a chance to participate in a treasure hunt for the coveted Golden Tickets hidden throughout the mall. The hunt will commence from November 6 to Christmas Day. At the end of the hunt, ticketholders will be given special prizes.
Aside from extended mall hours: 10 a.m. to 11 p.m. for the entirety of December, shoppers can also look forward to a series of activations during the holiday period. For instance, there will be the Christmas Sweet Bazaar at V-Mall that will feature 16 curated merchants of the finest sweets.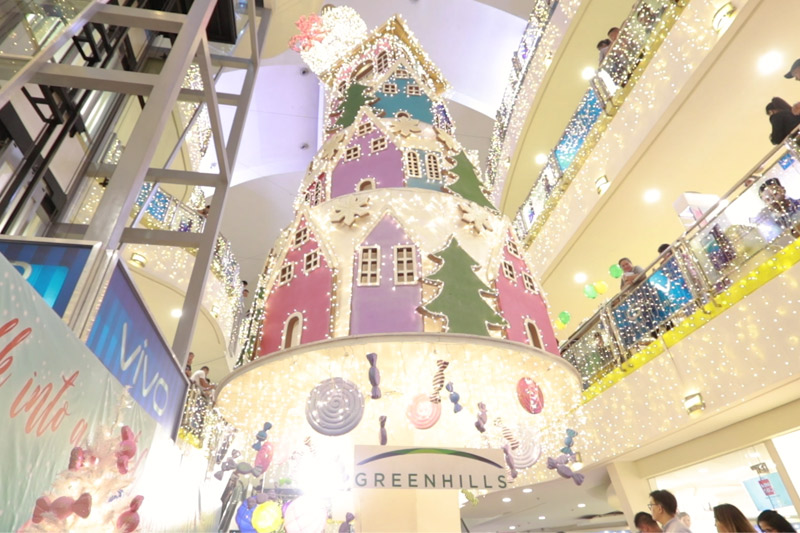 The Christmas Candy Cake stands at 30 feet at the lobby of V-Mall in Greenhills. Philstar.com/EC Toledo
The Paskuhan 2018 at the V-Mall Garden as well as the Regional Delicacies Bazaar at the Center Mall will showcase specialty food from different corners of the world – from our humble Filipino classics to assorted Eastern flavors. Meanwhile, Santa will be present at Greenhills to meet and greet everyone on all Saturdays of December.
There's also the Night Market at G-Strip parking where different merchants can set up shop in the cool breeze from 6 p.m. to 12 midnight. Patrons are also likely to witness the marvelous fireworks displays on all Saturdays of December.
The yearly Simbang Gabi will also be hosted by Greenhills Malls, beginning December 15 until 23.
Greenhills Malls is poised to become a central shopping destination in the metro, housing local and global brands—from dining and entertainment, to fitness and beauty, and so on. A truly mixed-use estate, Greenhills promises more massive upgrades to give its patrons only the best of the best.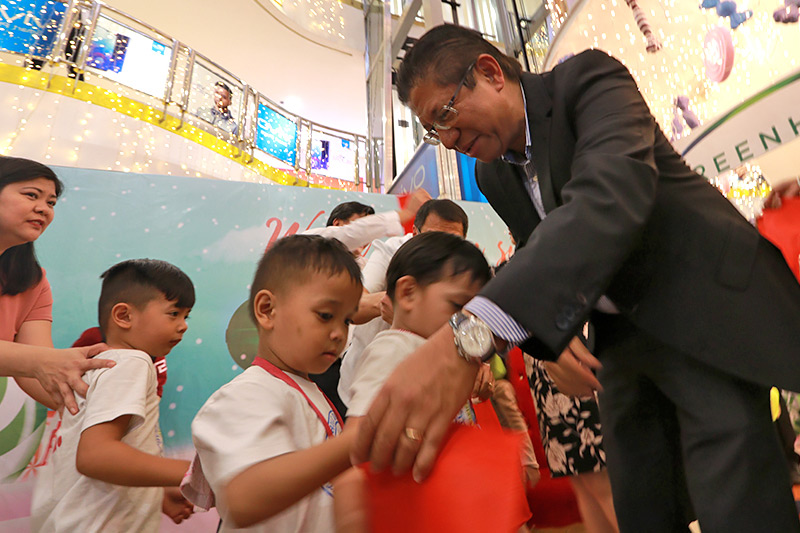 Ortigas & Co. president and chief executive officer, Jimmy Ysmael, extends an arm to welcome and give cheer to the children under the care of DSWD . Philstar.com/EC Toledo
See the 30-foot wonder that is the Christmas Candy Cake and bask in the wonderfully spun fantasy that the rest of the Candy Cake can offer. If you're keen on taking selfies, make sure to use the hashtags, #2018OrtigasMallsChristmas and #GreenhillsCandyCake.
To know more about this event and other upcoming events, visit Greenhills Malls on Facebook and Instagram.
READ: WATCH: Tiendesitas lights Christmas tunnel anew to spread music and cheer