WATCH: Tiendesitas lights Christmas tunnel anew to spread music and cheer
MANILA, Philippines — Only on its second year, Tiendesitas' light and musical tunnel has now become a Christmas destination. Crowds gathered at Ortigas East to witness its ceremonial lighting on Tuesday.
Signaling the season's greetings and ringing in holiday celebrations, the Christmas Street Light Musical tunnel was set alight to a gentle chorus of oohs and aahs, followed by cheers and festive music.
After bagging two International Business (Stevie) Awards—a silver Stevie Real Estate Marketing Campaign of the Year and a bronze Stevie for Re-Branding/Brand Renovation of the Year, the Christmas tunnel by Ortigas & Co. is poised to dazzle guests, patrons and spectators once again.
For holidays 2018, it now has more flare (the lights have been reprogrammed for a more novel visual feast) and variety (with its updated Christmas bops and medleys).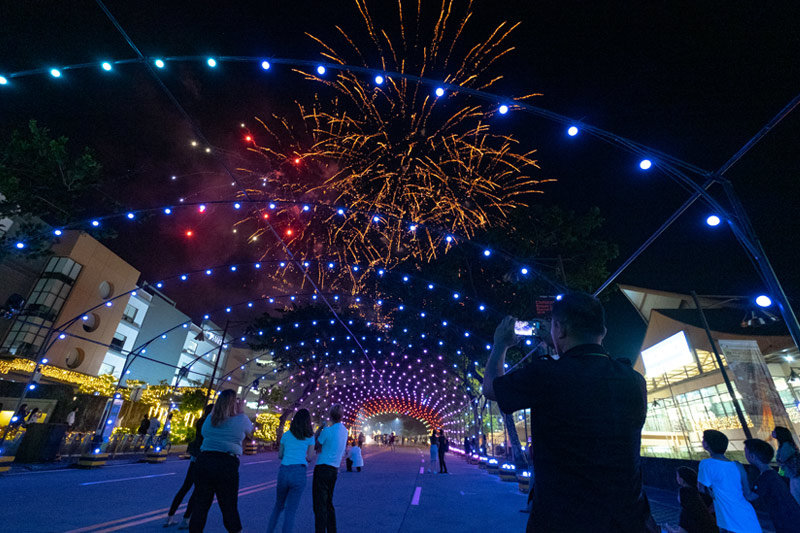 With all 2,368 of its pixels simultaneously lit up, the Christmas tunnel is a sight to behold—its view akin to dense galaxies and nebulae in the cosmos. Released
"We wanted to create something special—an event that will become a landmark one every year, and will also coincide with the relaunch of the estate—from Fontera Verde to Ortigas East. The Christmas Tunnel is quite appropriate, given that it's unique in the Philippines, and seeing that we're the only one who has this kind of spectacle," said Jimmy Ysmael, president and chief executive officer for Ortigas & Co.
With all 2,368 of its pixels simultaneously lit up, the Christmas tunnel is a sight to behold—its view akin to dense galaxies and nebulae in the cosmos.
Who needs filters when you can readily pose for the 'gram given such great selfie lighting?Just don't forget to use one of their hashtags: #2018OrtigasMallsChristmas #OrtigasEastChristmasTunnel
"Ortigas & Company continues to make its malls the go-to destination for family and friends, and what better way to show this than through the return of the award-winning Christmas Street Light Musical Tunnel at Ortigas East. This much-awaited tradition, which began last year, was developed to provide Filipinos and even tourists more reasons to celebrate at Tiendesitas and make it a must-see holiday destination," says Renee Bacani, vice president and general manager for Ortigas Estates and Malls.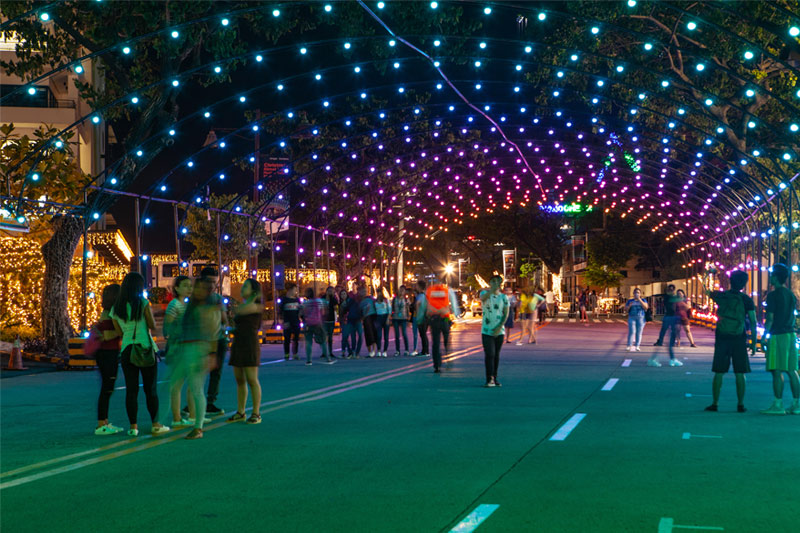 Visitors roaming around and snapping photos of the mesmerizing Christmas tunnel. Released
Following tonight's lighting event is a series of activities at Tiendesitas in the coming weeks.
From November 7 to January 6, the StrEAT Food Market will be available to seasoned foodies and general food lovers. Children can get a chance to hang out with Santa at the Fashion and Furniture Village during the Meet & Greet sessions from 2 p.m. to 5 p.m. on all Saturdays of December.
Everyone gets a taste of visual delight with fireworks displays setting the Ortigas skyline ablaze also every Saturday of December at 7 PM. Finally, the special yearly pilgrimage of the soul that is the Simbang Gabi will be held at the Food Village from December 15 to 23, every 6 p.m.
Apart from this, Tiendesitas has newly opened a Rico's Lechon branch—the biggest one in the country. It is also set to launch a number of new stores in its deck, which include Decathlon, Barrio Fiesta, Putok Batok, Pancake House and KPub.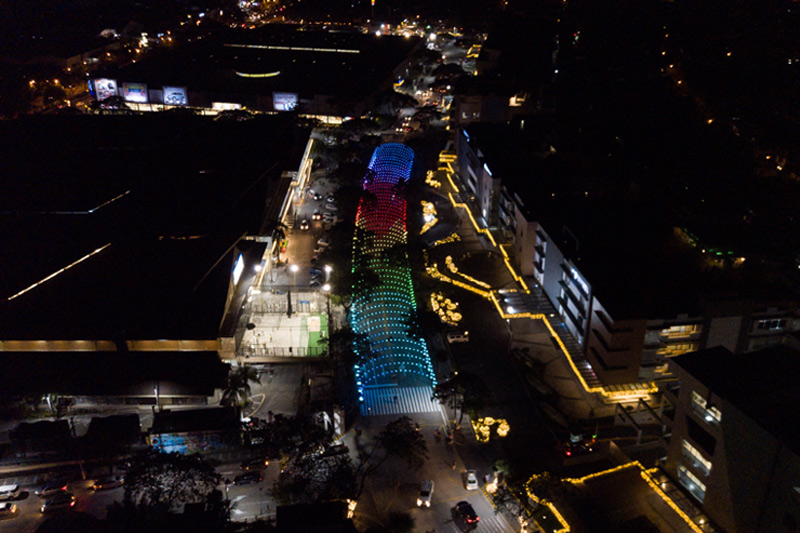 Aerial view of the Christmas tunnel. Released
"All of this is intended to make Tiendesitas a hip and happening place for everyone to enjoy. The exhibit is open to everyone and there's so much to do here and see. So bring all your friends and family; come one, come all," Ysmael ended.
To know more about the exciting developments happening in Tiendesitas, like them on Facebook and follow them on Instagram.