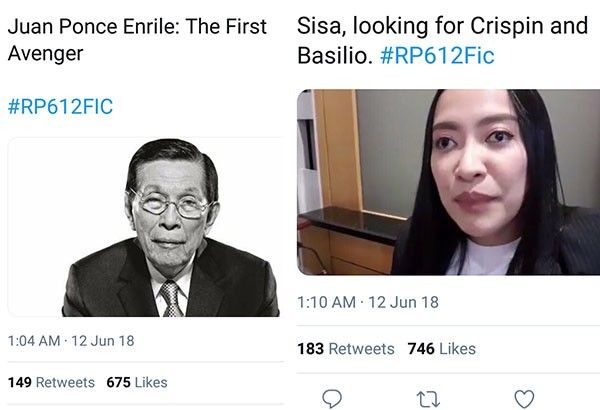 Memes of Sen. Juan Ponce Enrile and public official and blogger Mocha Uson are among those feasted on social media using #rp612fic.
Screenshots from Twitter/@oozmakabaloo, @raphaelmiguel
Independence Day 2018: Netizens celebrate #rp612fic on Twitter
MANILA, Philippines — As the nation celebrates its 120th Independence Day, netizens on Twitter are having fun because it is "#rp612fic" time again.
The hashtag means "Republic of the Philippines, June 12, Fiction." The posts attached to this hashtag usually show Filipinos' creativity and humor combined with historical events and today's popular culture.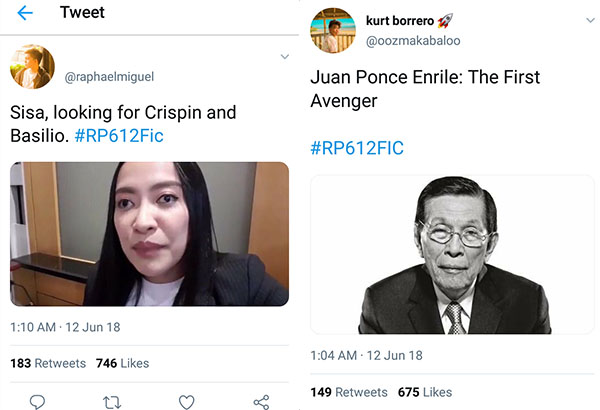 Screenshots of Twitter netizens' memes. Philstar.com/Jan Milo Severo
Reports say Philippine Alternative Mythology writer Paolo Chikiamco started the trend in 2009. Since then, it became a part of Independence Day celebrations for Filipino netizens and the hashtag becomes a top Twitter trend in the country annually.
Netizen @frndzcilan combined current teen's fashion trend, the sunflower shirt, with the "guwardiya sibil" and captioned it "Rare photo of guwardiya sibil with their newly sewed uniform. Circa 1875 #RP612fic."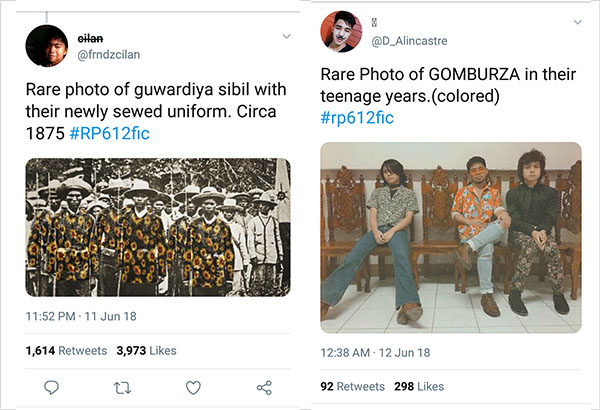 Screenshots of Twitter netizens' memes. Philstar.com/Jan Milo Severo
The collapsed bridge in Zamboanga was the photo of netizen @kalaldrentan. The caption said, "Never before seen photos of the Battle of Mactan in 1521."
Self-confessed scammer, and also commonly known as the guy who invited actress Erich Gonzales to have coffee through a billboard ad, Xian Gaza, was the photo of netizen @jaredlacaran with the caption "rizal during his imprisonment in fort Santiago."
Since the National Hero, Jose Rizal, is a known ladies' man, his "#rp612fic" has a lot of memes about his alleged womanizing. One of the memes has been inspired by the upcoming Disney film "Wreck It Ralph 2," where the girl character entered a room full of Disney princesses. The meme was posted by netizen @jonmendaros and was captioned, "Josephine Bracken meeting all of Jose Rizal's other past lovers."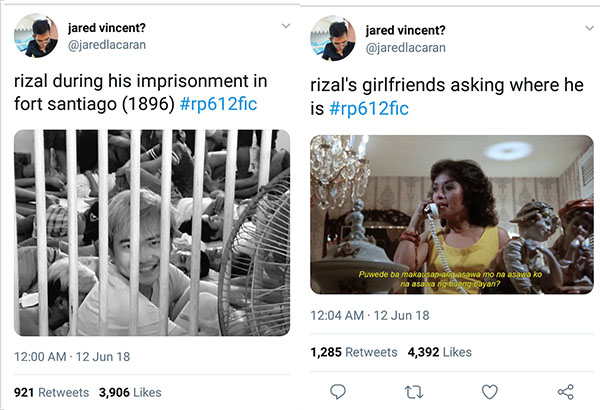 Screenshots of Twitter netizens' memes. Philstar.com/Jan Milo Severo