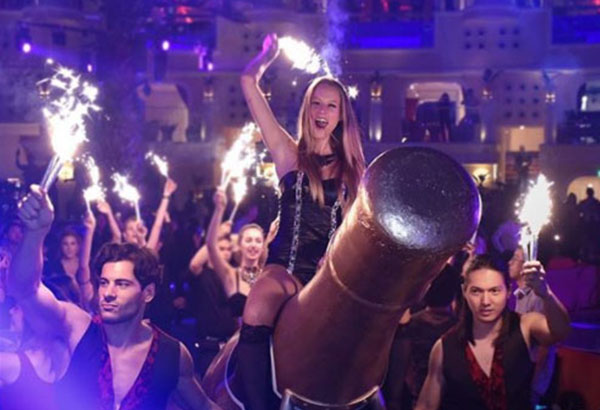 Armand de Brignac Midas is said to be one of the world's most expensive champagnes because in Cove Manila, it is served with a lavish production number. Instagram/Cove Manila
Beyonce, Jay-Z's P7-million champagne sold in Manila on New Year
MANILA, Philippines — A brand of champagne, touted as the world's most expensive at P7 million and is reportedly owned by recording stars Beyonce and Jay-Z, was sold in Manila last January 1.
Cove Manila, a new party place that opened in Okada Manila on December 15, has reportedly sold its first Armand de Brignac Midas bottle to an unknown customer during the New Year countdown. The buyer is billeted in one of Cove's most expensive cabanas or villas that cost P90,000 to P400,000 a night depending on the occasion and for its hotel-like amenities like glass-bottom pools, Jacuzzis, videoke machine, and own bartender and bar.
Armand de Brignac Midas is said to be owned by celebrity couple Beyonce and Jay-Z and has been the champagne of choice for icons like football superstar David Beckham, American actor and producer George Clooney, and reality TV star Kim Kardashian.
In 2015, Beyonce was under fire for allegedly pouring a bottle of Armand de Brignac on the tub for her collaboration video with Nicki Minaj. Beyonce has since denied wasting the 20,000-US-dollar champagne.
Armand de Brignac has enjoyed a huge distinction among wine critics and connoisseurs worldwide, especially after its Brut Gold cuvée was hailed as the "No. 1 Champagne in the World" following a blind tasting of 1,000 champagne brands. Its bottles debuted in Asia and the Philippines in January 2017 during the Miss Universe after-party at Cove Manila. Featured during the event was the incredibly rare and made-to-order 30-liter "Ace of Spades" Brut Gold Midas, one of the most expensive champagne varieties in the world that comes with a P7 million price tag.
Armand de Brignac is owned by business and media mogul Sean "Jay-Z" Carter. The Champagne's distinction comes from a meticulous winemaking process, producing a range of signature blends with hints of baked pastry and vanilla, along with vibrant fruit character, soft texture, and balanced acidity.
Each bottle of Armand de Brignac reportedly goes through a rigorous crafting process. Just 18 people touch a bottle from pressing the fruit to the champagne's departure from France, and the small, highly skilled team finishes each bottle by hand.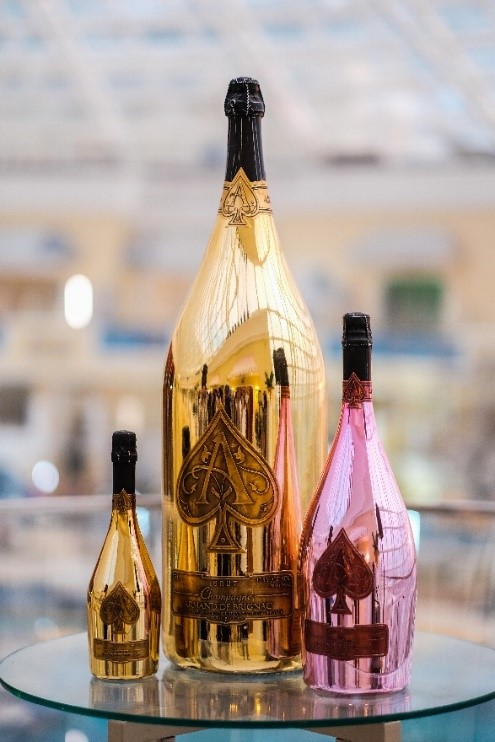 Armand de Brignac, believed to be the world's priciest champagne.
In addition to the Gold Brut, there are four other cuvées in the Armand de Brignac collection that are distributed in various parts of the world: Rosé, Demi-Sec, Blanc de Blancs, and Blanc de Noirs. Each champagne blend uses the traditional Champagne grapes (Chardonnay, Pinot Noir, and Pinot Meunier), with the Blanc de Blancs consisting of 100 percent Chardonnay and the Blanc de Noirs comprised of 100 percent Pinot Noir. These blends, ranging from P7 million to P3 million, P1.5 million and below, can be ordered off the menu at Cove Manila.
According to Cove Manila representatives, the champagne line is expensive not only because it is owned by Jay-Z or is meticulously produced. It is also served by the party venue's exclusive production team, World of Wonders, in a uniquely creative, festive and Instagram-worthy way.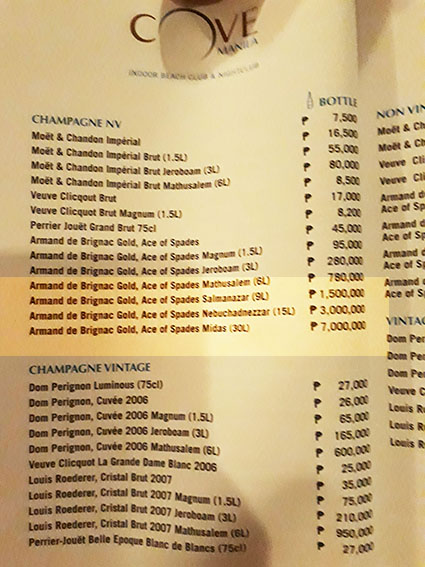 Armand de Brignac's P7-million, P3 million and P1.5 million bottles can be ordered straight off the menu like candy. Philstar.com/Deni Rose M. Afinidad-Bernardo
World's most expensive headphones also sold in Manila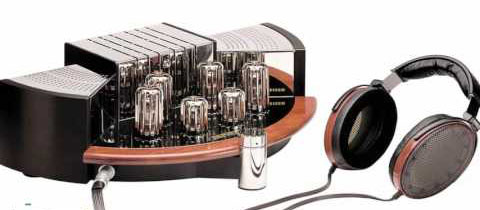 Orpheus headphones
Early last year, a pair of Orpheus headphones, worth approximately P3.4 million pesos, was also reportedly sold to a buyer in Manila.
The headphones, produced by leading German audio specialist Sennheiser, are believed to be the world's most expensive as these were reportedly made of gold, platinum, leather, and Carrara marble, the same material Michelangelo used to create his famous sculpture, "David."
Sennheiser's trademark 360-degree audio technology reportedly provides "a very emotional and intimate experience" of sound, which is why it is said to be the headphones of choice of recording stars like Sarah Geronimo, Gary Valenciano, Anne Curtis, Bruno Mars, Adele, and Ed Sheeran.
In the Philippines, the brand, available in Lazada, Power Mac and tech and appliance stores, offers three-dimensional audio recording devices with advanced features like being waterproof, portable, rechargeable, and enabling one to record sounds from smartphone to headphone. HE 1 headphones reportedly takes more than 10 years to develop.
"Sound Heroes" is an initiative spearheaded by the brand in Asia, particularly in Korea, Singapore, and now the Philippines. The project will follow 12 local creative personalities on a journey to discover new audio experiences with the brand's products, culminating with a trip to the company's headquarters and flagship stores in Germany. These 12 personalities include singers/actors Khalil Ramos and Jay Gonzaga; radio DJs Dannie Farmer and Jazmin Reyes; influencers/bloggers Cha Ocampo, Rhea Bue, Issa Pressman, Deegee Razon, Ira Denise Oyco; vlogger Maqui Castelo; party emcee Marga Bermudez; and concert photographer Magic Liwanag.
"The Philippines is home to a large music-loving community. The demand for high-fidelity sound reproduction continues to rise, whether for movies, music, or games," said Sennheiser Asia's Managing Director, Martin Low.
According to him, gaming is now becoming bigger than basketball leagues, with gaming fans reportedly becoming larger than basketball finals viewers, so there is a great potential for headphones and other audio products for gamers worldwide.