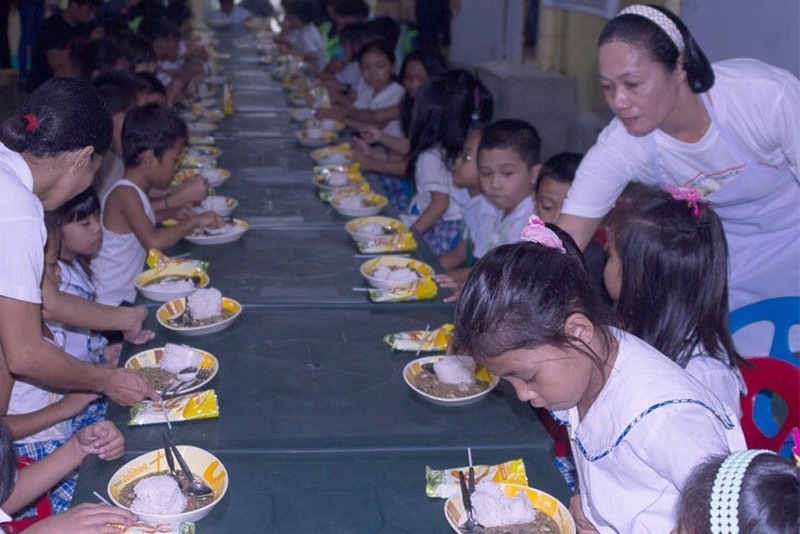 Parent volunteers take turns serving the food and drinks to children. These parents are thankful that their own children benefit directly from The MEALenium Project.
Millennials help in Payatas kids' future, a meal at a time
(Philstar.com) - December 26, 2016 - 4:00pm
It started with a dream: that every Filipino child can be well-fed so that they can have a better chance at life. Having nutritious meals at an early age lead to better brain development which ultimately affect their performance in school and in life. This dream may seem far-fetched but that is exactly what The MEALenium Project is continuing to achieve. The school and community-based feeding program started with just 25 to 30 recipients in August 2015 but they will end 2016 with 1,000 kids being fed from Mondays to Fridays.
This dream started with two young millennials, high school students Joshua Emmanuel Tan and Philip Sebastian Belmonte. Since they were kids, the boys would often visit Payatas with their families during Christmas. This tradition made an impact on the social consciousness of the boys, who became concerned about how the kids were being fed for the rest of the year. And they have reason to worry.
Payatas, more commonly known as one of the country's major dump site, is home to over 120,000 kids who do not eat regularly. Some even engage in "pagpag" practices or eating leftover food found in the 6.1-hectare dump site. The kids are part of the glaring statistics of 1 in 3 Filipino children who are malnourished and stunted, as stated in a 2016 study by the Inter-Agency Regional Analyst Network and the Action Against Hunger.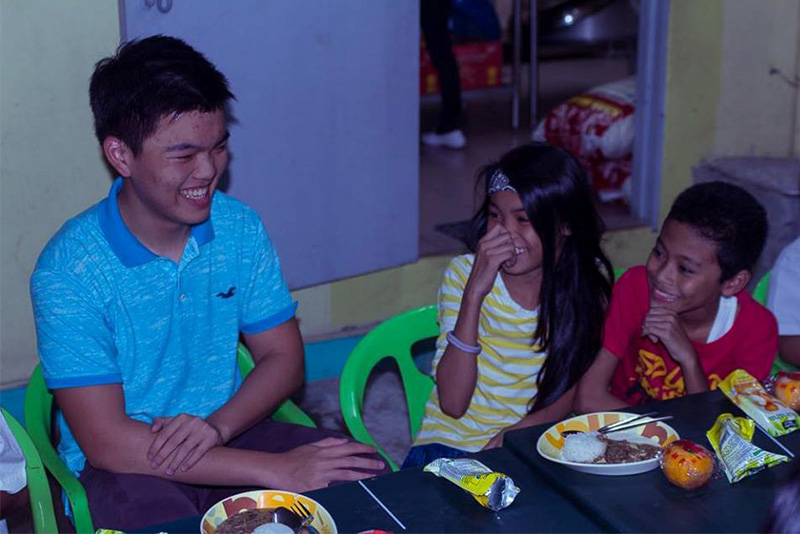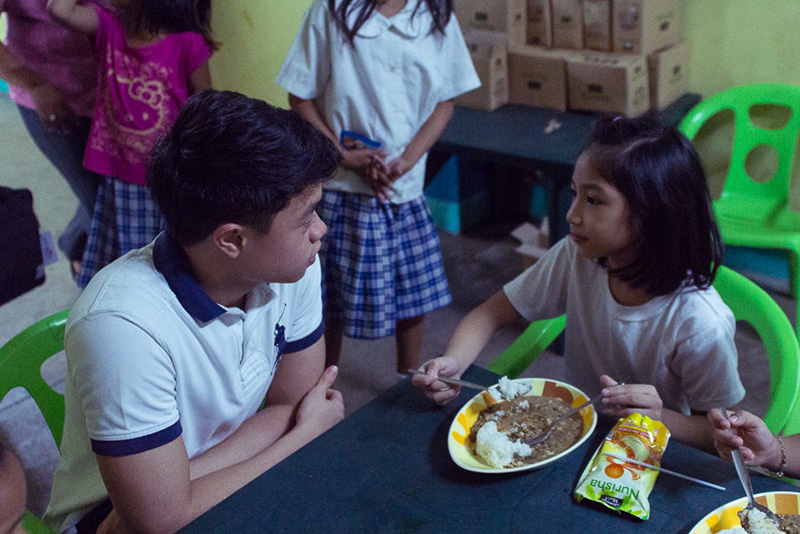 Joshua Emmanuel Tan and Philip Sebastian Belmonte bond with the Grade 3 beneficiaries of the feeding program, The MEALenium Project.
Tan and Belmonte knew and felt that they had to do something. Being young did not stop their resolve. They also wanted to prove that millennials like them do not only care about social media and the latest gadgets. So in May 2015, The MEALenium Project was born.
They initially planned on building a feeding center in Payatas but raising the funds had been challenging. Despite the odds, they were able to come up with enough money through various efforts, including garage sales, selling of organic vegetables, and a movie block screening – proceeds of which went directly into building the center.
In August 2015, the first feeding center of The MEALenium project opened its doors. It was situated in St. Benedict, Payatas in what used to be an empty lot near the church. With the help of the Payatas Orione Foundation (PAOFI), they identified the first 25 to 30 recipients. The children were being weighed regularly and by October of the same year, seven of the malnourished kids had already reached normal weight. Their objective was that at least 80 percent of beneficiaries reach the normal weight. After several more months, 24 of the original 30 kids reached the goal.
This was the motivation that Tan and Belmonte needed to prove that they are indeed making a difference in these children's lives. The boys worked tirelessly to expand the program and in a span of 16 months, they have already established their presence and system in the community.
Knowing that they need to keep the program sustainable to reach more children, they approached the Jollibee Group Foundation (JGF) and the local government of Quezon City through the Office of the Vice Mayor. After months of coordination, they signed a partnership with JGF, Office of the Vice Mayor of Quezon City, Lupang Pangako Elementary School and Quezon City DepEd Schools division.
Together, they built a centralized kitchen for Lupang Pangako Elementary School. This kitchen aims to provide an efficient way to cook for 1,000 school children daily while ensuring the quality and nutrition of the meals served. The kitchen was initially intended to serve 600 children but quickly grew to feeding 1,000 malnourished school children.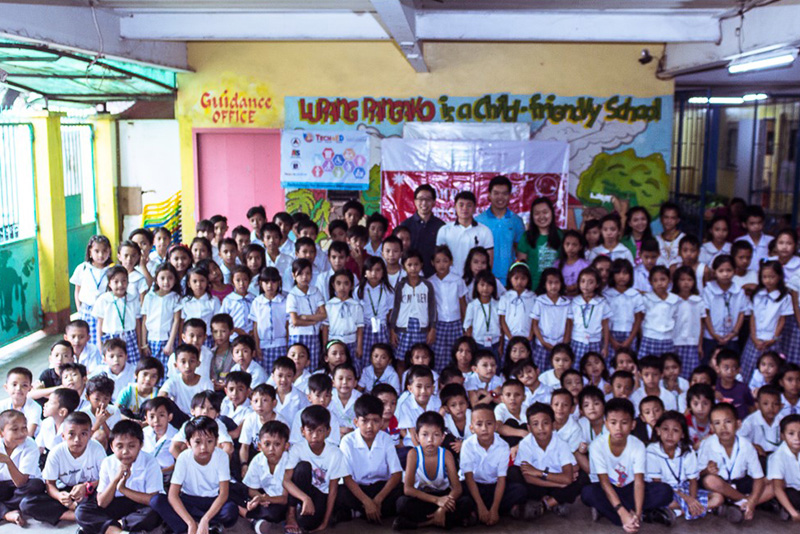 The MEALenium Project team with some of the Lupang Pangako Elementary School feeding program beneficiaries.
Feeding Coordinator Chona Valdez and School Principal Eugenia Cristobal of Lupang Pangako Elemetary School shared that they have 5,100 students but almost 20 percent of the school population are classified as "wasted" or "severely wasted."
"Madalas ang mga bata dito pumapasok nang walang laman ang sikmura. Kulang sa focus, concentration pag pumapasok sa school. Marami rin ang nag-aabsent nalang dahil walang baon (Most of the time, the children here go to school with empty stomachs. They lack focus, concentration when they go to school. A lot of them skip school altogether because they don't have food)," Valdez said.
Valdez said that a fixed and dedicated kitchen with volunteers who cook for 1,000 school children has made a difference in the performance of the students. They are now encouraged to go to school because they know that by lunch time, they have a nutritious and filling meal waiting for them.
"Tinuruan ng Jollibee Group Foundation ang aming mga parent volunteers kung paano makapagluto ng malinis, masarap at masustansya pagkain in an organized and orderly manner (The Jollibee Group Foundation taught our parent volunteers how to cook clean, delicious and nutritious food in an organized and orderly manner)," Valdez added.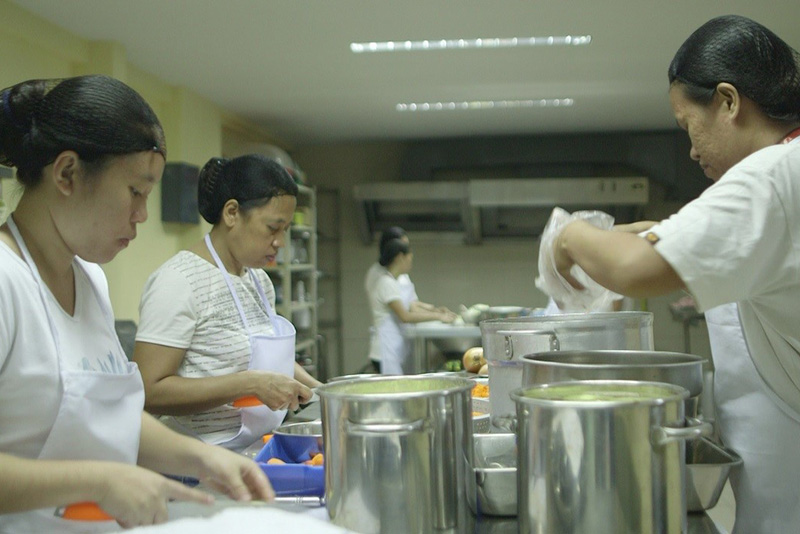 Preparing easy, delicious and nutritious meals for 1,000 kids is challenging but thanks to the well-equipped kitchen and the training, these parent volunteers have mastered cooking yummy dishes with vegetables that kids love.
Sandra Ymas is one of the parents who volunteer to cook for the children. She is thankful that her child is not missing classes anymore. She is also happy that she has learned about nutrition and budgeting when it comes to cooking.
"Masaya po ako at nakasali ako sa programang ito. Maski papano po nakakabahagi po ako na mapalusog ang mga bata (I am happy that I was able to join this program. Despite everything, I am able to contribute in feeding the kids and making them healthy)," she said.
School Principal Cristobal is thankful that The MEALenium Project has chosen their school as the recipient and wishes that The MEALenium Project continues with this program as it is truly beneficial for the children of Payatas.
"Napagakanda ng programang ito na tulong tulong ang pribadong sector, mga foundation at ang local na pamahalaan (This project has been effective since the private sector, the foundation, and the local government joined together and really cooperated with one another)" she said.
Indeed, The MEALenium Project is a testament that when private individuals, the local government, and private businesses or foundations work together for a common purpose, they can make a difference.
Not only do you have local implementing partners who are willing to do the ground work and monitor results, you also have the backing of stakeholders to ensure the program's sustainability. And to think that it all started with two young millennials who simply dared to dream that they can make a better future for children, one meal at a time.