Our own Maldives in the Philippines
November 13, 2021 | 12:00am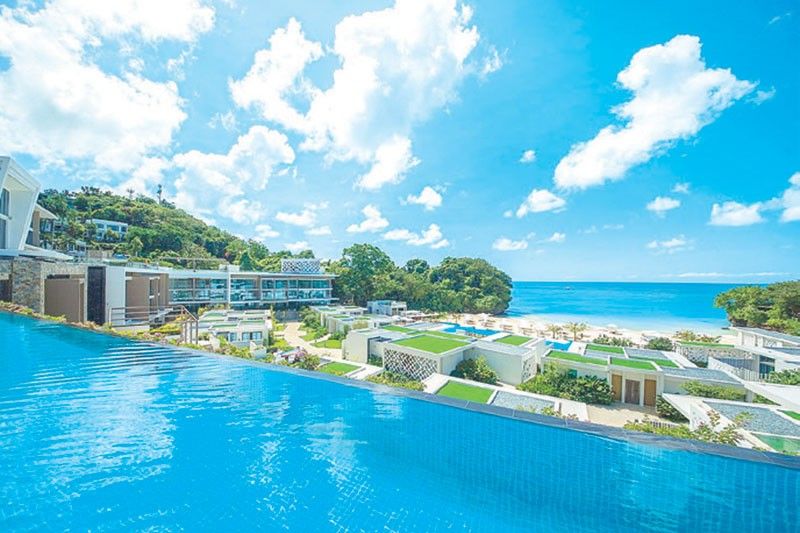 Each year, before the pandemic, it had been a wish for me to travel to the Maldives. This year, I stumbled on a better gift, as I found such a place much closer to me. Introducing the tropical fantasy of a paradise right in our very country is Crimson Boracay Resort and Spa. There is no better time than to visit this sanctuary now that it is open to the public.
Our AirAsia flight seamlessly whisked us up to our dream destination in 40 minutes. When we landed gracefully in Caticlan, Boracay, our hearts skipped a beat as we found ourselves in this heavenly sanctuary.
Imagine yourself walking on powdery white sand in a tropical seascape where blue skies and a golden sun cast rays overhead. The balmy breeze kisses your auburn, tanned skin as you slather on after-sun lotion that seems to caress your entire being. Here in this paradise where sun, sea and sky remain like a portrait of your dreams, your thoughts turn to reality as you bask in the cool waters of Station Zero in Crimson Boracay.
This sandy cove is bordered by two giant, idyllic rocks that seem to guard the property like sentinel guards. Here one can watch the glorious sunrise, sunset and every moment in between over half-priced, happy hour drinks.
My dear friends Büm Tenorio and Rita Trinidad and I sampled their delicious Thai shrimp cakes with sweet-spicy chili sauce, mojitos and piña coladas. We shared conversations on life, love and laughter as we watched the golden orb of the sun sink in the horizon yonder. We exclaimed that life is good and doesn't get better than this.
Crimson Boracay, owned by Filinvest properties, is a newly created oasis in Station Zero, the very upscale and ritzy area of Boracay. With a gustatory menu that will satisfy the most discriminating palate, one must dine in all the restaurants in the resort. They have several pools in the property and the most spectacular view can be appreciated from the Cobalt cluster of buildings that overlooks the heavenly enclave that ensures the privacy of its privileged guests.
A private sanctuary with views of the finest landscapes, Crimson resort and spa sit handsomely on a 3,000-square-meter space of white-as-cotton sandy beach. Soak up the sun in your barefoot essentials and enjoy a treat of yoga, paddle boarding or island hopping via semi-submarine or speedboat.
Station Zero in all its picturesque glory is among the more popular locations for memorable occasions like seaside weddings, parties and intimate dinners.
Next morning, we woke up early to catch the glorious sunrise and then we were given a tour of the idyllic property. We learned that the 192-key resort of selectively and gorgeously designed rooms features panoramic views of the gardens, sea, sky and magnificent sunsets. We were amazed at the sight of the Presidential villas, 22 ultra-posh private villas with private plunge pools, 72 one-bedroom suites and 97 Deluxe rooms featuring Filipino-inspired interior design, spacious and cozy bedrooms complete with rain shower and separate bathtubs.
A "floating" breakfast features your morning favorites on a floating tray that you can enjoy while swimming. Talk about having your own private butler service!
We also sampled divine dishes from their all-day Azure Beach Club, J's pool bar, and Saffron Café's live cooking stations. All these restaurants provide an epicurean experience with cuisine that ranges from Asian flavors like Japanese, Korean, and Indian to the freshest seafood catch of the day.
Signature foam parties are held at the multi-hued swimming pool with live DJ music and unlimited refreshments. Büm dove into this colorful splash zone of azure waters and checked out this unforgettable experience as we burst into laughter while he danced in the water.
Highly recommended, too, is the Aum spa. Imagine your body being gently kneaded with the delightful scent of aromatherapy oils. Their menu of traditional and modern treatments offers a guaranteed balm for the mind, body and soul.
We were delighted to find out that, in line with its thrust of becoming a center of arts and culture in the heart of Boracay, Crimson Resort and Spa has officially opened its doors to its first ever artist-in-residence, Eric Egualada. This initiative, spearheaded by Crimson Boracay general manager Patrick Manthe — himself a visual artist and admirer of the arts — will run for four months and includes a number of activities that are bound to engage and stimulate everyone's creativity.
Bold style and undeniable passion truly characterize the Crimson brand of convivial hospitality, rich culture and design.
As you sit on the immaculate beachside, you can gaze at the illuminating stars in the sky. As you bask in all this serenity, you will be covered by a thousand more. This is how we felt lying on cozy chairs as we lay down on the fine sand.
As we watched the sunset disappear beyond the horizon, we thanked the good Lord for precious blessings like this. Need one wonder then why we don't need to look far and wide for other tropical paradises when we have Crimson Spa and Resort in our very midst? Here, our dreams and desires were aligned as one.
* * *
For more information about Crimson Spa and Resort, visit www.crimsonhotel.com/boracay or contact its director for marketing communications and public relations at +639985964649 or email [email protected]
AirAsia flies from Manila to Caticlan, Aklan. Book a flight at www.airasia.com .