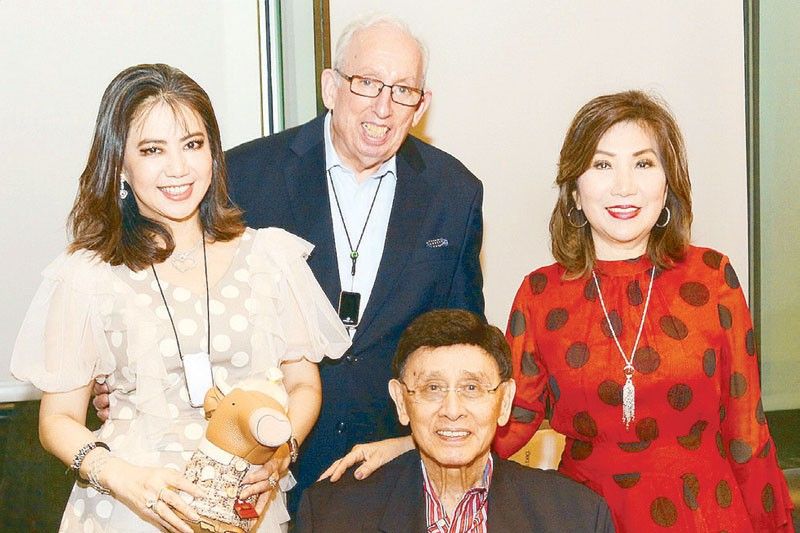 (Seated) Author Johnny Litton with (standing) Agile Zamora, Bonifacio Landmark Realty Ruby Chua and Development Corp. president Hans Hauri and Connie Haw
STAR/ File
A grand celebration of life and love
Your columnist had a wonderful time at a Valentine's dinner with some friends from the business and social sectors.
Held at The Cellar in The Grand Hyatt Manila and graced by the presence of Bonifacio Landmark Realty and Development Corp. president Hans Hauri and The Grand Hyatt Manila general manager and area vice president Gottfried Bogensperger, it was an intimate way of celebrating friendship and several of life's blessings despite the present challenges.
We enjoyed The Cellar's delectable array of charcuterie, small plates, and grilled dishes, as well as the restaurant's refreshing specialized cocktails and selection of premium wines. We had an exceptional time catching up with each other and celebrating the month of love with longtime friends. Thank you for an unforgettable evening, my dear friends!
The Cellar is located on the second floor of Grand Hyatt Manila in Bonifacio Global City.
* * *
You may email me at jjlitton@indanet.com. Follow me on Facebook and YouTube: Johnny Litton by Jayelles PH and on Instagram: @jayellesph.