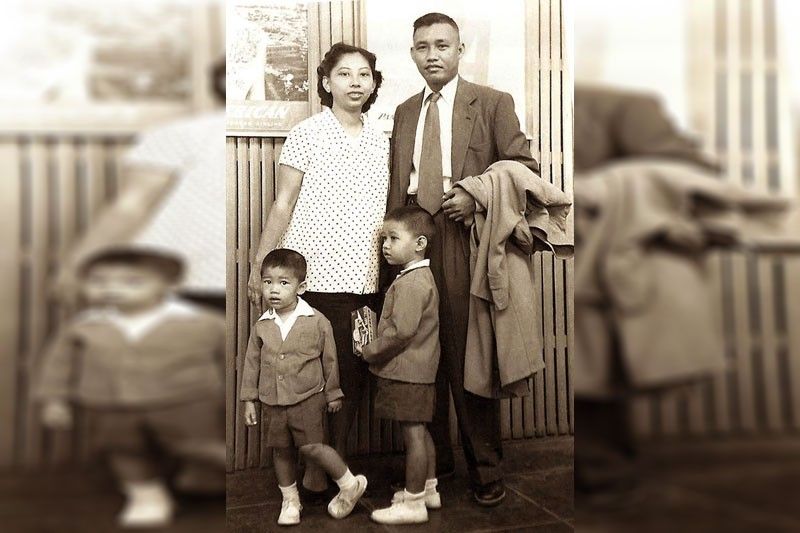 Me, my brother Eugene and my mom, posing with my dad at Manila International Airport in 1957 before he left for Kansas.
CITY SENSE
-
Paulo Alcazaren
(The Philippine Star) - April 25, 2020 - 12:00am
My dad, Juan Albarracin Alcazaren Jr., passed away three weeks ago, of health complications due to his age. He was 95 years old and led a full life, leaving eight children and 18 grandkids. The current crisis prevented the family from the traditional wake and reunion with relatives and friends, so we had to do all this online with just immediate family.
We all turned to our digital and analogue files for pictures and videos of our dad. While rummaging through the photo albums and folders I had of him, I chanced upon a short article that he wrote, with my mother's help, about 20 years ago. Although the title of the piece was "My Childhood in Argao," it gives a glimpse of what life was like first in Argao, Cebu City and afterwards in Manila in the pre-war years.
"The year after I was born (1925) my father was elected to the House of Representatives. He, with my mother, had to commute to Manila. They left us, my younger brother and me, in the care of our grandparents. For the next nine years, they came home only between Congress sessions.
"My earliest school was called 'cartilya'— religious instruction and abakada (the Filipino alphabet—reading). Our teacher was an old woman relative who was very strict. She rapped our knuckles or made us kneel in prayer when we misbehaved. At the age of seven, I attended primary grades in the barrio public school just across our house.
"Beside the school was a chapel for Nuestra Sra. Del Rosario, the patron saint of Langtad (our barrio). My father donated a complete set of musical instruments for a band. I became a member — the drummer boy. So I played with the band in processions and fiestas. I earned a few pesos each time.
"Our grandfather, Lolo Insong, was a grand old gentleman. He was mayor of Argao. He loved the finer things in life — he dressed well, ate good food, and smoked the best cigars. He enjoyed taking my brother and me to the city. We would ride the train in the morning, and take our breakfast in the best restaurant — the Elite.
"At that time, my brother and I were assigned our own piece of land with some coconut trees. Every three months we would produce copra so that we had a little money to spend on toys on those trips. We would also manage to save in the Postal Savings Bank.
"We played with the barrio children in our neighborhood. We were allowed to go to the seashore and we even rode with the fishermen on their boats, as long as we were with adult relatives.
"For the intermediate grades, we had to attend The Intermedia—located in the poblacion. We had our own carretela with a driver. Vito and I would take turns holding the reins. Our horse was extremely slow, no matter how we cajoled him.
"After finishing grade VI, I had to go to Manila to begin high school. Papang enrolled me in an accelerated three-year course at the University of Manila. This meant that I had to take subjects for one year in the morning and for another in the afternoon. My tests were given by the Department of Education. In this manner I finished high school in March of 1941. I enrolled at the University of the Philippines College of Liberal Arts in June. The war broke out in December of that year."
The story ends here. My father did not have the opportunity to complete his story into the war years and after. My mother passed away a decade ago and could not help him.
He would continue dinnertime stories of the war years and how he met our mother. He also narrated their adventures as newly minted doctors (UP Medicine, 1952) practicing in Argao in the mid-1950s. My brother Mike is working on a documentary on how my father and his family escaped the carnage of the liberation of Manila while trapped for 13 days behind a low wall in Paco between the Japanese and American forces.
After a stint at Kansas University in the late '50s to specialize in rehabilitation medicine, my father practiced in clinics at our home in Project 4, Quezon City, and at my maternal grandfather's laboratory on Rizal Avenue in Caloocan. He started the Rehabilitation Medicine program at the University of the East in the 1960s, continuing to teach while heading the rehab department at John F. Cotton hospital at MERALCO. A few years ago, the University of the East made him Professor Emeritus for Rehabilitation Medicine, an honor he greatly relished. He also helped found the Sports Medicine Association of the Philippines and assisted legislators in crafting the law for universal access for the disabled.
Losing loved ones in this period of crisis is difficult. But we must carry on and celebrate their lives by treasuring the moments and memories they shared with us. My father joins my mom, and my wife who just passed away in January. They live forever in our hearts.
* * *
Feedback is welcome. Please email the writer at paulo.alcazaren@gmail.com or send a message on my Facebook page.