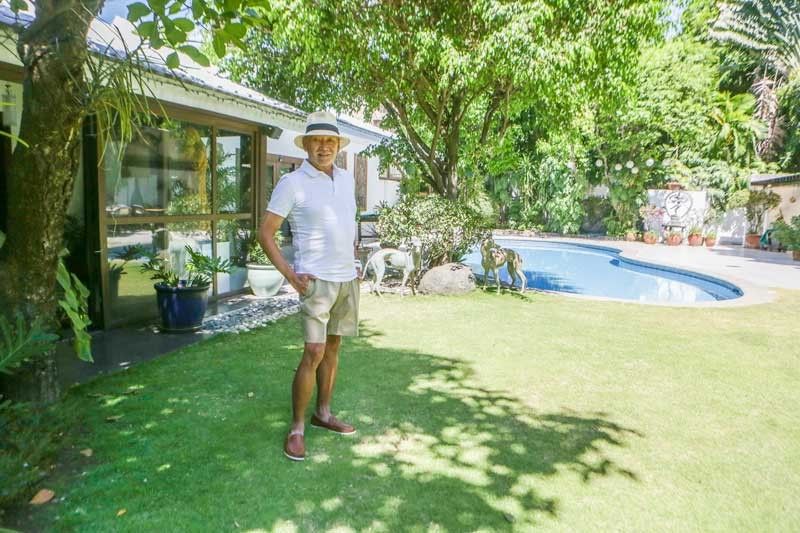 The man of many hats: On weekends, Ernest Escaler is a gentleman farmer at his Gourmet Farms in Tagaytay. On weekdays, he relishes the air from the sea and the greenery in his home where he keeps art pieces he has collected since college. He and his siblings Joey, Noel, Michael, Pancho and Therese grew up in this compound.
Photos by GEREMY PINTOLO
The Urban Paradise of Ernest Escaler
LIFE AND STYLE
-
Millet M. Mananquil
(The Philippine Star) - May 25, 2019 - 12:00am
On a warm day in this suburban home of Ernest Escaler, I feel a faint breeze from the sea. "It used to be cooler here, with the sea just next door where my siblings and I would swim almost every day when we were younger. Nearby, there used to be a resort owned by the Ilusorios. Reclamation changed all that," Ernest sighs, leaning against his garden chair under lush trees, wearing his ubiquitous hat.? It is a good place to go nostalgic for this man of distinction and achievement who wears many hats — gentleman farmer, businessman, sportsman, art and culture stalwart, film producer, church activist — who just turned 70. Memories of people who have come and gone in his storied life include the Forbes and Kennedy families. "While in New York, I would spend weekends at a friend's estate in Far Hills, New Jersey where Jackie Kennedy and her kids would come to fox hunt. Sometimes I would babysit their kids, including John Kennedy, Jr."? Ernest was friends with the real-life Italian-American driver Tony "Lip" Vallelonga featured in the Oscar-winning film The Green Book during his days in New York when Tony Lip was manager of the Copacabana ("The 'in' place to go to before Studio 54") and Ernest would entertain visiting clients and Filipinos there."New York was a life-changing experience for me," says Ernest who went to the Big Apple after earning his AB economics degree at Ateneo. He worked at a Japanese trading company in New York then took a break to do his MBA in Switzerland, before going back to New York to work with Sumitomo.? "I took two jobs in New York because I didn't want to be dependent on my parents. On Sundays, I had to choose between buying the thick New York Times, or watching a movie, because I couldn't afford both."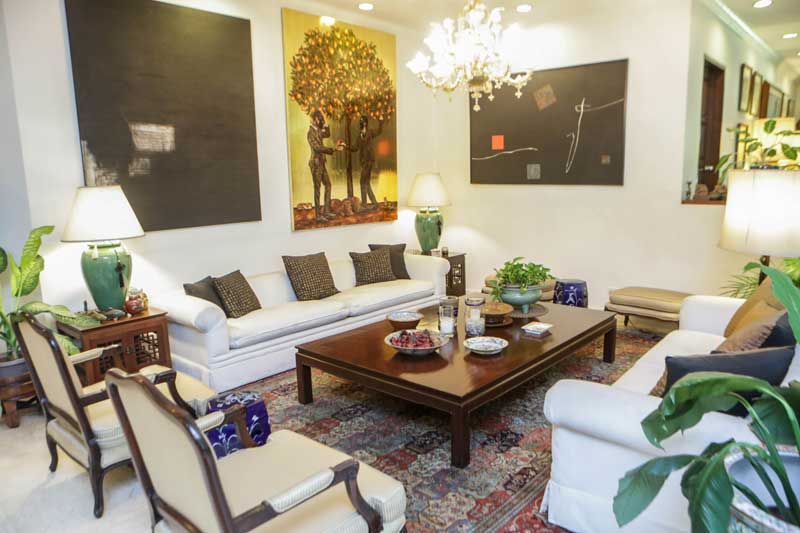 Old Murano chandeliers light up paintings by Gus Albor, Anton del Castillo and Arturo Luz in the living room.
Ernest went back to Manila when Ting Roxas asked him to join Bancom. "After Bancom, I put up a trading consultant company. Among my first clients were Andres Soriano Jr., Chito Madrigal and Washington Sycip. I represented ACLI Coffee Company, then the largest coffee?company in the world, owned by the Israel family. And this was how I got into the business of coffee."
When his family was among those who suffered persecution post-EDSA 1986, Ernest thought of setting up a business that would be free from government intervention. With his Gourmet Farms Inc., he became a pioneer in organic farming, and famously was the first to roast and brew coffee at a time when instant coffee was the thing, to use medicinal plants for tea, and to teach Filipinos to eat uncooked vegetables for salads. "Good timing because that was when California cuisine was all the rage abroad," he notes.
Ernest says that when he was promoting pesto, people were saying "lasang gamot." Now he produces 60 gallons of pesto monthly which he sells to food institutions. "Farming was a hobby of mine that became a nightmare when it became so big." His Gourmet Cafe restaurants have become institutions of healthy eating.
Ernest also pioneered in being the service provider facilitating the appointment system for the US Embassy, hence eliminating the long queues of visa applicants. At one point, he was a service provider to all the embassies until he trimmed his clients down to only two embassies.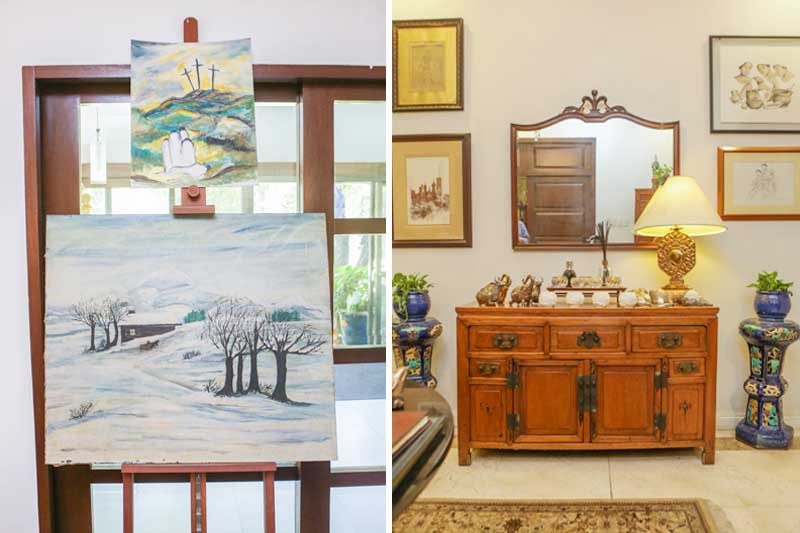 (Left) Art lover Ernest is an artist himself. Two paintings of his include his version of the Crucifixion (top). (Right) Paintings by (clockwise) Anita Magsaysay Ho, Joya and Botong Francisco greet guests at the foyer. Joya was an Asian Cultural Council art grantee in New York in 1978.
Thus he now finds time to play golf and watch basketball —though mostly on TV. Ernest took over as manager of the Ateneo team when it wasn't winning UAAP championships in the 10 years since Ateneo joined the UAAP. Under his helm, Ateneo won its first UAAP championship in 1987-88, and also did a back-to-back. How did he do it? "It's either my way or no way," he told the school before agreeing to be team manager for four years.
He also finds time to do gardening in his sprawling bungalow surrounded by old trees that enable one to exhale after going through a maze of traffic leading to the airports. It is one of several charming homes in a compound built by the 11 De Leon siblings on his mother side in the mid '60s. The compound is hidden from view from the main roads, surrounded as it is by clusters of nondescript old structures. Ernest's family used to stay in one of the homes built by Gabby Formoso until it became uninhabitable, and Ernest chose to purchase an uncle's house within the compound.
Much of his time is spent in art and culture, which he enjoys immensely. In his living room are artworks by the masters like Botong Francisco, Anita Magsaysay Ho, Joya, Romulo Galicano, Arturo Luz, Juvenal Sanso, BenCab, Lao Lianben and Gus Albor. But there are also a couple of artworks by Ernest.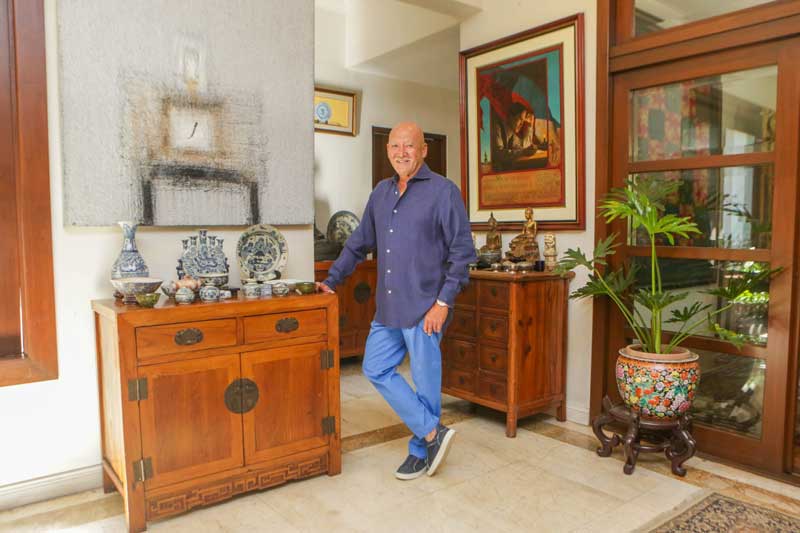 Blue-and-white ceramic pieces and 18th-century Buddhas from Thailand are mixed with the artworks of Lao Lianben, Alfredo Esquillo and Ofelia Gelvezon Tequi (partly hidden).
"In grade school, I took art lessons from the late Virginia Agbayani of UP and also Araceli Dans." He joined a Shell on-the-spot painting contest and his award-winning entry was printed on the cover of a Shell book. Now he is busy helping young artists as chairman of the Asian Cultural Council, which has been giving study grants to artists since 2000. "I'm happy that appreciation for art is growing here — although it's also become economic, with people buying because there's money in art as an investment."
A former chairman of Ballet Philippines, Ernest segued into film production (he produced two films for Cinemalaya) and co-produced The Flower Drum Song on Broadway in the US where he says he "lost his shirt" due to some unforeseen mishaps. A certified movie buff, he has a library of 4,000 classic films. "Every Sunday, we used to accompany my grandfather to the movies." His grandfather — and likewise, Ernest— has seen My Fair Lady 27 times and The Sound of Music 18 times.
"I don't know what it means to be bored or depressed," says Ernest with a smile.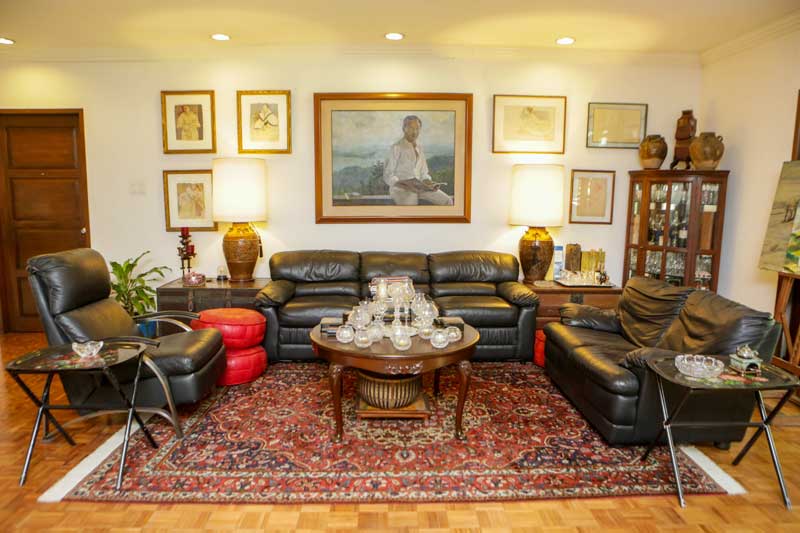 A portrait of Ernest Escaler by Romulo Galicano is surrounded by Bencab artworks.
"You look cool and serene," I tell him, and he laughs: "OC din ako, I'm very short-tempered, my people are often scared of me."
What makes you happiest, I ask. "Life has been good to me, and I want to be able to pay back." Ernest would rather not talk about his charity projects, which he does "provided they're unannounced," but I just had to convince him to name one. The Tagaytay City Jail, where he provides livelihood opportunities aside from food and better water pumps, is close to his heart, obviously because it is also near his farm and he is able to see how the prisoners get back on their feet with some help.
When was the last time you cried? "I'm touched by the goodness of people. I get emotional when I see something good."
Any lessons in life? "I've seen people go up and down. And I've seen people take advantage of other people."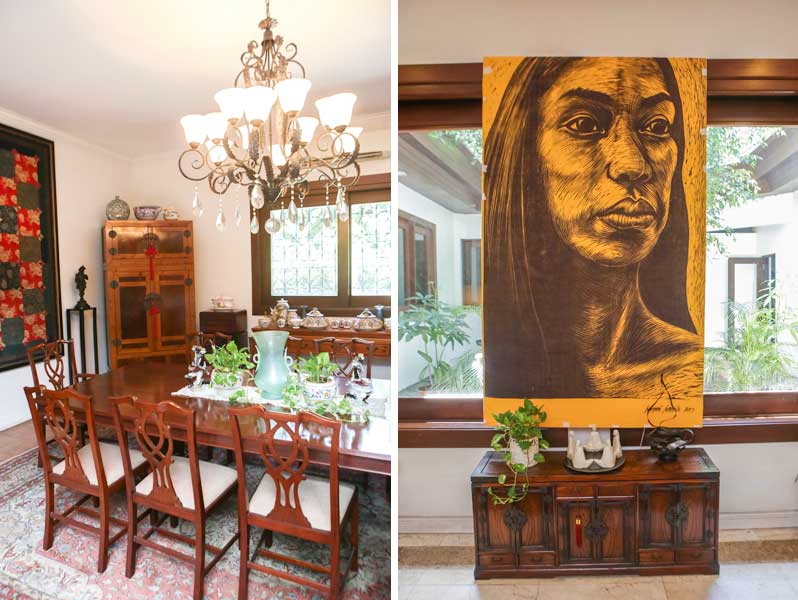 (Left) An antique quilted Japanese silk tapestry at the dining room blends with an Oriental china cabinet. By the window are Italian handmade Deruta ceramics picked by Ernest in Europe , locally available at Rustan's. (Right) Ernest got this huge Ambie Abano work at an auction. It hangs near a refreshing pocket garden.
A lot of business lessons were learned from his parents, the Escalers and De Leons having been in sugar and real estate industry. His father Ernesto O. Escaler was one of the founders of Phinma. Equally important to Ernest were lessons in faith and piety. "My uncle Federico Ocampo Escaler was a Jesuit bishop. Through my very religious De Leon grandparents and my Ateneo Jesuit education, we were raised praying the rosary every day." What makes Ernest happiest, too, is conducting retreats for priests and giving talks on Marian Consecration.
There are three books that he particularly loves encouraging friends to read. One is The 33 Days to Morning Glory, which enables one to complete 33-day personal retreat with a 10-minute read each day.
"When I finished it, I broke down and felt Mary's embrace, and I can't explain why I felt like I was walking on air."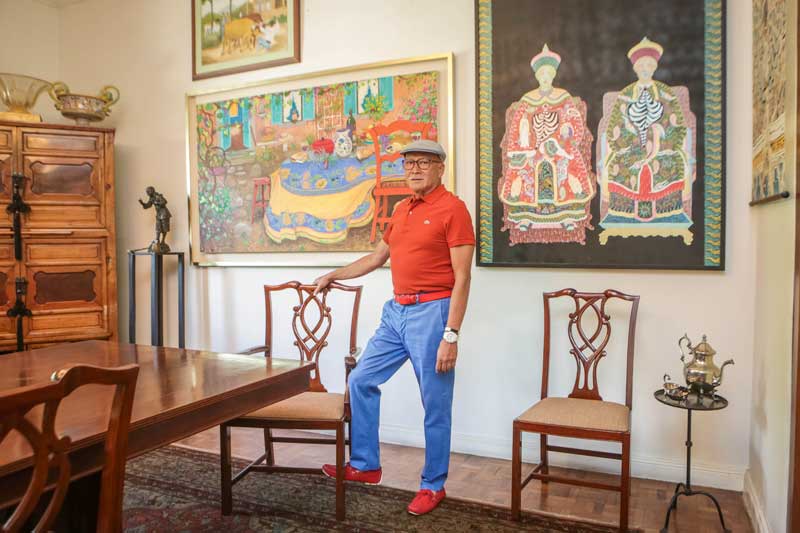 Artworks by (from right) Dexter Sy, Phyllis Zaballero and Vicky Zubiri fill one dining room wall of Ernest.
On this warm afternoon, I can't explain either why I feel lighter after talking to Ernest in his house filled with artworks and his garden abundant with trees, with insects and birds chirping around us.
It was my urban paradise for a day.
* * *
Follow the author on Instagram and Facebook @milletmartinezmananquil. Email her at mmmananquil@philstarmedia.com.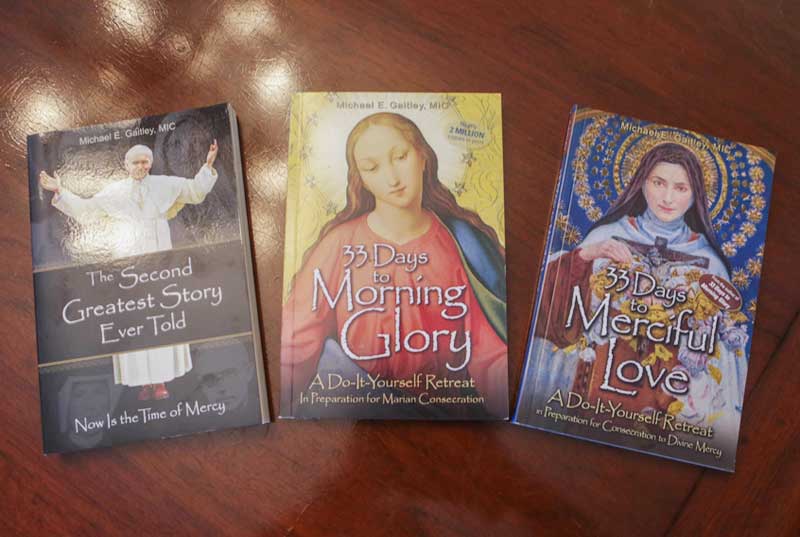 Three of Ernest's favorite books which he distributes to friends. The 33 Days to Morning Glory enables the reader to complete a 33-day personal retreat.