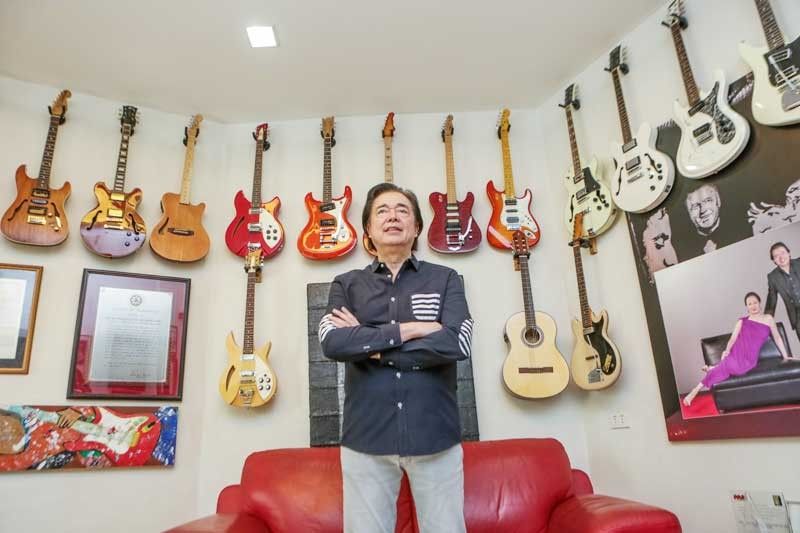 Take me to the pilot: Guitar man RJ Jacinto in the family room, surrounded by his own guitars
Photos by Geremy Pintolo
RJ Jacinto: From Rock 'N' Roll To Rock Gardens
'When this guitar man is not strumming his guitars at home, he is watching movies about ancient aliens,' says wife Frannie Jacinto.
MANILA, Philippines — What's the last thing guitar man RJ Jacinto does before going to sleep at night?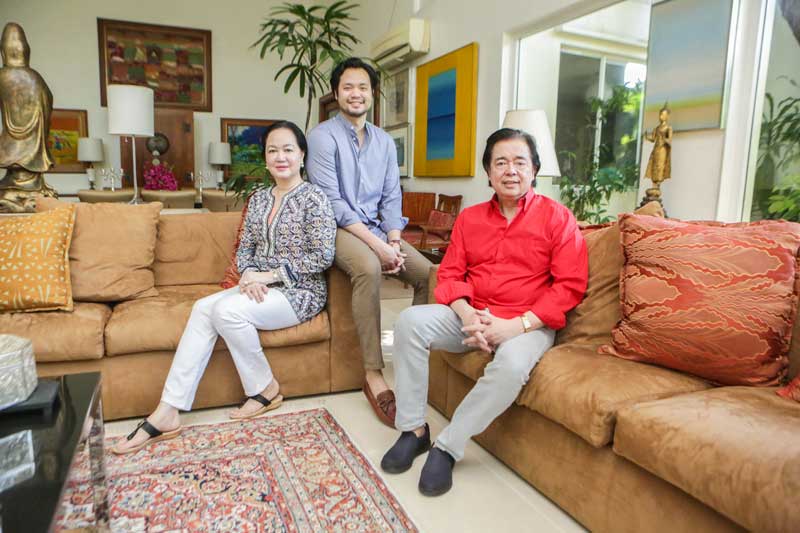 Frannie, Ramon Jacinto Junior ("RJJ") and RJ relax in the high-ceilinged sala.
His wife, Frannie Jacinto, will tell you: "He watches shows about ancient aliens."
While she curls up in their Makati home watching The Bletchley Circle, a Netflix show about amateur code-breaking detectives, the businessman, songwriter, guitarist and now Presidential Adviser on Economic Affairs and I.T. Communications likes to unwind with conspiracy theories and UFO videos on YouTube.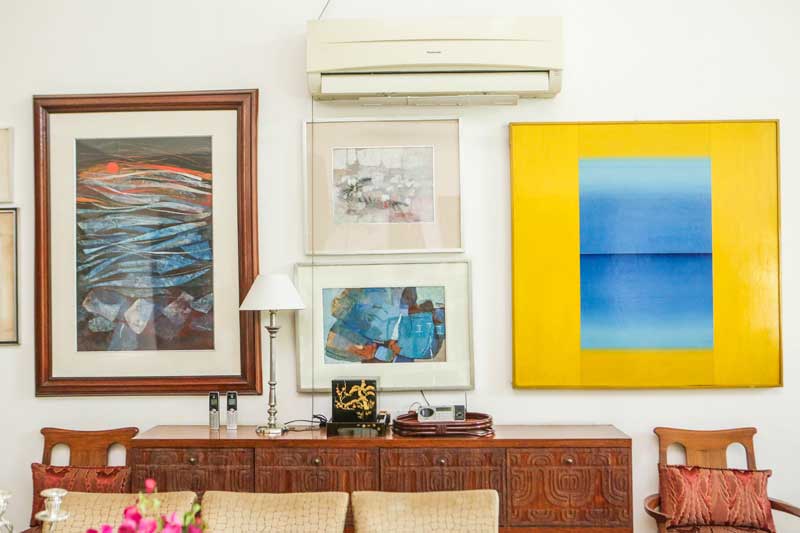 The Jacinto sala is brightened by works by Jose Joya (left), Zalameda (sketch at top center) and Lee Aguinaldo (right), who is Frannie's first cousin.
What's the fascination with aliens? Scott asks RJ, as we sit in a spacious sala with vaulting ceilings opening out to a calming rock garden. "The fascination is maybe they can teach us how to take care of our earth better."
And maybe make better guitars?
"And maybe there will be a pill, you take it and you can hear everything," RJ muses. "A rhythm-and-blues pill, a jazz pill, an Eric Clapton pill. Maybe a scotch-and-soda pill." He laughs the RJ Jacinto laugh.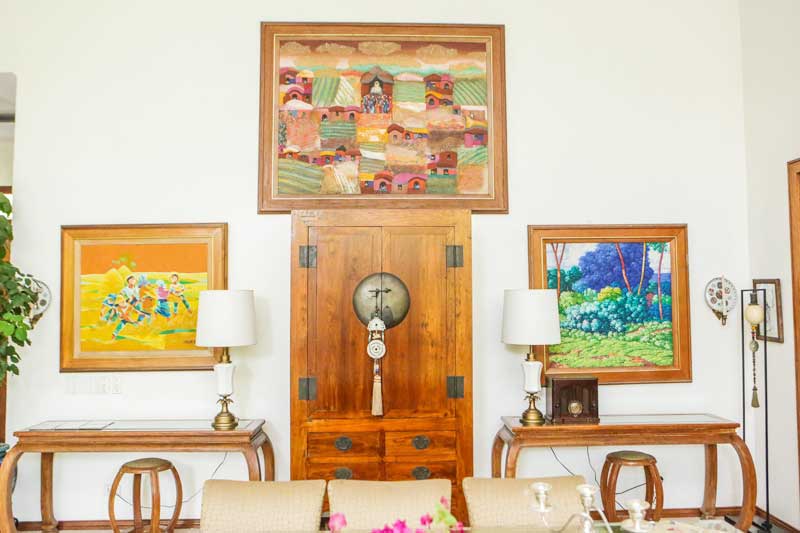 Frannie's collection includes Oscar Zalameda, Manny Baldemor and Ibarra dela Rosa.
The Jacinto sala is brightened by works by Jose Joya (left), Zalameda (sketch at top center) and Lee Aguinaldo (right), who is Frannie's fi rst cousin.
This is the house that rock-'n'-roll built. Constructed in 1986 upon returning from his 14 1/2-year exile from the Philippines during martial law, the Jacinto home contains many emblems of his musical life. In it, you'll find not one, but at least two "guitar rooms." One is the family room, directly to the right of the sala, where RJ will head in the morning to read the newspaper and maybe have breakfast — sardines and bread, or sometimes bangus and longganisa. (Frannie sleeps later, eats fruit or chocolate in their bedroom.) It's lined mostly with his own guitars, those he's been manufacturing and selling since the first RJ Guitar Store began with luthier Rudy Discipulo in 1988. Other artifacts: a BenCab portrait with RJ holding a guitar; a painting by Hotdog member Dennis Garcia; a bust of RJ's dad, Fernando Jacinto, given by a Japanese businessman. And there's an award certificate from President Cory Aquino, for keeping radio station DZRJ-AM open during the EDSA Revolution. "When Radio Veritas was bombed by Marcos troops, Plan B was for our technician at the station to shave the crystal of the frequency to make it closer to Veritas — we were right next to them on the dial, they were AM 780, we were 810, it was destiny. So people thought it was Veritas! Our DJ June Keithley was up there broadcasting: 'Come to ESDA, come to ESDA!' It was undetected!" This Radyo Bandido broadcast helped direct thousands to march on EDSA at a crucial time, with a pirate radio signal. Very radical.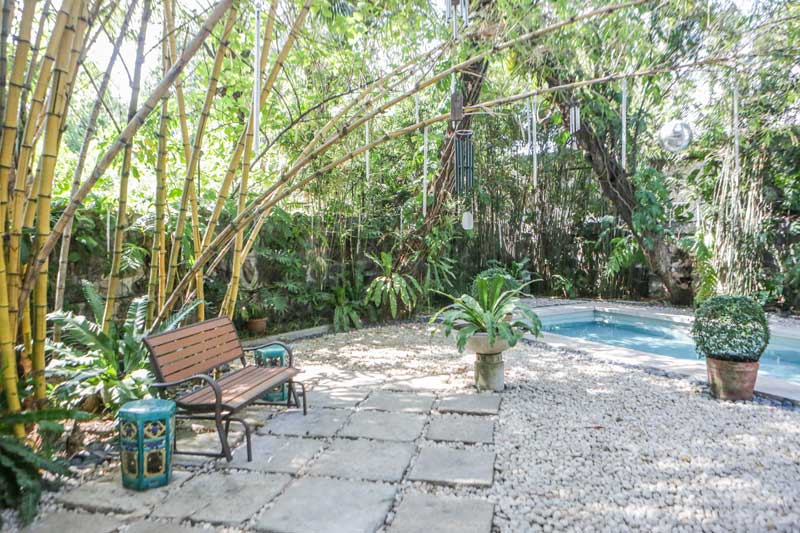 Both RJ and Frannie love this rock garden next to the swimming pool. RJ picked out the bench and replaced the wilted grass with stones for a more Japanese Zen feel.
We ask RJ what's his favorite spot in the house. He has us follow him outside, down a path along the gate, to a separate room: inside, another raft of very prized guitars line the walls: a Chet Atkins Gretsch 6120, a Fender Jazzmaster, and a Fender Jubilee acoustic. This last one comes with a story: it's the only guitar RJ took with him during his 14-year self-exile. On it, he wrote hit songs like Muli, which he ably demonstrates, singing the first several verses. If this room were burning down, those are the three items he'd rescue from the flames.
But that's not all: there's also a cherry-red stereo Gibson identical to Chuck Berry's, a 1965 Mosrite signed by Bob Bogle of The Ventures, vintage Fender Deluxe amps, a Roland Space Echo RE-201 device (for those cool '70s stadium rock sounds), an electronic keyboard with drum pads; a TEAC four-track reel-to-reel sits next to a massive LCD television system, two leather armchairs plunked in front of it. The shelves are lined with pretty much every rock concert DVD you can imagine.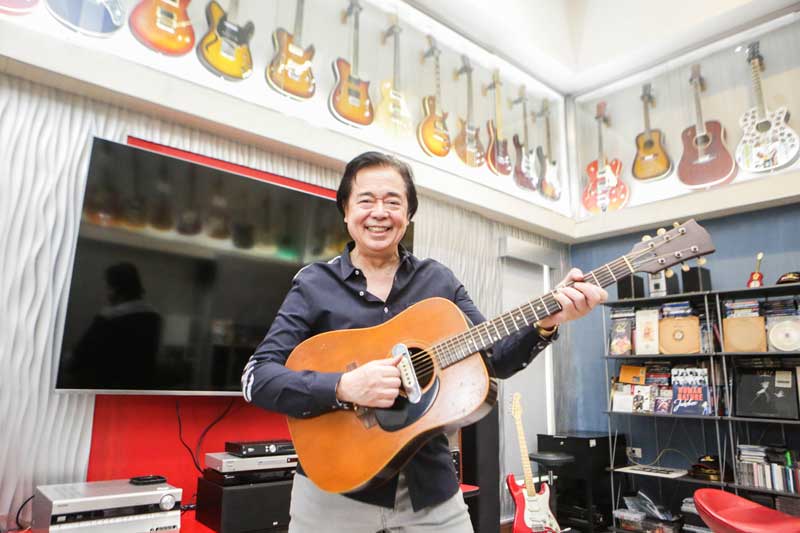 Happy holding his prized Fender Jubille, RJ launches into Muli, one of his hits. The acoustic guitar is the only one he took along during his self-exile from the Philippines during martial law.
There's a corner of Beatles memorabilia, plenty of CD boxed sets, but not too much vinyl — except, RJ shows us an artifact from his RJ and The Riots days: the original metal plates from pressing several of his early signals, including Advertising Man and their cover of the Beach Boys' Little Honda, rescued during his ongoing archiving project. He might send these off to Hong Kong or Singapore someday and press new copies.
Is this your man cave, we ask RJ?
"Yeah, yeah, definitely, because this is the only place where I'm the boss!" He says the room — connecting to his bedroom and baffled with chicken wire and a floating floor to absorb the noise — was originally smaller, "but I lobbied to make it bigger!"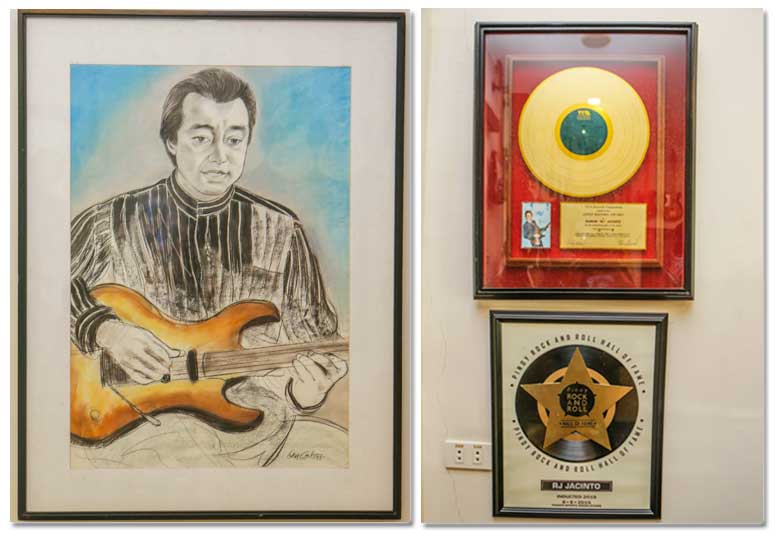 (Left) A portrait of RJ Jacinto by BenCab sits in the Jacinto family room. (Right) Some of RJ's awards for Pinoy music excellence.
You'd think this would be the main jamming or recording room, but RJ confines those activities to his Makati offices. He does compose songs and jingles here, but as he shows us, this doesn't take a massive studio: he just whips out his iPhone and opens Voice Memo; he'll use it to hum and record a melody, sometimes with an acoustic. That's what the kids are doing these days.
We meet up again with Frannie in the sala and their son, Ramon Jacinto Jr., is there briefly for the shoot. Scott asks if he jams much with his dad; turns out he didn't follow the usual "guitar lessons from Dad" route. "I avoided it when I was younger, then I learned on my own." These days, RJ will sometimes hold a concert and ask "RJJ," as he's known, to play rhythm guitar. "You know, he'll tell me at the last minute, and I just have to go onstage, so no rehearsals! But I hardly ever say no. I would regret it if I did."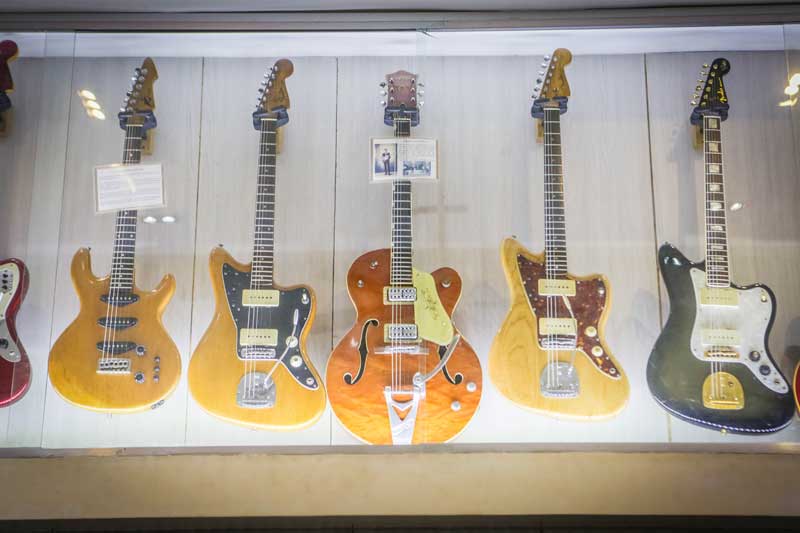 One of RJ's prized axes is this Chet Atkins Gretsch 6120 (center), next to a Fender Jazzmaster.
The contrast between the more feminine sala and the man cave is striking. This is Frannie's domain. The walls are lined with famous painters — HR Ocampo, Jose Joya, Manny Baldemor, Oscar Zalameda, Lee Aguinaldo — and the décor is minimal, with Asian touches. The house was rebuilt seven years ago. "My style is easy," Frannie says. "We had marble floors before, then with this house we decided: tiles. Easier to clean. Before we had a lot of wood, then there was anay (termites); we decided for this house, no wood."
They were going to put a floor above the sala ceiling, but RJ had his own ideas: "Can you just make the ceiling high? As high as possible?" It adds a cool openness to the sala, looking out to the garden.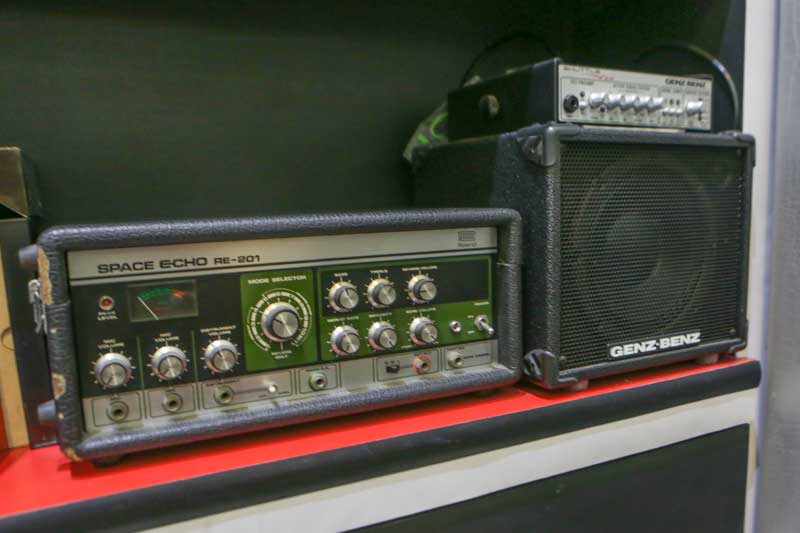 Space is the place: RJ — a UFO and conspiracy theory buff — shows off this vintage Roland Space Echo RE-201 in his guitar room, which also houses vintage Fender Deluxe tube amps.
"We like being a bit minimalistic, we don't like it too over-furnished," says RJ. "We like clean lines, light colors, not too heavy, not so much dark wood."
As for furnishing? "I leave that to Frannie. I just like my armchairs!"
We sit on the sofa, before a picture window overlooking the garden, and Frannie notes her favorite spot in the house: a small wood-metal bench placed at the edge of the garden, flanked by ceramic vases. The garden has a certain RJ touch: when Frannie was away on a trip, he noticed the grass was dying, and decided to replace it all with pebble stones; now it's got a Japanese vibe. He added the single bench ("I got it at SM") to give it a Zen feel. Leave it to RJ, when pitching in on home design, to make it rock.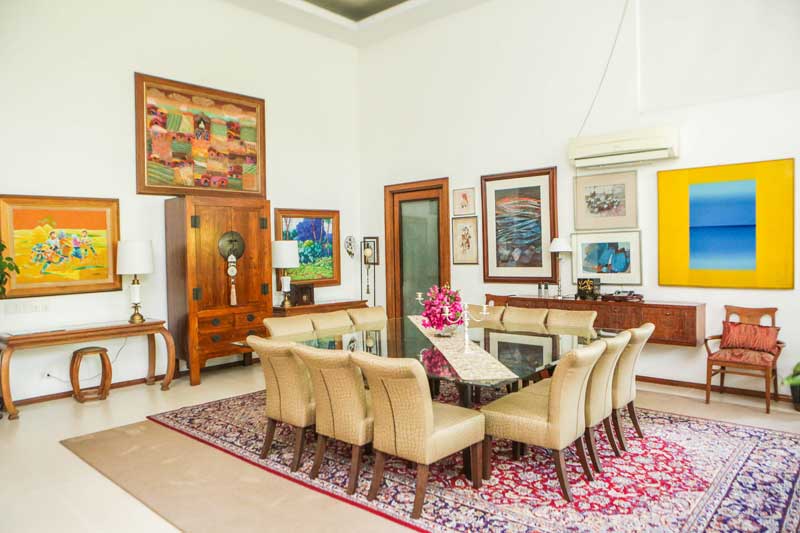 The Jacinto home is a contrast of yin and yang, with RJ's guitars balanced by Frannie's more domestic touch.