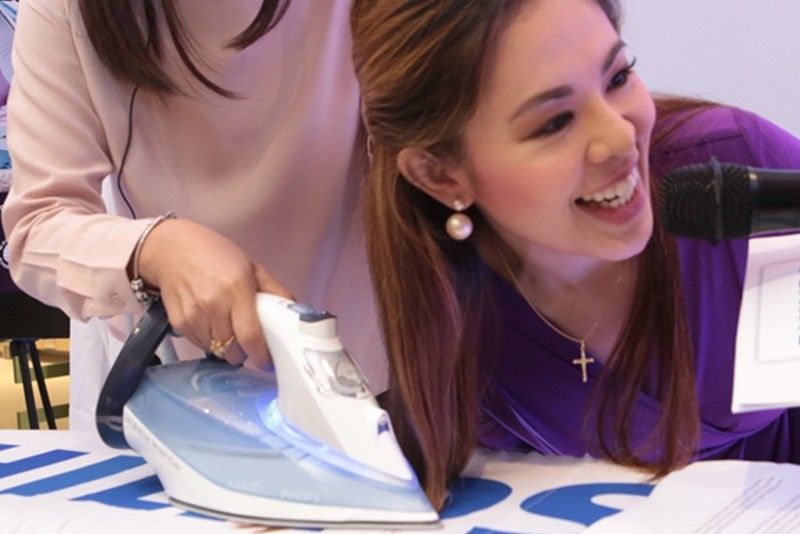 Hair ironing, literally. The new Philips Perfect Care iron is said to be so safe, and it will not burn human hair.
Photo release
LOOK: 5 smart home innovations
MANILA, Philippines — If there are smart phones, there are also "smart" appliances that aim to help ease everyday chores.
As people's lifestyles get busier, home technologies also get better to make one's living more efficient and convenient. Check out some of these latest breakthroughs.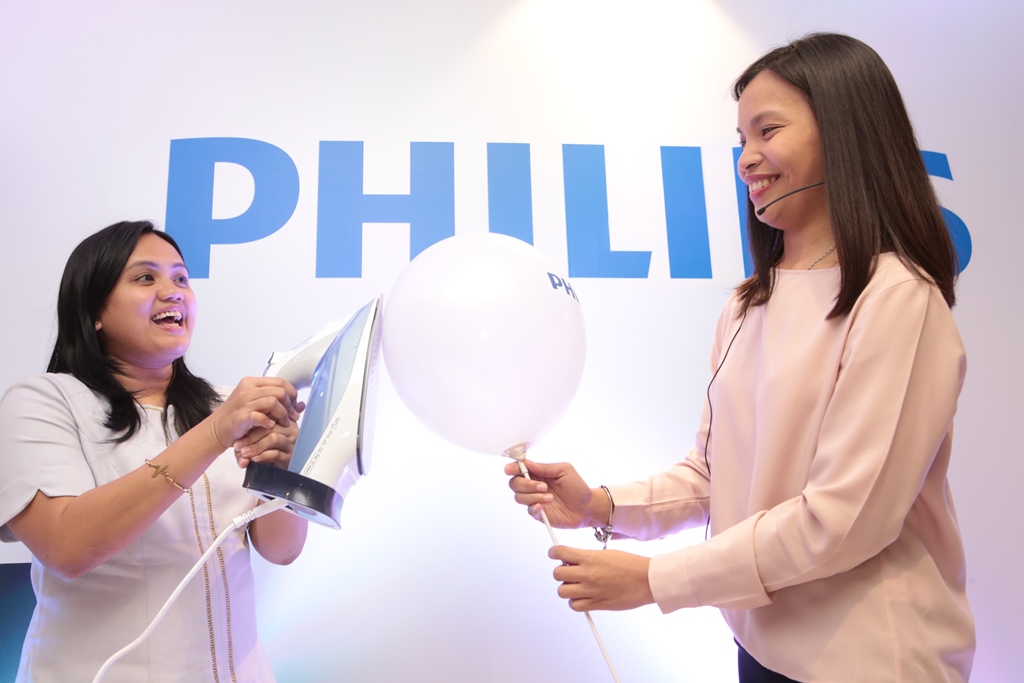 Philips Personal Health Business Development Manager Pia Umayam demonstrates how safe the new Perfect Care iron is by using it against a balloon.
The 'iron' for the non-ironing man
Every summer, electricity bills in the Philippines are expected to skyrocket due to Filipinos' increased use of air-conditioners, refrigerators and other appliances that can help them battle heat. Also among those that consume much energy are electric flat irons.
"Filipinos do not go out without ironing their clothes," said Pia Umayam, Business Development Manager, Philips Personal Health.
To help Filipinos save up on electric bills, especially this summer, Philips recently introduced its Perfect Care range of irons that come with the revolutionary OptimalTEMP technology, which allows the irons to straighten wrinkles in one glide with no much pressure exerted, making one save about 30 percent ironing time, so less electricity is consumed, too, Umayam said.
Based on customers' feedback from appliance stores, people usually complain about irons being heavy, tiring to use and unsafe – they often burn garments when they forget to adjust the settings. The Perfect Care range aims to address these problems with its new auto shut off and smart sensor features that easily detect the type of fabric underneath the irons, making them safe to use even on sensitive fabrics such as silk.
To demonstrate how safe the irons are, Umayam used them on balloons and human hair! Though hot, the irons automatically shut off when left open and will not immediately burn anything that they touch, she assured.
Designed for both home and industrial use, the irons range from 1.7 to 1.8 kilos, so they are lighter than usual and users will have no "pasma" and "kalyo" after ironing, Umayam said.
For faster ironing, she advised using steam irons instead of dry irons since it is easier to iron clothes if you steam them before ironing.
Since the irons are easy to use and have a one-push-button system for easy cleaning, Umayam said more and more men, especially bachelors, are starting to like ironing their clothes.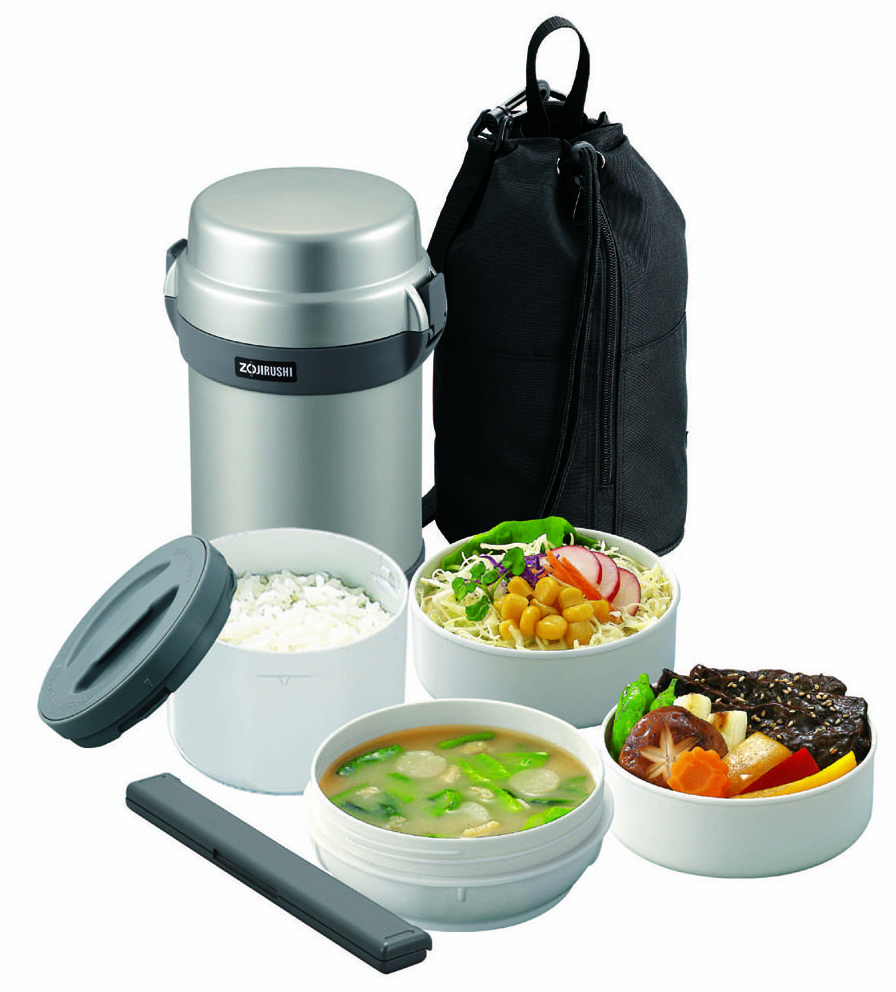 Zojirushi offers "smart" appliances for modern homes
One rice cooker for different kinds of rice
Japanese appliance brand Zojirushi recently launched its new breakthroughs, including the Induction Heating Rice Cooker, which has a brown rice option and induces heat directly to the molecular structure of rice, resulting to better tasting rice.
The Micro-computerized (Micom) rice cookers, which boast of a top and bottom heating element feature, has five stages of cooking rice, namely, soaking, heating, cooking, final touch and steaming. It also has different pre-set rice settings (white, brown, mixed, porridge, sweet, sushi), a timer feature to easily cook while you are away and the Extended Keep Warm function.
New website for homemakers
With the advent of fake news on social media nowadays, many first-time parents find it hard to get reliable information on pregnancy and parenting, says expert Cyril Silagan.
"Right now, there are a lot of information on the Internet, but how do you know it's credible?" Silagan of Nestle Start points out.
According to Nestle and Google's study released last year, many first-time moms usually want to know the signs and symptoms of pregnancy, Silagan says.
To provide families with credible information and guide them about parenthood, Nestle recently launched its global advocacy, "Start Healthy, Stay Healthy." In the Philippines, the program has established www.starthealthy.nestle.com.ph as a parent's handy companion for understanding the intricacies of early nutrition—from day one in the womb until the child's second birthday.
In the "Start Healthy, Stay Healthy" website, parents can get expert tips - from planning pregnancy to raising kids and nutrition, Silagan says. "Because at the end of the day, we want to have a healthier and a happier next generation," he espouses.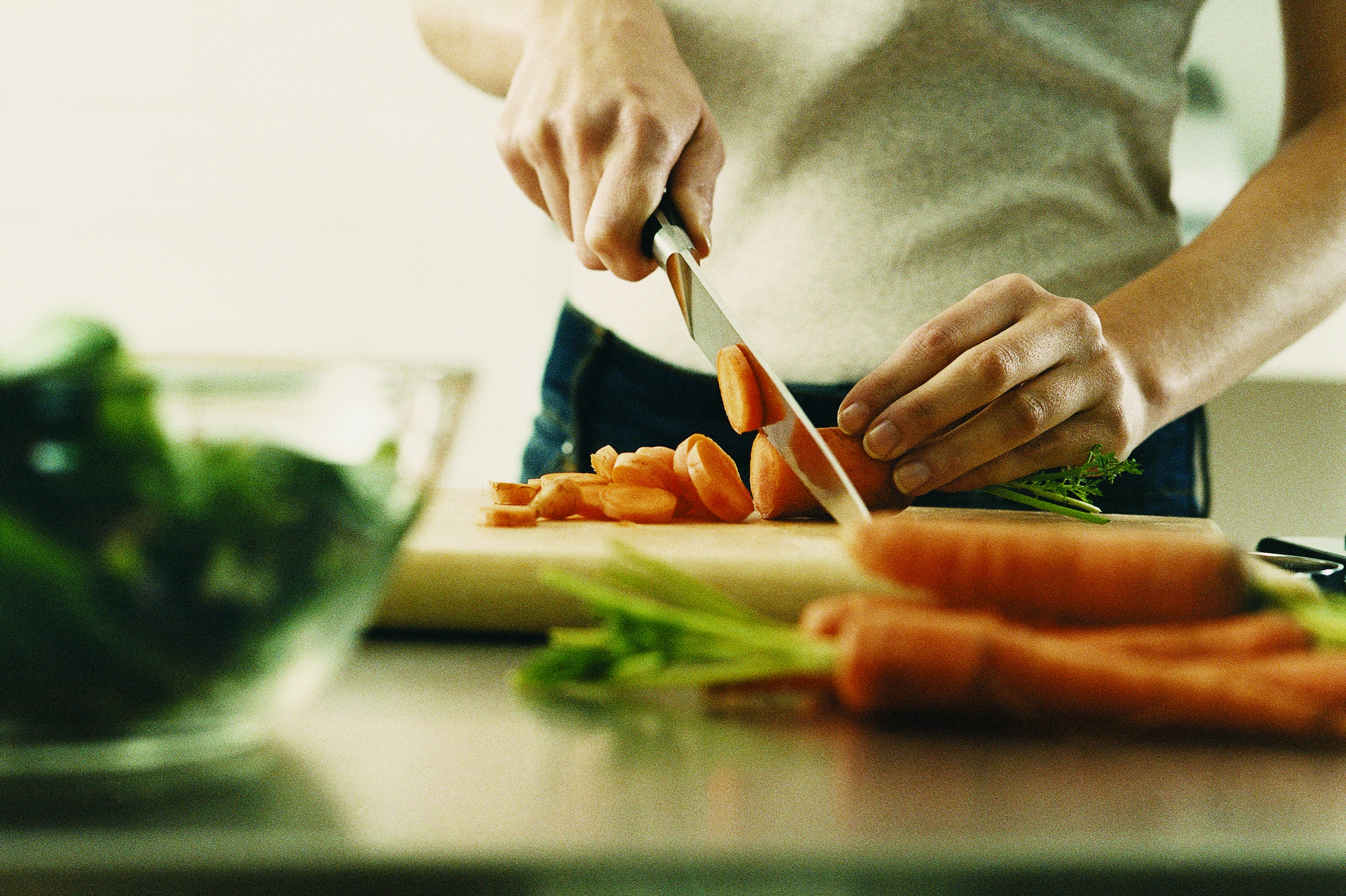 "Start Healthy, Stay Healthy" website provides expert tips - from planning pregnancy to raising kids and nutrition
New app and reward program
In 1995, Rustan's Department Store introduced its Frequent Shoppers Program (FSP), touted as the first retail loyalty card program in the Philippines. Recently, the company launches its refreshed FSP Premium program with new benefits and perks, more chances to earn points and rewards in partner establishments, and even offers borderless rewards through its international retail partners.
Together with the launch of its new premium program, the company is also set to launch its mobile app, which enables a more seamless shopping experience, convenience, and value-added perks and services.
The refreshed FSP program allows customers to earn points not only in department stores, but also in supermarkets, Adora, Debenhams, SSI brands inside the department stores, and retail partners such as TWG, Salad Stop, CATS Motors Philippines, the Discovery Leisure Company, Txanton and Adventure International Tours.
Included in the roster of partners are Tang's in Singapore and the Central Retail Group in Thailand. Customers can expect more shopping privileges abroad in the near future.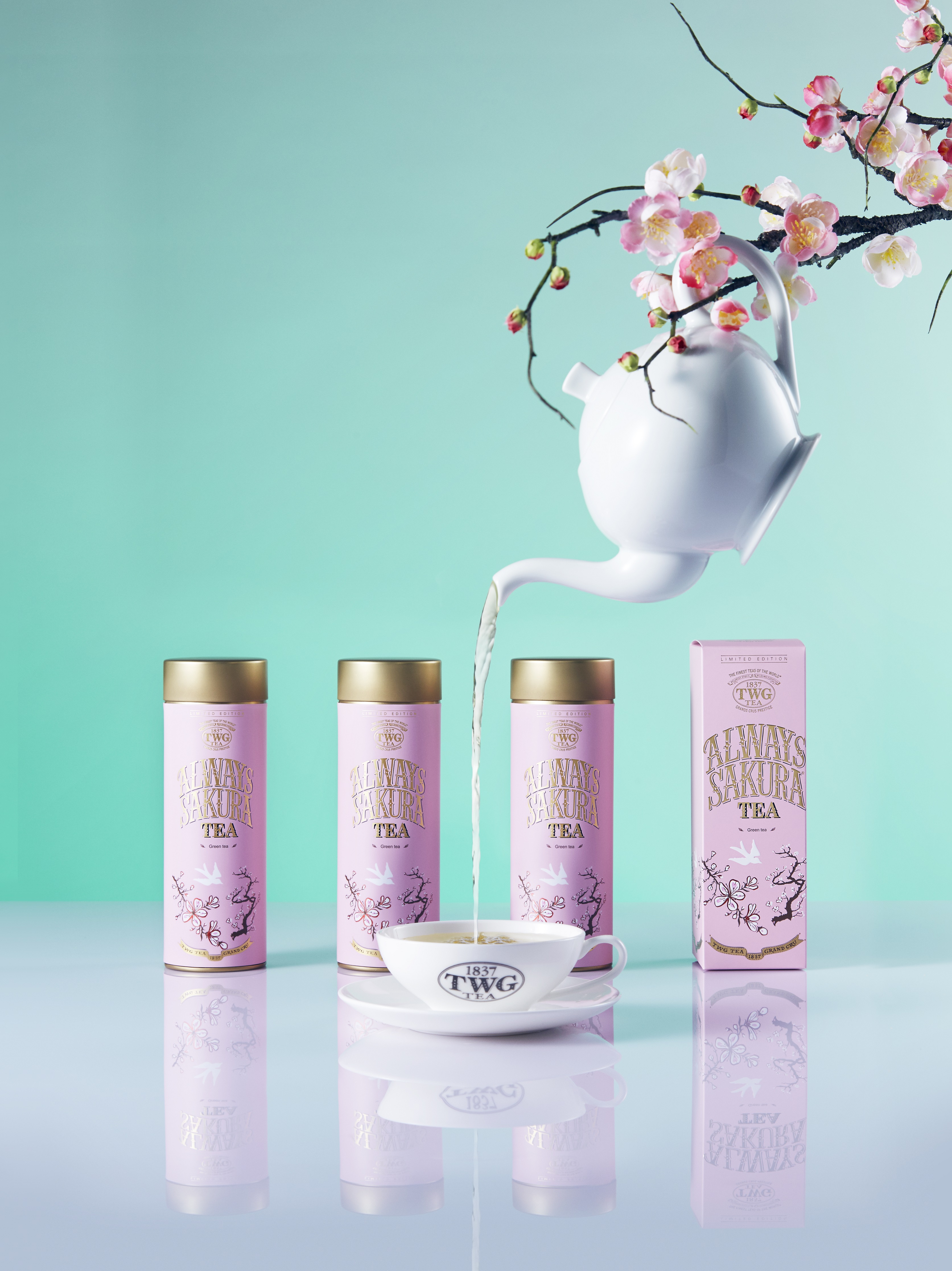 TWG Always Sakura Tea
Creative solutions for small spaces
Pottery Barn, located at Central Square in Bonifacio High Street Central and Estancia at Capitol Commons, announces the expansion of its product assortment launching for spring 2017. The collection will debut new styles that are designed and engineered to be size-conscious and multi-functional, offering solutions for smaller living spaces. Each piece is constructed with the same high quality artisanal design Pottery Barn is known for, to appeal to a range of lifestyles at an accessible price.
Adding soul and warmth to the home, the new pieces celebrate classic handmade craftsmanship, reflecting the brand's heritage and touching on global historic references. Standout designs include the SoMa Bryant Storage Sectional, the new upholstery piece designed for smaller spaces and flexible use featuring cushions that lift for additional storage access. Meanwhile, the mango wood Alice Gateleg Table with extendable leafs and built-in shelving creates an at-home bistro vibe.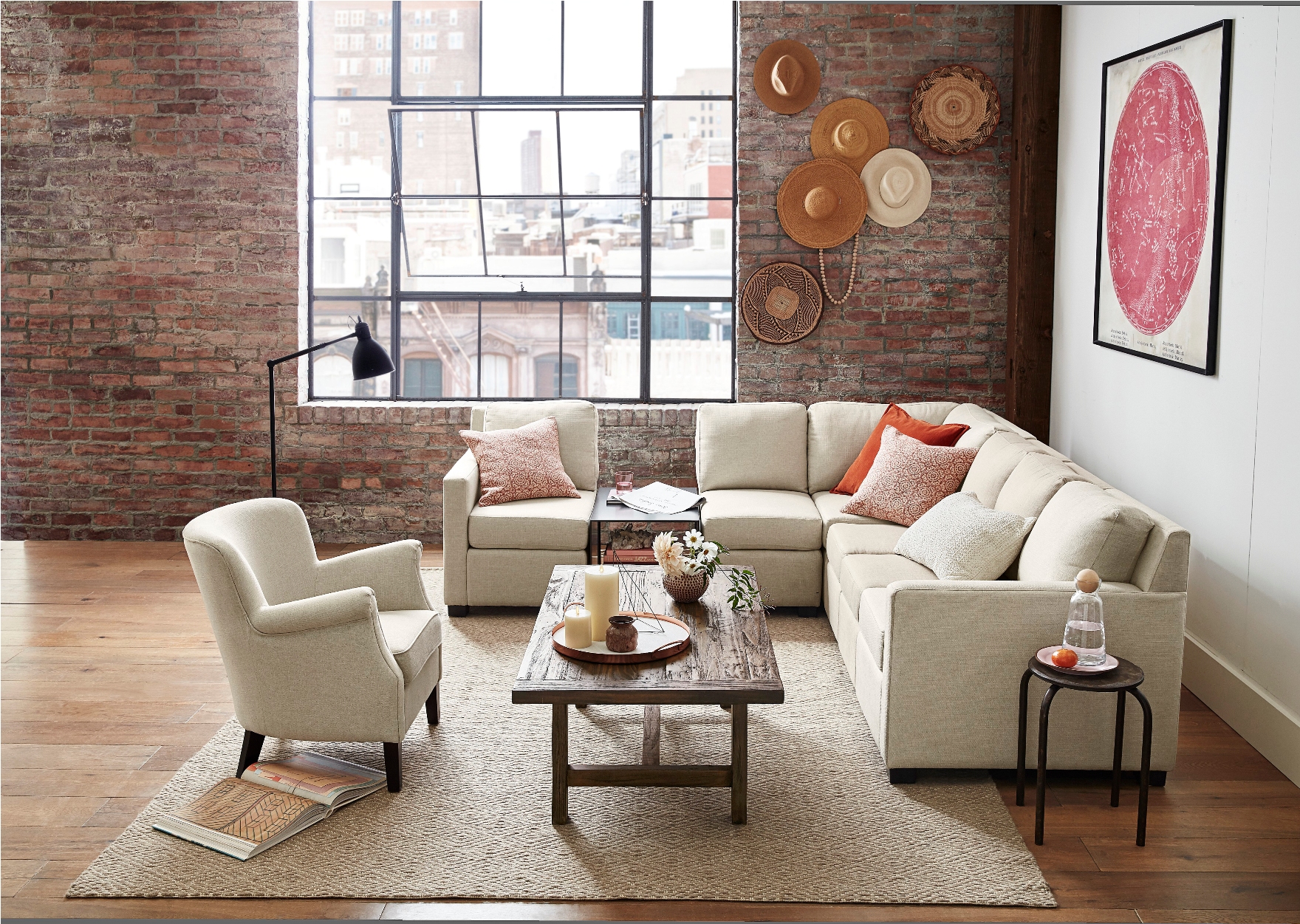 Harisson Modular Sectional sofa for small spaces