Franco Laurel shares private life at home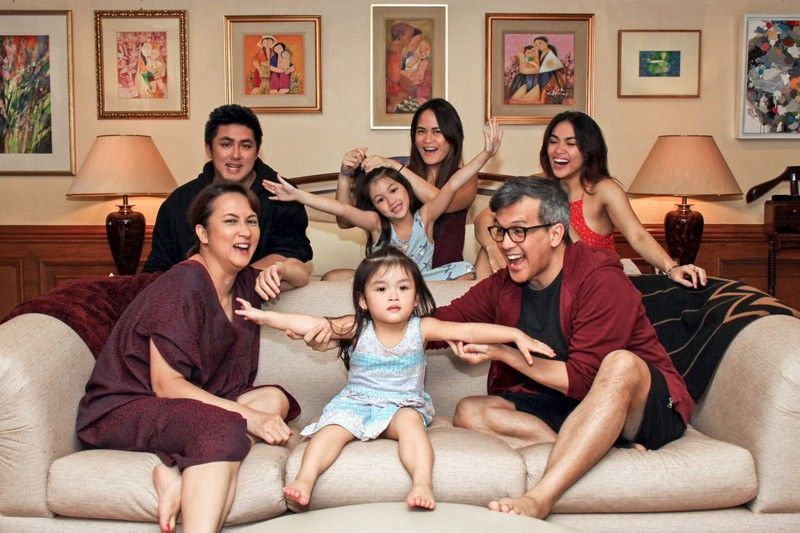 MANILA, Philippines — One upside to extended quarantine is extended quality time with the family. While this comes with its own set of challenges, the discoveries make it worthwhile.
For Franco Laurel, being housebound with his wife Ayen, and children Mariella, Angia, Sofia, Lucia, and Hasan Jefri, is turning out to be a revelation of each other's enhanced creative inclinations, which, for a family of artists and performers, make for fun (and, when they're sharing them on social media, entertaining) family bonding.
A self-confessed homebody, Franco shares that spending time at home is not that huge of a stretch for him, but that hearing about a "lockdown" was, at first, disconcerting.
"If it's not work-related, I normally don't go out. I just love staying at home. I love being with my kids. I love being at home. It's my comfort zone, my sanctuary. It's a space where I can commune with God and spend lots of time with my wife and my kids. I heard about a 'lockdown' before community quarantine was announced and since at that time we didn't know the gravity of the virus and how it's going to affect the whole world, there was a slight fear because it has never happened in my lifetime. It was the uncertainty of everything and not being able to see our family and friends. But we settled into it pretty well and pretty quickly," he says.
According to Franco, the thought of staying home with all of his children—something they don't get to do so much anymore with three of his kids all grown-up—was something he and his wife Ayen welcomed.
"The thing that I really looked forward to about staying home—and my heart goes out to our frontliners and everyone doing their jobs for our safety—is that I get to be with my kids. We get to spend so much quality time with each other. Sabi ko nga sa mga anak ko and kay Ayen, na I think magkakaron ako ng separation anxiety kapag na-lift yung lockdown. The age range of my kids is 2 to 29 years old. So the older set of kids are working and doing their own thing, and to have them home for dinner every night is great. They're baking and cooking and doing a lot of nice things together. That's the positive thing that has come out of this lockdown, being with family."
Ayen and Franco ensured that the kids feel safe at home. "It's up to us to create that environment and take away fear. The two younger ones—I have a five-year-old and a two-year-old—are the ones who are really really happy kasi to them, we're all together at home, and they get to spend time with their kuya and ates more," Franco shares. The first week of quarantine was dedicated to planning a routine, one that they easily fell into as the days went by. The family's daily schedule involves a healthy dose of exercise, schoolwork for the kids, prayer, alone time for everybody, and bonding over a homemade dinner.
"I have not seen my wife in the kitchen as much in the last three or four years. Now, she's in the kitchen almost every day, experimenting. Kaya din ako workout nang workout. Bawal tumaba. [Laughs] My daughter has discovered her passion for baking. My son, whose passion is film, is doing four short films right now, and he's using his sisters as his actors. Sometimes tumutulong ako. Ako yung cameraman. The two younger ones enjoy our singing nights. We swim every other day. We try to make it as happy and light as possible to keep everyone feels safe. At home, we try to make sure that everything is more or less like 'normal' for the kids," Franco says.
This new normal is not lost on the couple's six-year-old, Sofia. "She's been asking, 'What's coronavirus?' So we just explain to her the importance of washing your hands, keeping yourself clean. They're more aware of that. It's become normal and routine for them also to constantly wash their hands," he says.
Sharing creativity in real-time
PLDT Home Fibr plays a huge part in both family bonding and personal alone time, which, as Franco says, each member of the family gets and spends engaging in creative endeavors.
Franco says, "Ayen makes sure to spend a quiet time for praying and watching the news. My kids also enjoy their time learning new things. Mariella is a director and an actor, so she works on her projects. My son, Hasan Jefri, does movie editing, musical scoring for his short films. Angia is so creative that she's decided to come out with a clown series with makeup and records her own songs. The two little ones, Sofia and Lucia, are the ones who are attached to us."
The whole family gets to enjoy pursuing their creative ideas with the help of their PLDT Home Fibr.
Franco shares that despite the uncertainties of the global health situation, he sees to it that his family gets to appreciate the brighter side. "This whole thing has made me more grateful. Grateful to God and grateful to be able to spend time with my family, and to get to know them," Franco says. "My wife and I have been married for 19 years and together for 21 years, and I still discover more new things about her and our children. I'm so grateful for dinnertime cause that's when we get to bond and talk. We catch up on life and hear about what their dreams are. I'm grateful for PLDT Home because it helps us connect with our friends and family, learn new things by watching online videos, and bond as a family over our favorite online shows. We also listen to Victory Christian Fellowship podcasts almost every day, and we are able to attend service online on Sundays. We get to sing together, too."
While music is rooted in the Laurel family, Franco recognizes its potential to become an instrument to uplift lives. Franco is planning out a music show that will be aired on his social media soon. He opens up, "We're doing our own bit in helping and inspiring people with music. Aside from helping out by donating, I believe that music is one of the best ways to uplift our kababayans here and around the world."
Indeed, if there is a silver lining to this new normal that we've been slowly getting used to, it's that we're getting to appreciate the simplest things. For Franco Laurel, it's getting to spend more time with his family, getting to know his kids and bonding on a level that they otherwise wouldn't get the chance to under "normal" circumstances.
PLDT Home enables you to turn your quarantine time into worry-free quality time. Visit www.pldthome.com to learn more.
Disclaimer: This is a sponsored post.