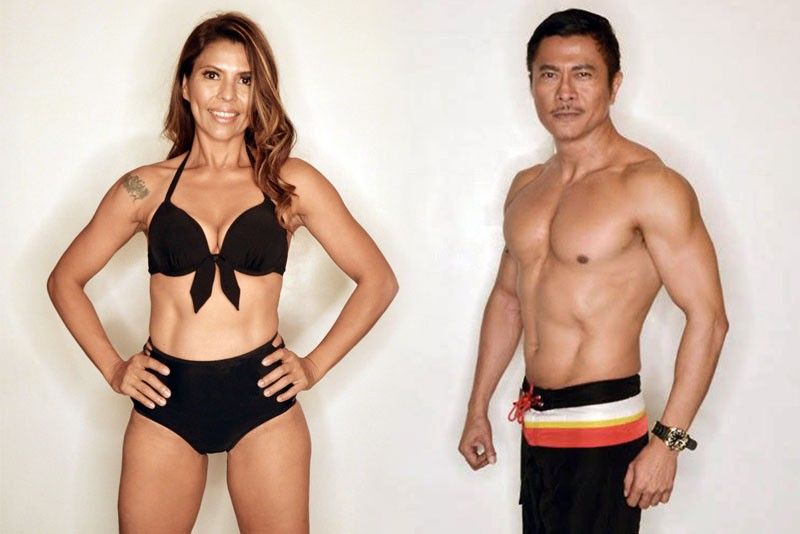 Shirley Garcia and Manny Apilado emerged stronger through fitness; both are finalists for BodyCon 4.0.
How to bounce better from an illness
'No matter how busy life becomes, always give priority and importance to health and fitness. Love yourself first. It's not being selfish. It's a necessity.'
When we're diagnosed with a certain illness, we blame bad genes. We regretfully agree that our lack of exercise, our sleep debt, faulty nutrition or excessive indulgences are to blame. Our doctor reminds us not to be in denial. Instead, make necessary changes in our lifestyle, dutifully take our medications and periodic tests, and do research on our condition.
Here are inspiring stories of how two people who didn't resign themselves to debilitating illnesses. Of how they took charge, changed their lifestyles and emerged stronger and even much better than before. Meet 47-year-old mom-entrepreneur Shirley Garcia and 50-something dad and banker turned businessman Manny Apilado. Both are finalists for BodyCon 4.0.
I didn't recognize Shirley last weekend. She didn't look her age and is almost half the size from when I last saw her six years ago. Married for 30 years now, she is blessed with three children (29, 27 and 10 years old). While active in sports and recreational dancing, she has always been on the plus side, mainly because of food. She has been running a catering business in Clark for 10 years now.
Philippine STAR: What is your fitness story?
Shirley Garcia: Although I have been active in the gym since 2013, I have to admit I had a poor diet. My wake-up call came in 2017 when I was diagnosed with fibromyalgia and osteoarthritis. To merely stand and walk became an insurmountable challenge for me at that time. I eventually recovered with regular exercise routine, paired this time with proper diet.
What is the biggest challenge to maintain this fitness level?
Staying true to my diet is probably the biggest challenge. We all know that it's only 20percent exercise and 80 percent is really proper diet. I love junk food! Also, owning and operating a catering business for the last 10 years made it more difficult to stay on track with my diet. But I'm here competing. I guess that means I have already conquered this challenge.
What is your diet now?
I keep a balanced diet that comprises the right amount of carbohydrates, protein, fiber, vitamins and minerals. My main staple is vegetables, particularly steamed or boiled broccoli. I turn to chicken and fish for my protein. My favorite is grilled chicken liver. On carb days, sweet potato and brown rice are my choices. I have also influenced my husband to jump into fitness. He has been on a diet for about two months now and joins me when I go for my morning runs. The improvements on his physique and health are noteworthy.
Manny Apilado, on the other hand, is not new to physique competitions as he was one of the finalists in Century Tuna Superbod Ageless category. He admits though that the greatest competition he won was reversing his diabetes.
What got you into fitness?
Manny Apilado: Back in 2009, I worked as a senior officer in a major bank, with a typical sedentary high-pressure work. At home, I was a single dad to five teenagers since my wife went to the US to work and eventually settle. I was hands-on with the domestic and school needs of my five kids. I had no rest day.
My cholesterol level was high, liver indicators and my blood sugar out of normal range. I was getting used to just taking the medications prescribed. My weight ballooned to 185 lbs., my waistline 36 inches, which didn't look good on my 5'6" frame.
But what really scared me was my worsening Type 2 diabetes. It's genetic and I was diagnosed to have acquired it when I turned 40. My mom was diabetic, too, but she was mindful and disciplined. I had seen aunts, uncles, and cousins suffer its dreaded complications. One uncle had regular dialysis treatment, an aunt became blind and a cousin's leg was amputated.
This was what triggered me to make lifestyle changes, and got me into fitness. Happily, I have totally beaten my diabetes two years into my fitness journey. My endocrinologist could only rave at what I've done. When he found out I reversed my diabetes he said, "Wow! You've done the almost impossible." So now, for me, to keep the disease at bay, fitness has become a way of life that I enjoy for good reason.
Who is your fitspiration?
My mom. At a young age, she instilled in me that nobody is responsible for yourself except yourself. I saw how she practiced self-care and self-upkeep; how she became mindful of her diet when she, too, had acquired Type 2 diabetes in her middle age life. Though she never went for gym exercise, she had an active lifestyle; rest came in the form of attending to her hobbies: gardening, rearranging furniture, or house decorating. Even after giving birth to five kids, she has maintained a slim figure, dressed up well, and looked good even in old age. Some friends and relatives would often say she was vain or even selfish. But to us, her kids, we understood exactly her point: Love yourself first, so that you can love others.
So with this value, no matter how busy life becomes I give priority and importance to my fitness and health. It's not being selfish. It's a necessity. I learned it from my mom a long time ago. She passed on in 2016 but she continues to inspire me to inspire others to reverse diabetes.
* * *
Post me a note at mylene@goldsgym.com.ph or mylenedayrit@gmail.com.